Email is still one of the most effective tactics in your marketing tool belt, but with billions of emails being sent every day, how do you stand out from the crowd? Read on to find out.
With approximately 2.7 billion email users in the world, and 205 billion emails sent per day, people are receiving, on average, 73 emails a day. That's a lot of email to get through!
Research shows that email marketing can be twice as powerful as cold calling, yielding 2x higher ROI than cold calling, networking or trade shows. But in order to get this higher ROI, you need to get people reading your emails.
So, how can you make sure your email is the one people actually open?
With some advice from Tom Monoghan - Postmaster and Director of Email Engineering at HubSpot - we've put together four actionable tips you can use to up your email game.


1. Review your database
Are you contacting people who want to be contacted by you? Are they still interested in what you have to offer? Or are your emails turning into dreaded 'Graymail'?
Graymail is email that your leads opted-in to receive, but no longer want. While they won't mark you as spam, they won't unsubscribe or delete your emails because, honestly, it's a hassle.
Being classified as Graymail has two downsides:
Over time internet service providers (ISPs) will categorise your emails into junk folders, or other folders that never get looked at

Email sends cost money, and if they aren't being read you're wasting money on a database who isn't engaging.
So what can you do?
Go through your email database and see who is still opening, reading, and clicking on your emails. Make sure you suppress the inactive contacts from receiving emails from you. Every time you send to low engaging contacts, it hurts your sender reputation and reduces your chances of connecting with other potential leads and customers. You can always re-engage with them later, but take the time to talk to the people who want to hear from you.
Tip: Segment your database so you can do more targeted marketing to each of your buyer personas: remember, they all have different interests and pain points. This will also help you gain the insights you need to send personalised emails, as well as gather more information about them.
---
Are you buying email databases? There are some important things you should think about before you send emails to that database. Read our blog The good, the bad and the verified: the truth about email databases to find out more.


---
2. Personalisation
People want a personalised experiences! Personalisation helps build trust with the recipient and shows that the content is most relevant to them, which results in more engagement with your emails.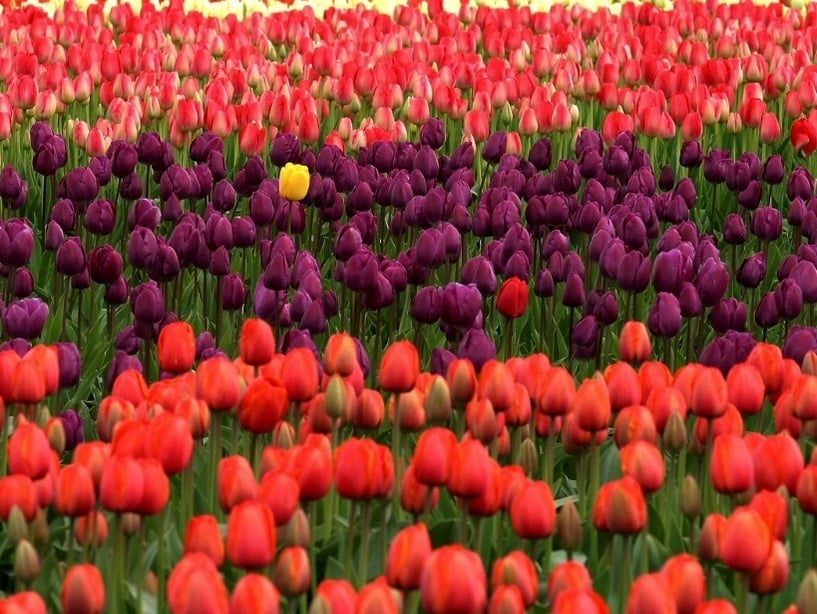 Be the flower that stands out from the crowd
Ensure every email you send is personalised in some way. From the subject line, greeting, images, and copy, to the CTAs, which can all be personalised for a more conversational tone.
Personalisation will be based on the contacts past behaviour on your website or known interests. Be sure to test these emails before you send them out and make sure the default value is relevant to the context of the sentence, there is nothing more awkward than receiving "Dear Customer" or "Hi First name"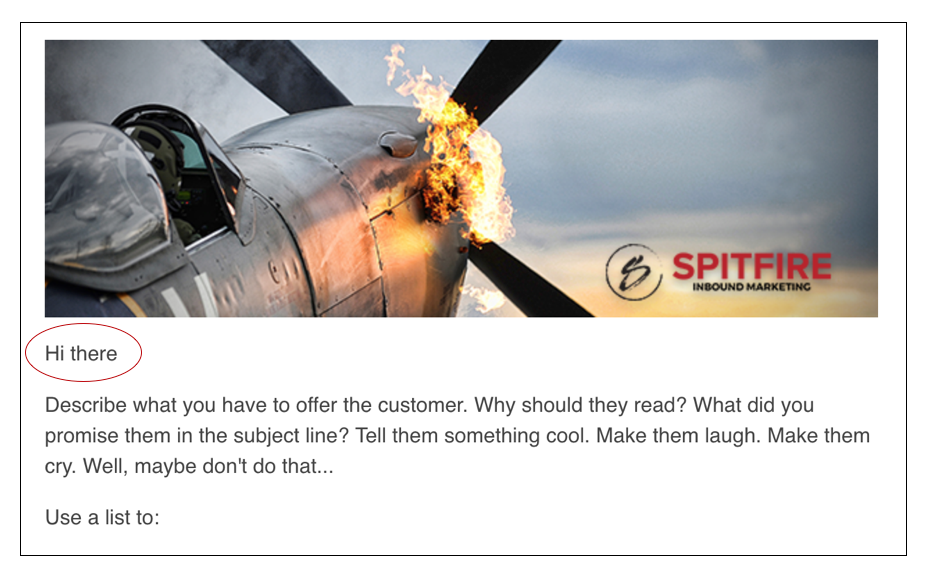 Tip: Personalise the subject line with the recipient's name, and use a sender name people will recognise, stay away from using Company names. People like getting emails from people.


3. Have a clear goal for each email
If you don't know why you're sending an email, your reader won't either. Every email you send should have a purpose, otherwise it will become clutter.
So start off by defining the goal of your email. For example, are you trying to convert them into a customer or do you just want to move them further in their buyer journey with a content offer?
Once you have your goal, having a clear and consistent message and clear CTA is essential to ensure people follow through and do what you want them to do. Also, remember to always have a next step in your email to keep the recipient engaged and not close the conversation.
Tip: Your email subject line is what will get them to open your email, so remember to avoid words that will trigger the spam filter but will grab their attention.


4. Timing is essential for email performance
In his research, Monoghan looked at a lot of marketing emails: 1 784 755 714 emails to be exact. This was across 157 534 campaigns and 202 595 recipients worldwide. He found that the best days to send emails were Mondays and Fridays (during the week), and Saturdays and Sundays.
He also found that Tuesday is the worst possible choice to send a marketing email. Open rates and click rates for marketing emails sent on a Tuesday are abysmal and you should avoid sending on this day if you can help it.
These tips, based on both big data analysis and Tom Monoghan's expertise, are excellent rules of thumb - but remember that your specific database might have different times that work best for them. Always optimise for your database.
It is however important to keep in mind what industry you are in. Have a look at your analytics. When and at what time do you have the most traffic to your website? Test two to three different days and times based on your analytics and see when is best for your industry.
Tip: You want to send emails at a time when your recipients will engage with them, so use the data you have. Take a look at the behaviour of the people you're currently sending emails you over a 4 month period. When do they one and click on your emails? Another option if you want to get more personal insights is to try a tool like Seventh Sense.


5. Mobile responsiveness
In today's day and age, it's the most important thing to use mobile responsive templates. People tend to do their research and open their emails on mobile to get a quick overview of what it's all about. In fact, 48% of emails are opened on mobile. Remember, you want to capture their attention so they will read you email, and research shows that 69% of mobile users will delete your email if it's hard to read on mobile.
Don't be part of the 89% of email marketers that lose leads and opportunities for not optimising your email templates
Tip: Get responsive templates that works for you and don't make any other changes. Make sure all campaign related landing pages, emails, and CTAs have the same look and feel. Consistency is key!
Don't forget, the best way to ensure your emails are optimised is by learning to analysing the data you have. Make sure you're getting data from as many platforms as possible, download our Inbound Touchpoints Checklist to find out if you're utilising all the touchpoints possible to success.