We helped grow our clients sales revenue by 30% using sales enablement and HubSpot. Here's how.
Penquin, an integrated marketing agency based in Johannesburg, South Africa, have been a HubSpot marketing client since November 2015 and have already seen great success with metrics such as increased traffic, increased social media following, and increased lead generation. However, their online leads weren't converting to the sales results the business needed. Sales enablement, and the use of HubSpot CRM by their sales and client management team, has closed the loop between sales and marketing and dramatically increased their sales numbers. Sales enablement resulted in them developing a three-tiered approach: increasing new sales, upselling to existing clients, and upskilling on consultative selling.
Year on year data for the period January 2018 to end of November 2018 shows us the incredible improvements in Penquin's sales since the completion of the sales enablement training and the active use of the HubSpot CRM. At this point we will highlight only 5: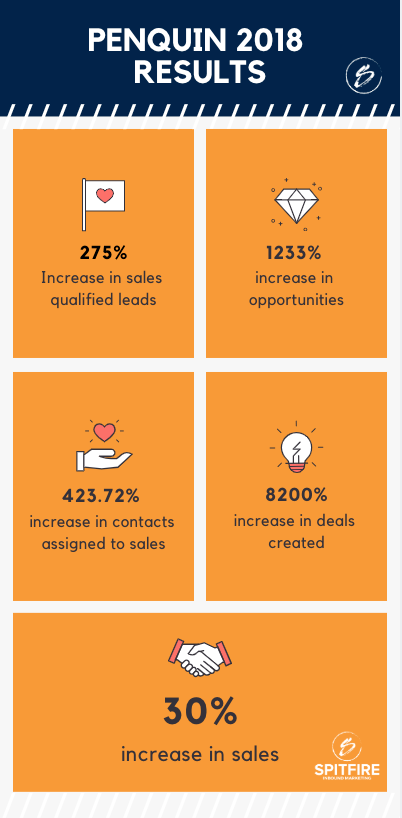 Join us for the full story of the journey that Spitfire Inbound and Penquin embarked on together.
What is sales enablement?
Sales enablement is defined by HubSpot as :
"Simplified, sales enablement leverages marketing strengths — creating and using processes, content and technology — to support sales efforts."
Spitfire Inbound and Penquin took it a step further by upskilling through training to provide the team with the edge and confidence to sell better.
Who is Penquin?
Penquin, an integrated marketing agency in Johannesburg South Africa, offers a 360 degree approach to all things marketing and advertising. So what makes Penquin stand out from the crowd? While serving some of the biggest names of the industry including Suzuki and Microsoft, Penquin has focused on nurturing and growing their partnerships based on integrity and process delivery excellence.
Their challenge
In a nutshell: increasing their sales.
What sparked the start of an amazing journey with Spitfire Inbound's sales enablement services?
Penquin's mission was to break away from their big client focus, affectionately known as whales, to rather focusing on consultative sales and services across all prospects and clients alike. In order to do so, marketing and sales had to speak the same language and work towards a common goal. The inbound marketing approach with Spitfire Inbound and HubSpot has already bought in massive success. In 2017, before starting on the sales enablement journey, Penquin managed to acquire 57% increase in traffic, 104% increase in leads, gaining an impressive 298% increase in blog views and a 24.6% increase in social media following across platforms. Building their community and creating helpful informative content was their thing! However, as with most companies we come across, marketing and sales worked in silos which meant that online leads were not being nurtured or followed up on as efficiently and effectively as they could have been.
Penquin had high hopes of growing their business, especially considering their very effective marketing efforts. It was time to spark excitement and provide the tools needed to empower their sales teams to close the loop. They took the decision to shift from their retainer focused delivery approach, to include an upselling and cross-selling approach.
With the help of Spitfire Inbound sales enablement training and HubSpot's CRM toolset, they were able to execute on these strategies.
The challenges for sales enablement
Penquin expressed the following four points as the main challenges to the sales enablement revenue aspirations and growth.
With no active CRM system established, the first challenge was consolidating the sales process from several tools (Chase and Excel to name a few) to fit into one tool, and one process. The team were unable to differentiate between the various tools at their disposal and had to develop a mindset change from utilising software from a purely operational process to one of consulting, selling and relationship building.

The culture shock! The team did not see, or feel part of, the big picture. The challenge lay in changing their perception and developing soft skills. Training the team towards a common goal and business objective (one centred on the client needs) was essential.

Creating the sales strategy was the greatest opportunity. The client service team did not have the confidence to reach out to leads and prospects. A clearly defined sales enablement strategy and overview of their efforts needed to be defined accordingly. This took a lot of meetings, admin, blood and sweat, but was well worth it.
What was the change in strategy?
Driving marketing and sales towards a common goal of a 25% increase in sales by closing the loop of marketing effectively. The strategy needed to build a consultative selling culture driving an upselling and cross selling environment within the business and one that is integrated within the buyer's journey.
As you may have guessed, the obvious solution was consolidating the marketing and sales efforts and goals through Hubspot. The tool allowed you to see the full potential of where they were and where the future lies. Incorporating technology into marketing provided an edge and competitive advantage and one that was quickly enhanced by incorporating sales.
Establishing the pipeline and process with Hubspot and our sales enablement training provided oversight of the business efforts which, spoiler alert, exceeded internal expectations.
Penquin's sales enablement journey
With a unified growth goal in place, Penquin needed to plan effectively and develop goals based on real data. With no forecasting in place, and an inherent fear of it within the team, the software challenge was quickly identified along with that of the culture. However, their change in strategy sparked a unified excitement in the sales team.
With an inbound marketing strategy running for 2 years, utilising the sales hub and not only marketing, was the natural progression. The sales team had built expertise on clients which enhanced the pipeline from prospecting to customer delight. With this goal in mind, Spitfire inbound, with a data driven approach, consulted on the processes needed along the sales funnel to ensure high quality conversions.
Spitfire Inbound tackled the challenges head on through both training and the implementation of smarketing meetings. The aim was to empower the team with the right tool and systems to sell and service clients optimally. Together we set to align the sales and marketing goals.
We know, that an effective content strategy can empower the sales team and associated leads along the pipeline. There is no better way to know what your personas needs than from the people who work with them on a day to day basis. This knowledge and insight is integral in the content needed to nurture leads into sales and provide direction to the sales people. The ah-ha moment came when the teams were able to see and track the journey, and how the activities and goals impacted the pipeline in the HubSpot tool. Veronica Wainstein, MD of Penquin described HubSpot CRM as "seamless" which "paints the picture perfectly without needing to micro-managing."
The training and tools achieved quick buy-in and pushed the culture towards that of a selling mindset.
"The sales enablement training helped the team gain new perspective and new soft skills needed for efficient prospecting and selling," said Ryan Nofal, Client Service Director at Penquin.
To sum it up, what did sales enablement help Penquin achieve in 2018?
Through sales enablement training, and a further understanding of the client engagement loop, Penquin's sales and marketing teams were empowered to be a part of the buyer's journey. They mapped out the needs of their clients in a consultative way.
This resulted in the following positive results that made Penquin happy :
Smarketing meetings (sales and marketing) take place bi-weekly, which has greatly improved the quality of leads offered through the pipeline.

The HubSpot CRM tool helped Penquin identify problems and solutions efficiently along the pipeline, offering perspective and shaping strategies going forward. This was only the start!

Penquin achieved a 30% increase in sales, and 85% of this growth is made up of up-selling to existing clients.

The soft skills the teams gained were often cited as the most positive experience by Penquin staff. The training had a great impact of the moral and growth on an individual level, and greatly improved the team dynamic. Says Melissa Mays, Account Director, "The sales enablement process gave me a better understanding of an ideal fit customer. Qualifying an ideal customer allows you to prioritise your time more efficiently and with the saying "time is money", you are optimising the company's bottom line."
And the year on year numbers speak for themselves:
20% increase in sessions

46% increase in online Contacts

290% increase in contacts created

63% increase in MQLs

275% increase in SQLs

1233% increase in opportunities

178% increase in customers

424% increase in contacts assigned to sales

289% increase in contacts worked from the sales team

8200% increase in new deals created

30% increase in sales

85% of sales growth made up of up-selling to existing clients.
With the triage of challenges, came the three tiered solution and opportunities that need to go hand in hand when growing as a business. Technology, process and people need to be developed to empower and evolve. As the team continue to grow and develop, Hubspot leads the way by constantly evolving and provides the foundation to allow Penquin to constantly push the boundaries on what is possible. All in all, adapting and adopting effective tools will provide any business with a competitive edge needed to grow in this very competitive environment.
And here it is - directly from the client!

Contact us today to start generating more sales with sales enablement.