We're thrilled to announce our sponsorship of Texpand, a Cape Town-based robotics team, for an upcoming international robotics competition scheduled to take place in Texas from the 18th to the 22nd of April 2023.
Texpand | 2023 FTC World Championship
We're thrilled to announce our sponsorship of Texpand, a Cape Town-based robotics team, for an upcoming international robotics competition scheduled to take place in Texas from the 18th to the 22nd of April 2023.

Here at Spitfire Inbound, we're always on the lookout for opportunities to support innovative ideas and invest in the future of our youth. That's why we're excited to announce our sponsorship of Texpand, a brilliant Cape Town-based robotics team gearing up to take on the world at the upcoming FIRST Tech Challenge (FTC) international robotics competition in Texas from the 18th to the 22nd of April 2023.
Spitfire Inbound Proudly Sponsors TeXpand
At Spitfire Inbound, we're passionate about youth empowerment and technological innovation. That's why we're proud to be sponsoring TeXpand—a team that shares our passion for investing in tech-savvy solutions and unlocking the potential of the youth.
Texpand's mission and vision align perfectly with our own messaging and brand essence, which is all about fostering youth employment and skills development. By supporting Texpand, we're not only championing cutting-edge technology, but we're also actively investing in the future of our young generation.
Together, we're fueling a bright future of endless possibilities, where young people are equipped with the skills they need to succeed in the ever-evolving technological landscape.
"Enabling young people with the essential resources and support is crucial to allow them to experience the life-changing potential of science, technology, engineering, and mathematics. By doing so, we can help them become valuable contributors to their communities and beyond, building a stronger and more dynamic society." - Darren Leishman, Managing Director at Spitfire Inbound.
The Texpand Journey
The Texpand robotics team sprung to life in 2020 with clear goals in mind—to compete in the FTC and provide opportunities for students to develop their Science, Technology, Engineering and Mathematics (STEM) skills.
The team has undergone a difficult learning process, given that most of its members had limited exposure to robotics and coding at the outset.
Nevertheless, through collaborative efforts, skill-sharing, and a persistent problem-solving approach, Texpand has achieved remarkable success by securing the South African Nationals Innovation Award and Winning Alliance Award in consecutive seasons of the FTC competition.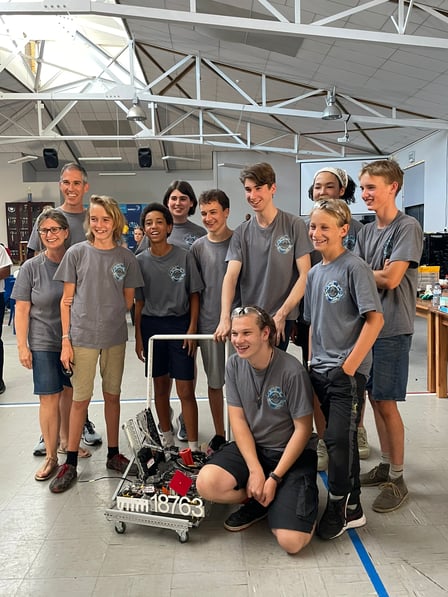 Image source: http://texpand.org.za/
In the upcoming FTC competition, Texpand hopes to deepen its connections with other top teams, learn from them, and bring the skills back to South Africa.
About the First Tech Challenge (FTC)
FTC is a prestigious international robotics competition that offers an exciting platform for high school students to unleash their inner tech geniuses and immerse themselves in hands-on STEM learning, all while having an absolute blast.
FTC is more than just a competition, as it encompasses the growth and improvement of STEM skills. Every season, participating teams are given several months to construct robots that will compete against other teams in a timed game, kind of like the Olympic Games for robotics. However, the game changes each year, presenting new challenges and opportunities for innovation.
The FTC challenge for 2023 is called Power Play, where teams must compete to collect and stack cones on poles of varying heights. With this year's challenge, the stage is set for an epic showdown of tech and innovation, where young minds will showcase their skills and creativity in building robots that can conquer.
The competition promises to be an unforgettable experience for all involved, as students push themselves to their limits and achieve results they never thought possible. Who knows what incredible ideas and solutions will be born from this year's competition? One thing is for sure, the sky is the limit when it comes to the future of STEM.
The partnership between Spitfire Inbound and Texpand is a testament to the power of collaboration, innovation, and youth empowerment. By sponsoring Texpand, Spitfire Inbound is investing in the future of South Africa's young generation and supporting the development of crucial STEM skills that are essential in today's world. We look forward to seeing Texpand and other participating teams push the boundaries of technology and bring their skills to the forefront in the pursuit of excellence.
Ready to see Texpand in action? Watch this video to learn more about the team's journey and how they're making a difference in the world of robotics.
Subscribe to our blog and follow us on social media to stay in touch with Texpads journey!