Onboarding with Spitfire Inbound takes a model airplane… and an in-depth interceptor process. Here's what you can expect when you sign up with Spitfire Inbound.
It's not often that an onboarding process with a marketing company starts with your agency handing you a model airplane in pieces, but if your agency is called Spitfire Inbound, it makes sense.
It's more than a nice gesture that helps our clients feel like we're building something together: it's a physical representation of the in-depth onboarding process we do with each inbound client.
THE

12-STEP SPITFIRE INTERCEPTOR STRATEGY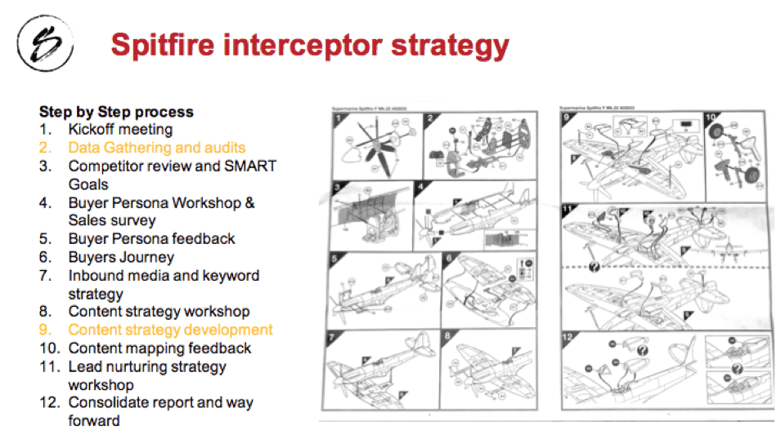 Our twelve-step process takes clients from the beginning to the end of their inbound journey. Step-by-step, we're with them every step of the way.


Understanding your business
We'll begin with a kickoff – and then we gather data and audit the marketing content each client already has available. We then go further – it's not enough to know what your company is doing, we want to know what your competitors are doing, too – what they're doing well, and what they're not doing so well. Using this information, we build SMART goals together (specific, measurable, achievable, realistic and time-bound). These smart goals will help us identify what we want to achieve along this inbound marketing journey.


Understanding your customers challenges
Then we start to take a look at the people that each company is trying to reach: their customers and prospects. Some agencies may simply make assumptions, or jump to conclusions about who your customers might be: we don't. We do a buyer persona workshop with key members of your sales and marketing team, and gather critical information about your customers and prospects from your sales team. This allows us to produce beautiful buyer personas, which we feed back to you – just to check we're all in alignment.
Then starts the process of how we identify which content our buyers' need as they go through their journey from prospects to customers. We also build an inbound media strategy at this stage and identify relevant keywords. Our personas told us who we're reaching; this stage of the process tells us how we're going to reach them.
Building a content strategy
Content strategy comes next. We'll do a workshop with you and relevant members of your team so we can develop a content strategy that makes sense for you and strategically addresses your company goals. We'll make sure that, by getting feedback from you on the strategy we've developed, that we're all in alignment, again.


Building a lead nurturing strategy
Then we look at lead nurturing. This is critical because we know that even if we produce the best content in the world - that answers questions that your customers didn't even know they had and that convinces them you know what you're talking about – they still won't buy from you unless you are able to nurture them in a meaningful way that takes them from 'maybe' to 'buying now!'
And that's where it ends… or does it? Actually, no, we then make sure we consolidate all of this knowledge and report on it – and we'll show you the way forward so that you can choose to either take on the next steps yourself, or engage us to help as much or as little as you feel is best for you.
Our 12-step Spitfire Interceptor Strategy takes you through the inbound marketing journey, right up to and including the implementation of inbound marketing automation tools themselves.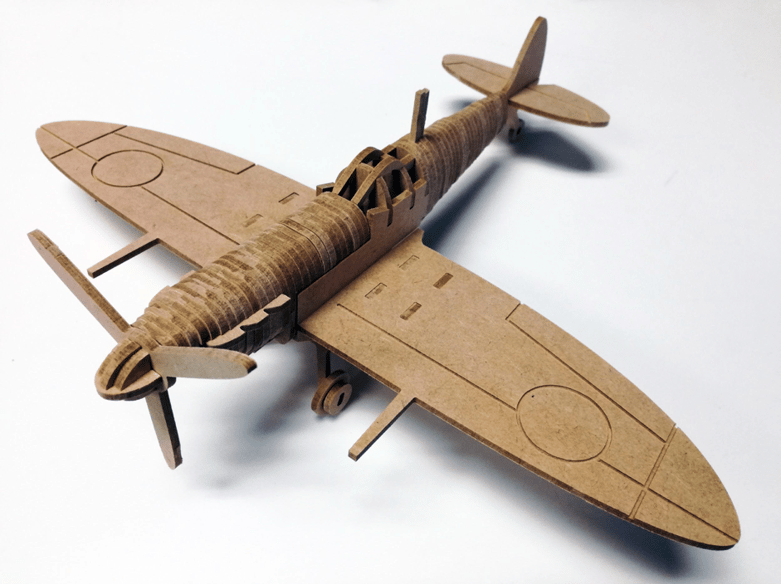 WHAT'S THE RESULT?
We'll be with you every step of the way – and increase the quality of your sales qualified leads.
The results are:
that you'll know your customers better than you ever imagined you could;

that you have spot-on marketing collaterals that reach your clients in a truly meaningful way;

and that you're able to track and measure the results of implementing campaigns to reach those very people.
Sound too good to be true? It's not. But don't believe us, believe our customer – this is what Charl Grobler from Suzuki Auto South Africa has to say about us:
"We firmly believe that the Inbound philosophy is the future of marketing. In this day and age, the concept of helping customers throughout their buying and ownership process is absolute gold. Spitfire Inbound has guided Suzuki through the entire process of adopting this philosophy into our company. Measurable, exciting and inspiring strategies are helping us, help customers. We have some way to go to reap the full reward but Hubspot and Spitfire Inbound have the means to get us there."
Give us a call and get your own interceptor strategy started so you can stop or repel your competitors' hostile aircraft in their track – before they win the war for your new customers.