Content curation is a valuable way to quickly and efficiently add interesting, new content to your content plan. Here's how to do it right.
One of the biggest challenges brands face when taking onInbound marketing is creating enough interesting, relevant content to interest and nurture leads into customers. Content curation is an excellent way to help fill the content gap, and is a handy method to keep in your tool box.
In this age of the content tsunami - where there is a proliferation of online content - we advise brands not to add to the noise. Only write articles if you're going to add value to the conversation; otherwise it's better to curate content around a trending topic. This allows you to jump on the keyword for those great search results, but also gives you the advantage of jumping on to a topic with a speedy response. For some of our B2C brands, we advise curating several articles at once (for example, a list of reviews), to provide useful information to their clients in the form of a listicle.
Content curation is neither content aggregation nor references to other sources alone. It's also not plagiarism. It's sharing content with added original commentary, which means it looks a lot like content aggregation, but gives you completely unique, original content that lets you tap into and utilise the full extent of the internet and all the rich, interesting and relevant content already published
This is also a common social media technique, and some popular Instagram feeds have garnered a generous following, simply by curating content with the same look, feel, and theme. Some popular Instagram examples are Calligraphy Masters, Accidentally Wes Anderson, and A Beautiful Mess.
Says The Content Marketing Institute, "Content curation adds editorial value through a personal perspective and commentary that integrate your 360-degree brand. Curated content isn't just sharing or aggregating other people's content. Content curation can be totally new, original content that you publish for the first time."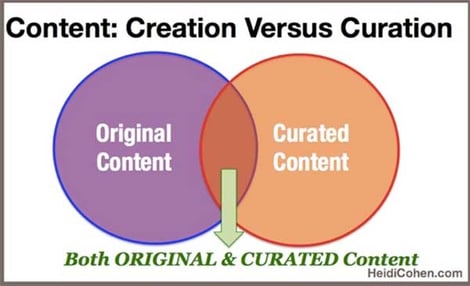 Big sites that churn out a lot of content, like Jezebel and the Huffington Post, do this exceptionally well as they need to put out a high volume of content and don't always have time to write everything from scratch. There are several styles of curated content, but the one I'm going to share is quite common and easy to execute.
It's important to remember that being a good curator of information is just as valuable as producing brand new content. There is so much content available on the internet, that acting as a funnel - and adding your brand's valuable perspective and expertise - is an overlooked and important function for a content creator. "Content curation assembles, selects, categorises, comments on, and presents the most relevant, highest quality information to meet your audience's needs on a specific subject," says the Content Marketing Institute.
For a great example of curated content, have a look at this article by now defunct Gawker. They excellently curated an article from New York Magazine, and did it by adding original commentary, crediting the original and creating a new heading.


CURATED CONTENT NEEDS:
Unique heading. This is important for SEO and search results, and also to indicate that your content is unique.

Unique introduction introducing the topic, and the original article too. Remember that the focus of the piece is the TOPIC and not the original article itself

Credit the original article (We read an excellent piece on x)

Sift out your key takeaways from the piece

If you can, add additional information

Add in a second link to the article (to read more, here's a link to the full article)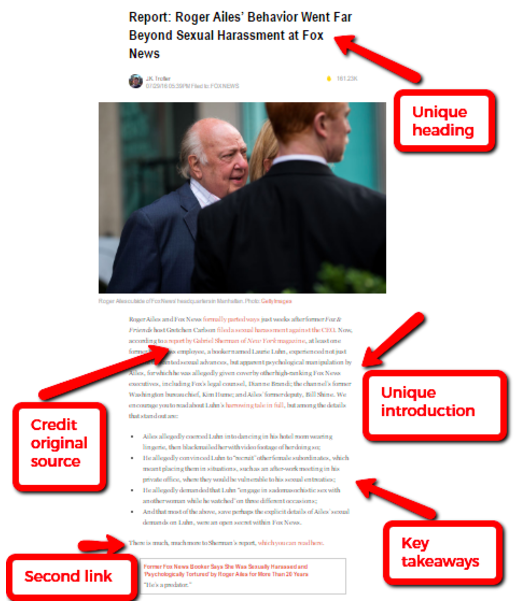 This is also a great way to add delight to the customer journey, with prospects, and existing customers.
You can do this by:
Illustrating that you're on the pulse with industry related events.
Curating relevant newsworthy content - curation lets you do this quickly, compared to composing a new article on the topic that might not add significant value to the conversation.
Curating your client's content, if applicable to your readers.
Content curation is NOT plagiarism - and it's important to note that plagiarism extends to rewriting and paraphrasing paragraphs from the original source too. Content marketers Contently write about idea attribution theft, a big no-no when it comes to content curation.
In short, content curation can add vibrancy to and extend the life of your content plan. Use it wisely, with content you know will add value to your reader's lives.
Content curation checklist
Use this checklist to curate your own content.
Have you written a unique heading?
Have you got a unique URL for the post?
Have you written a unique introduction to the post?
Have you explained in this introduction why your readers would be interested in this article?
Have you attributed the original source of the content you're commenting on?
Have you ensured your content focuses on the TOPIC and not the original article itself?
Have you explained your key takeaways from the piece?
Have you added any value to the original piece, such as contextualising it for the reader?
Have you added in a second link to the original article (to read more, here's a link to the full article)?
Download the our marketing calendar to help you stay on top of your content creation.