SEO is a multitude of different factors and essential actions but it doesn't have to overwhelm you if you know the right place to start to see the success you want.
The power of SEO is undeniable yet many don't get it right for a number of reasons. SEO encompasses different factors and essential actions but it doesn't have to overwhelm you if you know the right place to start in order to see the success you want for your business.
We were honoured to have HubSpot Agency Consultant Bertrand Sempéré, for an Advanced HubSpot training session to dive into the complex nature of SEO and how to build SEO strategies for success.
Demystifying SEO
HubSpot defines SEO as the "techniques that help your website rank higher in search engine results pages (SERPs)." SEO is about ensuring your website is completely visible to search engines like Google and Bing when people enter keywords or key phrases linked to your business' website. SEO can help a business make certain that they are answering their audience's biggest questions on search engines and help drive traffic to their website where all their products, services and solutions are explained.
What many businesses don't understand about SEO is that it isn't a short-term action for rapid growth in rankings. For SEO to have a positive impact on your business, it requires consistency and patience. SEO is a constant process of updating and changing your website in order to achieve the best results.
For SEO to have a positive impact on your business, it requires consistency and patience.
There are a number of factors which help your website rank better. Bertrand explained the eight most important ranking factors for on-page SEO, ranking them from important to absolutely crucial:
Page Speed
Meta tags
Content structure
Website architecture
Domain security
Topic authority
Inbound links
Keyword intent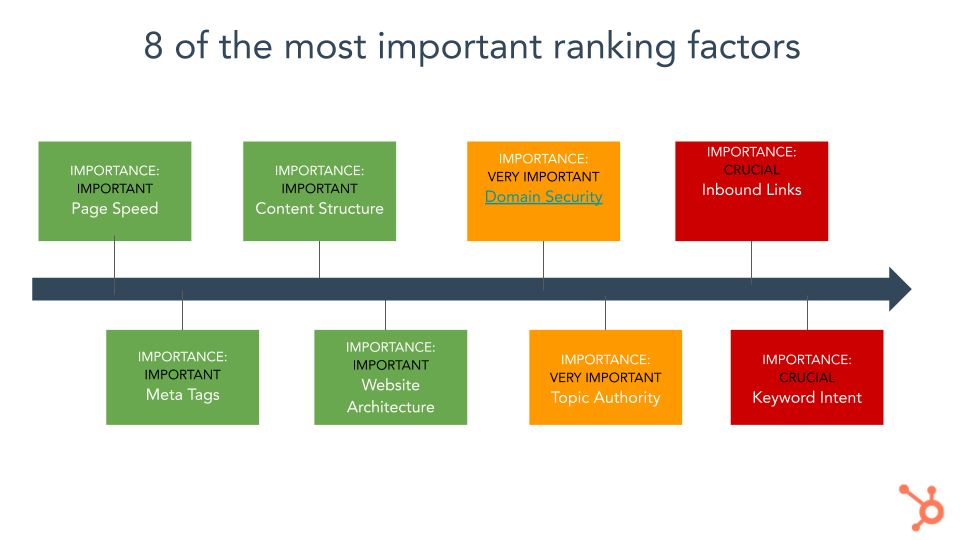 1. Page speed
The digital world has led to users being impatient and wanting instant solutions and results and this makes page speed important. How fast your website loads, both on computers and mobiles, is what a search engine will look at when ranking your website. Three seconds or less is the common load time from when a user clicks on a website from a Google search result.
2. Meta tags
Meta tags are something users see every day on Google. Meta tags are what help Google recognise the purpose of a webpage and what exactly on that webpage is important to the topic and the targeted keywords. This factor helps a user decide if a website is useful to their search or not and can persuade a user to choose your website over another.
3. Content structure
A good content structure is what will ensure readers remain engaged with the content on your website. Content structure includes elements such as bullet points, supporting images and cited research.
4. Website architecture
Organising your website into clear subdirectories by using text at the end of each webpage's URL is what website architecture is all about. This ranking factor is the one factor you need to get done correctly right from the beginning when launching or relaunching a website.
5. Domain security
Domain security is how a search engine, such as Google will recognise secure websites from those that aren't secure. The famous 'https' at the beginning of a URL is an indication of a secure website and helps Google index it as safe to use for a user.
Let's now have a deeper look at topic authority, inbound links and keyword intent and how they feed into a successful on-page SEO strategy. They are the global best practice in SEO that businesses should focus on before working on the other ranking factors.
6. Topic authority
Search Engine Journal defines topic authority as "a perceived authority over a niche or broad idea set, as opposed to authority over a singular idea or term." If you want your business to be seen as a leader in its industry, then you need to ensure your website shows content on topics key to your business and industry. HubSpot suggests that "after creating a topic in the SEO tool, you can track Domain Authority for your topic phrase." This scale determines how authoritative your domain is, and how high your page is likely to rank for that term in search engine results.
7. Inbound links
Inbound links are not the same as internal links. Internal links are links on your webpage that link to another webpage within your website. HubSpot explains inbound links as "links coming from another site to your own website." Inbound links are important as they show search engines that your website is an authority on a certain topic because other trustworthy websites have linked your content.
8. Keyword intent
As HubSpot says "using keywords that exactly match a person's search is no longer the most important ranking factor in the eyes of an SEO professional. Rather, it's the intent behind that keyword, and whether or not a piece of content solves for that intent."
Your webpage that pops up in a search needs to be intended to solve the problem of the user. Keywords can have a variety of meanings so to ensure the intent behind a user's search and your keyword match, be careful of how you want your keywords and phrases to be interpreted. You can learn more on
the impact of intent, in a content strategy here.

Advanced HubSpot User training - Spitfire Inbound, Johannesburg.
The role of Content in SEO
1. On page SEO
2. Topic clusters
On-page SEO

On-page SEO includes not only the content on your website but the HTML source code of each webpage that can be optimised. These are the key elements to ensuring your on-page SEO strategy is created for success:
High-quality page content
Page titles
Headers
Meta descriptions
Image alt-text
Structure markup
Page URLs
Internal linking
Site speed
The content of your website is what should provide your readers with value. Readers can only decide if your website is of value to them if the page title and meta description clearly state what content your website is providing. Keeping your page titles up to 70-78 characters and your meta descriptions to 120 to 160 for mobile and computer is best practice, and considered good on-page SEO.
Search engines can't read images, so you need to ensure your images are correctly labelled with image alt-text. This needs to be as descriptive as possible in 125 characters.
The 'mark up' or structured data of your website source code is crucial to get right from the start so Google and other search engines can find it and understand all the elements on your webpages.
Linking to other pages on your website through your content, is an easy way to get on-page SEO right. You want your readers to stay on your website for as long as possible and be able to find related solutions to other pain points they might have.
In 2019, you cannot have a website that isn't mobile responsive, especially in South Africa, where a majority of the population accesses the internet on mobile phones.
This can be a lot to implement all at one go, so ensure to do an on-page SEO audit and work on the areas that need improvement - the areas where you'll have the biggest impact or results.
---
Want to know how to approach analysing your SEO results? Our blog makes all the data you receive easy to understand. You can also view interesting statistics on SEO from HubSpot.
---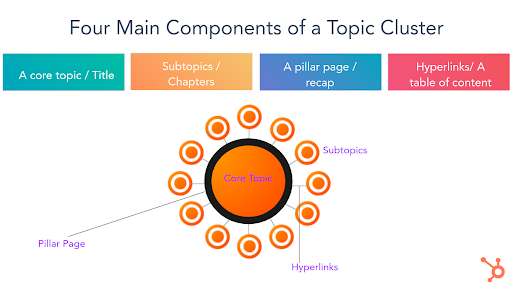 HubSpot Agency Consultant Bertrand Sempéré's overview of a topic cluster.
HubSpot defines a topic cluster as "content program that enables "deeper coverage across a range of core topic areas while creating an efficient information architecture in the process." When done correctly, topic clusters will help Google and other search engines understand exactly what your website is about by building a concentrated network of engaging content that offers users a good experience and a reason for Google and other search engines to rank your pages higher.
A great analogy

Bertrand used a great analogy of writing a book to explain how to create a topic cluster. The core topic is the title of your book and not only what you want to be known for, but needs to be what users are searching for. This is usually 1-3 words and is kept broad.
Keeping the core topic broad and becoming more specific and niche in your subtopics is an important step to remember.
The chapters of your book are the subtopics of your topic cluster. Subtopics can be determined using qualitative research and tools such as Google Search Terms, Google Keyword Planner, and Quora. It's easy to have a saturation of content, so HubSpot recommends moving onto another subtopic after you have around 20 blog articles published. If you feel you have information relevant to a subtopic but have reached 20 blog articles, reuse your existing content by merging/linking articles and updating them with relevant information.
A pillar page is a lengthy in-depth website page that covers questions a user may have on the core topic and links to a subtopic. This could be seen as the summary of your book.
Hyperlinks are the last part of your topic cluster and it's crucial to have a solid linking structure to ensure every subtopic is linked to a relevant pillar page. Hyperlinks can be viewed as the table of contents of your book and ensure all your content is linked together to create this network.
HubSpot defines seven steps in implementing a topic cluster strategy:

1. Define your core topic
2. Define your subtopic
3. Repurpose existing content. Map your existing pages to topic clusters
4. Create new content. Create and execute a stellar content plan
5. Create your pillar page
6. Implement a linking structure
7. Measure and improve your content
Off-page SEO
An off-page SEO strategy is tricky to get right and you have limited control. Bertrand emphasised preparing ourselves for rejection when doing off-page SEO. Continuing to do off-page SEO despite the rejection you may come across will pay off and have an enormous impact. The most important off-page SEO factor is showing your authority by having your website's content being linked on other trustworthy websites. The topic relevance of a link is important because a search engine will check if the links are related to the content on your webpage.
Networking, adding link hooks to infographics and quotes, linking to influencers in your industry in your content and asking for guest blogs are all great examples of off-page SEO methods. Reclaim a link to your content if you see it on another website by sending an email to the author of the website to link your content correctly.
A competitor analysis is another off-page SEO method to use as you'll find opportunities to get similar links for your content. Don't forget that your social media marketing is another way to do off-page SEO. Perfect SEO doesn't exist but you can come close with these insights from our Advanced HubSpot training session.
Want to get started on improving your SEO? Our website review is the perfect way to identify a way to improve your website's SEO and ensure your business is doing all the best practice to improve your ranking.
Already using HubSpot? Great job! Now take it a step further with our HubSpot Portal Health Check to ensure you're using HubSpot the right way to get the best out of it and confirm that it is the right solution for your business.