HubSpot's Topic Clusters are an excellent way to improve the SEO and ranking for your website. Follow this easy guide to nail this relatively new digital tool.
HubSpot's Topic Clusters are an excellent way to improve the SEO and ranking for your website. Follow this easy guide to nail this relatively new digital tool.
Estimated reading time: 5 minutes, 38 seconds.
SEO is no longer the sprint it used to be: stuffing keywords carelessly into website copy to strong-arm Google into ranking the page highly. SEO is now as strategic as any other part of your digital marketing and requires a multi-faceted approach.
And as any content creator knows, increasingly niche SEO requirements mean that your content is live in a fiercely competitive online space:
Starting a podcast in 2019 pic.twitter.com/Lrx39rXNSp

— Mike Camerlengo (@MCamerlengo) October 19, 2019
That's why HubSpot developed their SEO tool, Topic Clusters. This tool encourages clients to showcase their quality content - and products - through a savvy SEO strategy, by linking their website (often static or gradually updated) and blog (often dynamic with new copy being published fairly frequently) and using their blog to help their websites rise to the top of search results.
As HubSpot says, "Influential search engines like Google have changed their algorithm to favor topic-based content. As a result, SEOs are exploring a new way of linking related content under a 'topic clusters' model."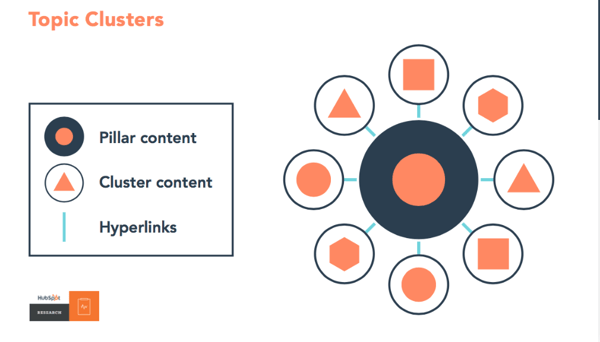 We explain more about SEO and Topic Clusters here
The first time you log onto Topic Clusters it looks intimidating, but with our easy guide below, packed with tips and advice from HubSpot Agency Consultant Bertrand Sempéré, you'll soon be nailing this handy HubSpot tool.
HOW TO USE HUBSPOT TOPIC CLUSTERS
HubSpot's Topic Clusters helps you link blog posts to a core page, like a website page or pillar page, around a main topic. This "network" of links between related content, all leading back to the same page, helps you rank for the topic and ultimately helps the core page you've chosen to rank highly for that topic, as it's seen as an authority on the subject. See the visual example by HubSpot below: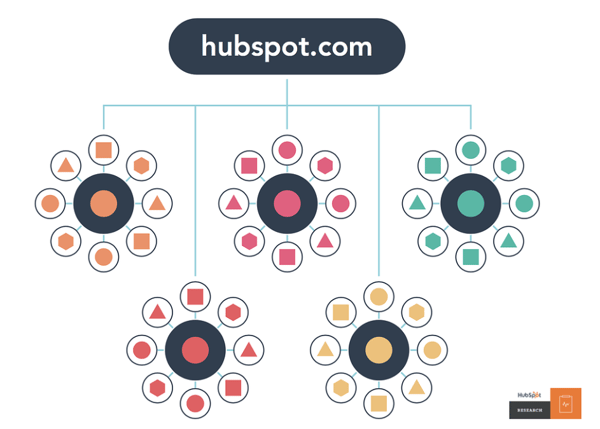 Essentially, a core topic helps Google understand what your website is about. As we highlighted in our first of this series, Bertrand uses the great analogy of a book. As he says, says you should approach this like writing a book, with the book title as your core topic (short and sweet) and the subtopics (long-tailed keywords) as the chapters. The pillar page is your summary of the book, and the hyperlinks can be equated to the table of contents.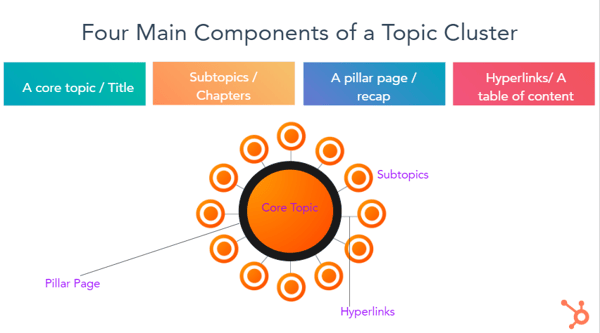 Here's the step-by-step below:
1. STRATEGY FIRST
Crucially, you need to approach this tool with a strategic mindset. Bertrand recommends you ask yourself, "How would I search for this core topic?" A good place to start isn't with what you do or sell, but rather with what challenge your buyer persona faces.
2. DEFINE YOUR CORE TOPICS
a) To find this tool, click on the following in HubSpot: Marketing > Planning and Strategy > SEO > Add a topic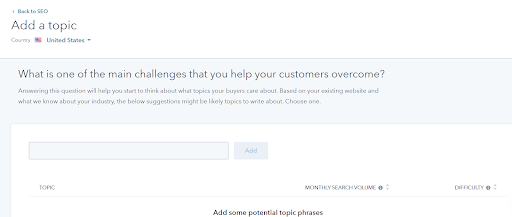 Remember to change the country to one relevant to your target audience.
A good core topic should be a "head term" of two or three words maximum and which should generate a high volume of research. Your core topic is what you want to be known for, needs to be what the user is searching for, and it should be broad. You can become more niche with long-tailed keywords in your subtopics.
To determine a core topic:
Ask clients and prospects how they found you. Talk not only to those who you sign but more importantly those you didn't sign to ensure that you understand the gaps in your current SEO strategy.
Ask internal colleagues: what are the main objections that your sales and services team are facing?
Start with your primary buyer persona - the "low-hanging fruit" that brings in most of your business.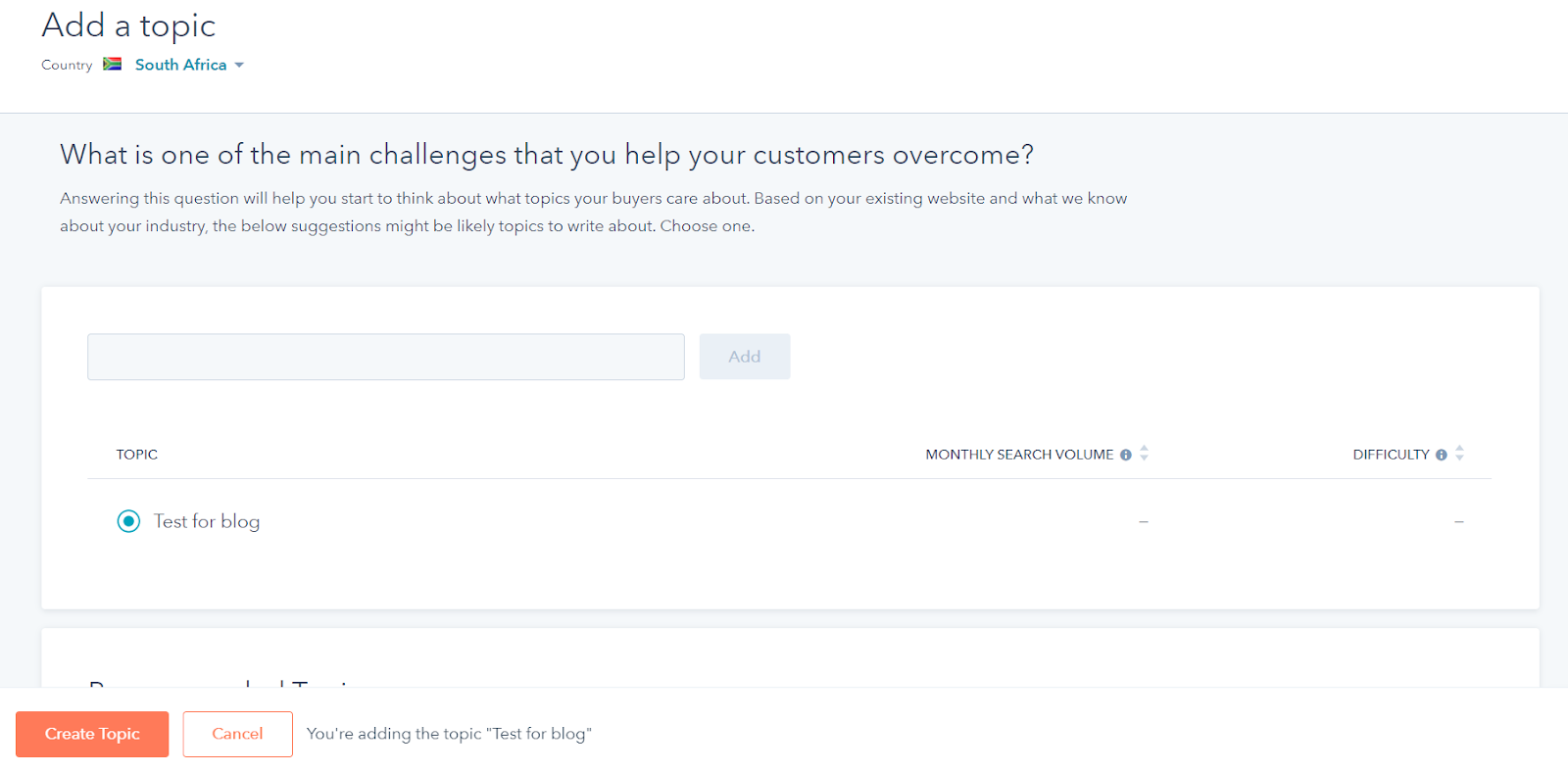 b) Once you've added in the topic, click on the button that says "create topic".
c) Add in the link to the website URL, pillar page, or content offer landing page that relates to the core topic (the page you want to drive people to around this topic).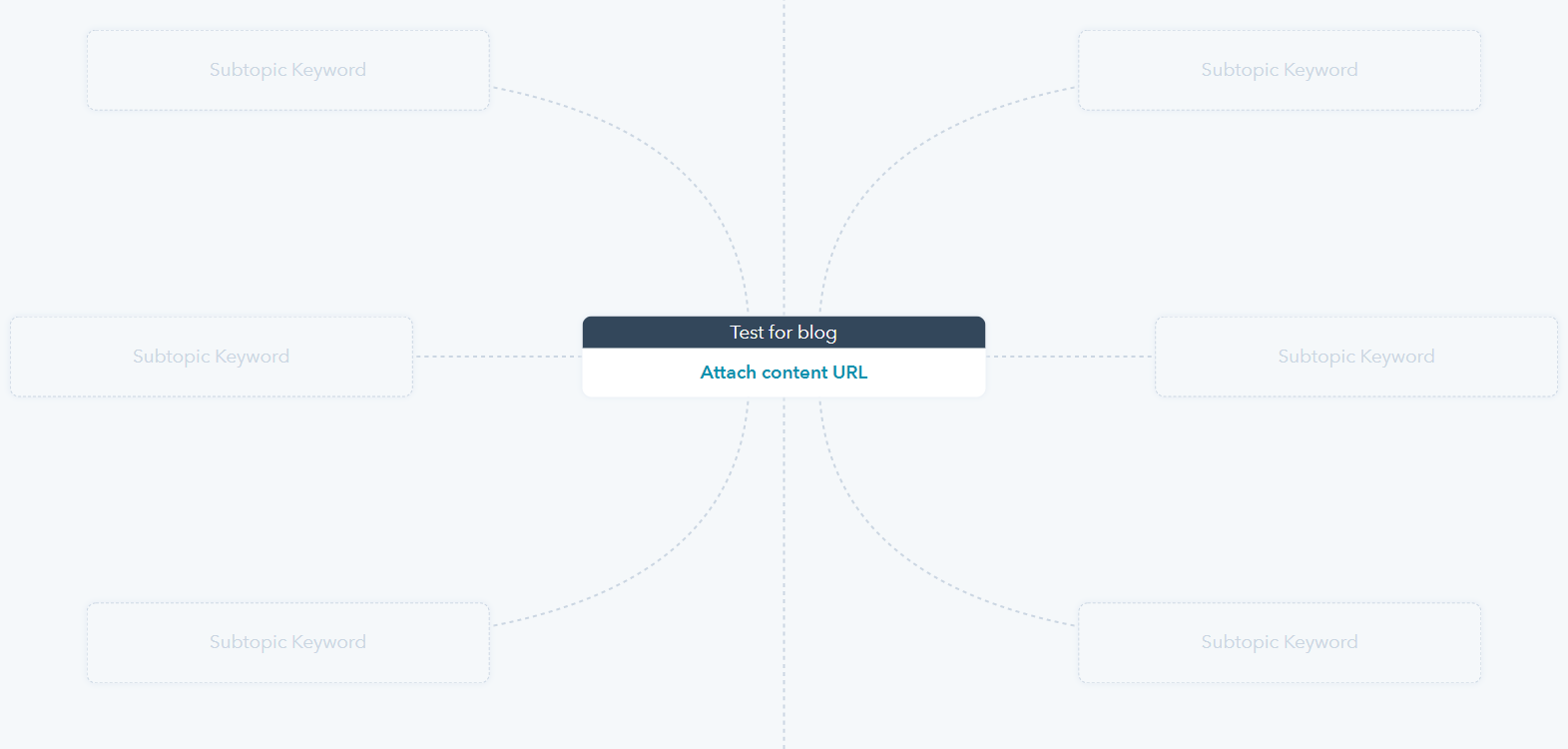 3. DEFINE YOUR SUBTOPICS
Long-tailed keywords are appropriate for your subtopics.
a) To determine your subtopics:
Qualitative approach
1. Interview your prospects and clients to understand their buyer journey, and the challenges, pain points, triggers, and alternatives associated with it.
2. Meet with your sales or customer support team to explore their frequently asked questions.
3. Think from your persona's perspective.


Quantitative
1. Perform comprehensive keyword research
2. Brainstorm keywords related to the core topic
3. Make sure you cover the entire buyer journey (awareness/ consideration/ decision)
b) To add the subtopic, click on "Add subtopic keyword". Once you've added it, be sure to link it to an appropriate blog you've written that explores the subtopic in more detail.

4. REPURPOSE EXISTING CONTENT
Only the strong survive!
You don't need to recreate the wheel for every core topic - chances are very high that you've already got content that speaks to this and your subtopics. Bertrand explains four options for existing posts:
Update: Refresh with up-to-date or additional information. This is a great option for articles that are not ranking on page one anymore.
Recycle: This is for content that does not fit in a cluster topic but does have inbound and back links - so change the focus of the post and keep the benefits of the post's SEO history.
Combine or merge some content.
Map your existing pages to the topic cluster.
5. NEW CONTENT
Create a strong content strategy that applies to your core topic and to your buyer persona's pain points
6. USE PILLAR PAGES
What is a pillar page? It's a website page that covers a topic (your core topic) in depth and is linked to a cluster of related content (your subtopics).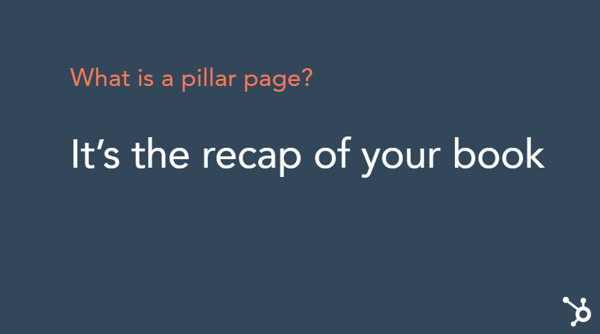 To have a successful pillar page:
Ensure it is conversion focused!
Make sure you have multiple conversion opportunities.
Anchor links are important as these make the navigation easier, which improves the user experience.
Link to existing blog posts - both internal and external. Each time you add links you dilute the authority of the pillar page, so be mindful of doing this strategically.
Keep it up to date.
Use no more than 400 - 75000 words.
A good way to start is to use a white paper or ebook and repurpose this into a pillar page.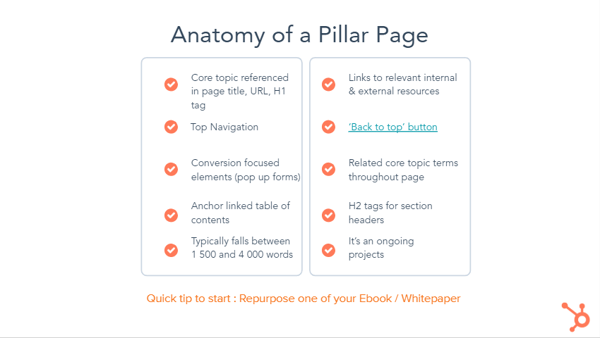 7. INTERNAL LINKING STRUCTURE
Every Subtopic should link to your Pillar Page. Use HubSpot's SEO tool to identify missing links from each subtopic to your pillar page and then transfer your SEO credit back to the pillar page. This identifies the pillar page as the authoritative page. Google will then rank this pillar page higher. This is how you're able to rank your core topic higher despite this being a generic term.
8. MEASURE AND IMPROVE
Use HubSpot's topic analysis dashboard to constantly measure and improve as you go!
In conclusion, using HubSpot's SEO tool will ensure that your website and blog are working for you, and not against each other. This is no longer a short sprint to page one!
Not sure how to use this awesome tool? Contact us for training and consulting.