The State of Inbound 2016 has been released by HubSpot, and we're focusing on why agencies should be thinking about decentralised content
Marketing is about to get disrupted - again. In 10 years, marketing philosophy has shifted from outbound to inbound; and inbound marketing keeps evolving. The next big shift: decentralised content distribution.
To put it it simply, content decentralisation is all about putting your online content in more places, more often. According to Hubspot's State of Inbound 2016 report, more and more inbound marketing agencies are "thinking hard about decentralised content. Many are experimenting with taking their content to new channels."
Where content used to be distributed on limited channels, such as sharing a blog post on social media, now content is not only distributed on many places, but also hosted on a variety of platforms. For example, with Facebook articles, content is hosted directly on Facebook and not merely shared from a website or blog.
Content now has the opportunity to occupy more places, for longer. It's not only about the development and promotion of our content; it's about the distribution and capitalisation publishing opportunities. Key to this evolving strategy is choosing the medium most appropriate to your client, or they may feel like they're getting drowned in your content.
The biggest shift we've seen is the use of video as a vehicle for content, with 48% of the 4500 respondents planning to add YouTube to their content distribution channels within the next 12 months. Facebook video and Instagram are also in the pipeline for content strategies, which means that consumers will be doing a whole lot more watching, and a lot less reading.
"With the volume of content out there, it's not surprising that consumers expect their content to be readily available in whatever platform they're currently engaging," says Samantha Steele, Spitfire Inbound's Content Strategist, "This is the natural next step in consumer behaviour and Inbound Marketing can take advantage of this with the in-depth knowledge of buyer personas."
Our audience engages with us, challenges our thinking, and provides real time feedback on what works, and what doesn't. It's no longer a one way interaction of marketers feeding their consumers information; it's a conversation.
The numbers
This graph from the State of Inbound 2016 shows the content distribution channels inbound marketers are planning to add to their marketing efforts in the next 12 months: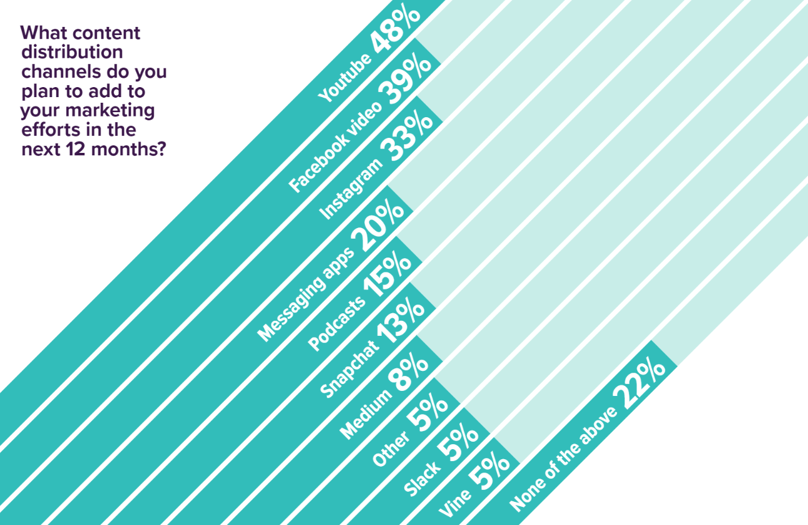 If you're a marketing agency, ask yourself these two questions: where am I putting my content? And then ask yourself: where are my consumers? If your answers don't match up, reconsider your content distribution strategy, and go to where your leads are.

Download HunSpot's full State of Inbound 2016 report below: