Can you keep up with the rapidly evolving world of inbound marketing? Here is Spitfire's take on what to expect in 2018.
Can you keep up with the rapidly evolving world of inbound marketing? Here is Spitfire's take on what to expect next year.

Technology is growing exponentially, and with it the possibilities of digital marketing. Every year we see new, technologically related trends, especially in the rapidly evolving field of inbound marketing - but what we're also seeing is how people use the technology, and what they expect from it, is influencing it's growth and development in ways it didn't before. This has a knock-on effect on the marketing possibilities and minimum expectations for an experience with a brand.
This year I spoke to our bustling team of fifteen people (last year this time, we were only ten!) to get their ideas on what trends we can expect in the following year.
This was their take:


AI: ARTIFICIAL INTELLIGENCE
If I've read one article on artificial intelligence, I've read a hundred. As Google Trends illustrates, there's a dramatic rise in searches for the term 'AI' over the past thirteen years.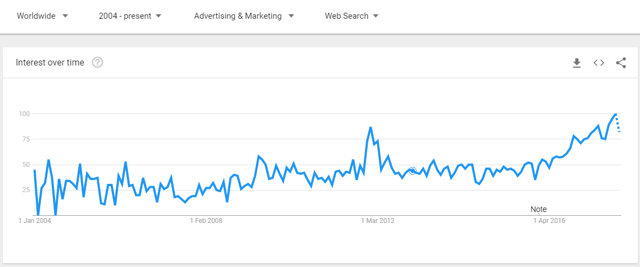 Worldwide there's a fear that AI could take jobs, and indeed we're already seeing AI implemented in ways you might not even notice: Netflix TV show suggestions, Facebook's suggested friends, Amazon's recommended purchases and Instagram's new algorithm, amongst many other invisible, background processes that make our lives - and our shopping - just a little bit easier.
In inbound marketing we're seeing instead the massive impact AI could have in enhancing our marketing efforts. As our MD, Darren Leishman, says, "I believe that 2018 will see practical applications for AI in the marketing world. Chat bots are already pervasive across multiple channels. The challenge for markets implementing the AI tech will be how to measure them and to ensure they are delivering on clients expectations."
The most important marketing implementation of AI in the next year will be with chat bots. As HubSpot explains, "The most advanced bots are powered by artificial intelligence, helping it to understand complex requests, personalise responses, and improve interactions over time. This technology is still in its infancy, so most bots follow a set of rules programmed by a human via a bot-building platform. It's as simple as ordering a list of if-then statements and writing canned responses, often without needing to know a line of code."
Linked with chat bots is the expectations customers will have of an immediate response from a brand on any platform: whether that's Facebook messenger or Live Chat on your website. HubSpot spoke about the 'death of the form' at Inbound17 - people don't want to wait for a response any more.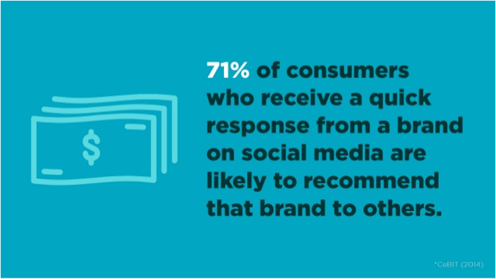 Image from Contently.
Our Commercial Director, Trevor Van Rensburg, sees a strong sales opportunity with chat bots and AI, saying, "Imagine creating a case directly from a conversation started on Facebook Messenger. Your bot recognises the issue and serves up a knowledge based article to solve the problem. Once the case is resolved, the bot automatically emails the person asking how satisfied they were."
The key message is that AI in inbound marketing is about helping people faster, and linking your opportunities across channels.


PERSONALISED CONTENT
87% of people say there are more ads than two years ago, and because of this people are increasingly reluctant to engage with marketing. Ad blockers are popular with 64% of ad block users saying they do so because they believe ads are annoying or intrusive.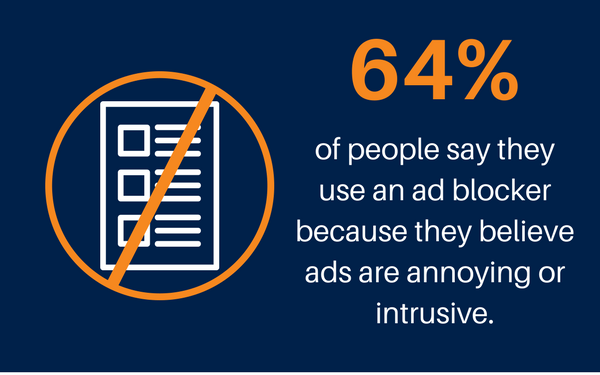 Tying in with the inbound message of "Always Be Helping", personalised content tells consumers that you care about them and want to help them with their problems. Consumers don't want to feel like a cog in your business's profit machine, and personalised content is the way to target the right people with the right message at the right time.
One of our Senior Inbound Marketing Strategists, Nicole Sengers, says, "As consumers get smarter we will find that they know we can tailor advertising to their needs and they will expect that kind of advertising more and more. Brands will have to tailor digital advertising and understand their consumers better if they want to stand out in 2018."
Linked to this is the importance of a clean database and ethically sourcing your data through opt-in communication (read our post on the upcoming POPI laws in South Africa and how that will influence your database). Be warned though, getting personalisation wrong is worse than leaving it out, and might actually make some people angry (have you ever got an email addressed to the wrong name? It's infuriating!)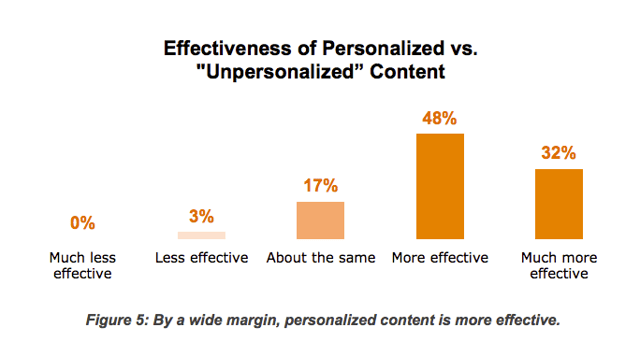 Image from Contently
However, the key to really stand-out in personalised marketing isn't just about adding in a first name to an email. It's also about creating and using detailed lists of your buyer personas, buyer journey phase, actions taken on your sites, and many other factors - and then creating content and messages for them.
This filters through to sales as well. As Trevor says, this is a definite theme across the board. Dubbed account based marketing, he explains it like this: "Account Based Marketing is a huge topic in marketing and sales circles right now. The core premise is that it's better to target actual companies – or accounts – than to broadly market to people who match a profile. Organisations which are seeing the greatest current benefit from account-based marketing are IT, Services and Consulting companies. With complex propositions, long sales cycles and large customers, these organisations are ideal candidates for the approach. It is, though, spreading into other sectors and a benefit can be seen to be an increased return on time."


LONG FORM CONTENT
The success of long form writing goes against everything we've been taught about how people use the web, but ties in perfectly with what we know about people. Long form is hard to define, but can be described as an article that's approximately 1200 words or longer. According to Curata, "Long-form blog posts generate more than nine times more leads than short-form blog posts."
Research from HubSpot indicates the same: great success with long form writing. Says inbound marketer Neil Patel, "HubSpot found that the sweet spot for driving the highest levels of organic traffic on a blog post was 2,250 to 2,500 words." This can be seen in the HubSpot graph below: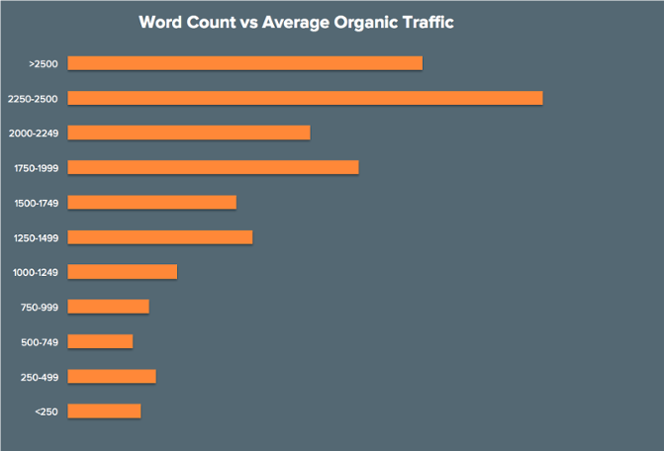 Says our Content Director Samantha Steele, "With the overwhelming amount of content online, it's important to provide real value with your writing to stand out from the noise. Long form content lets you do that."
As the Atlantic Monthly wrote, "Buzzfeed published a piece called 'Why I Bought a House in Detroit for $500.' The story ended up getting more than a million pageviews, which is notable because it is also more than 6 000 words long. The other notable thing: 47 percent of those views came from people accessing the story on mobile devices. And while people who read the piece on tablets spent an average of more than 12 minutes with the story, those doing so on phones spent more than 25 minutes - a small eternity, in Internet time."
Says Samantha, "Long form content allows you the opportunity to use a basket of your keywords more naturally, and Google is finally rewarding websites for good writing!"
How to do long form yourself? The best way, as Neil Patel recommends, is by adding a practical, how to angle to blogs. He writes, "If you're writing an article like, 'The best ways to drive leads with SEO,' then don't simply state the best ways. Show people how to implement them. Detailed, actionable steps are what people are looking for."
These growing statistics, plus changes to Google's algorithm that reward the use of synonyms, are why we predict long form content will be an inbound marketing trend in 2018.


VOICE SEARCH
Did you know that 20% of search queries on Google's mobile app and on Android devices are voice searches? The way people are searching is changing and this is affecting SEO and keywords. "Most people don't type the way they speak, especially when it comes to searching for something online" writes Forbes, "Think about it, when you're searching for something through typing, you tend to use shorthand (like typing in 'weather Santa Cruz' if you're looking for the forecast in Santa Cruz). When you speak, it's more likely that you'll use the complete question ('What's the weather like in Santa Cruz tomorrow?'). Because of this, it's growing more important for voice search and SEO to pick up on users' natural speech patterns."
The movement towards using voice user interfaces (VUIs), says our brand journalist Lauren Lokker, will change how we interface with technology. She says, "We'll see more and more AI assistants like Amazon's Alexa, Apple's Home Pod and Google Home Max. We'll be able to chat to our AI assistants for information - instead of spending hours glued to a screen doing research. This will free our time to do other things simultaneously - I can't wait!"


TRAINING ON INBOUND MARKETING SOFTWARE
With the ever growing amount of digital tools available for sales and marketing it is increasingly difficult to first choose one and then to master it. As a HubSpot partner agency, I see a need for training and reporting support to rise in 2018. The HubSpot tool has an ever growing array of capabilities and features and understanding not only how to use them but also how to implement them into your strategy is essential. Working with companies as a consultant and/or trainer will become a greater need - companies have invested in in-house resources who are doing a great job on delivery but require outside support for reporting and to optimise or align their strategies based on the data that they have.


INTEGRATED MARKETING EFFORTS
One thing we've learnt from inbound marketing, and from working with comprehensive brands like Suzuki, is that it's key to tie in all of your online and offline marketing efforts.
Senior Inbound Marketing Strategist, Sarah Mills, says, "This need for integration and reporting insights from above the line through to below the line is key - it's important to be able to report on activities, specifically above the line, that are amplified and measured by below the line activities. I think companies are now more than ever, searching for more than an agency that can deliver impressions, views and clicks. It's about conversion to contacts and customers... not just vanity metrics."
As inbound marketing's ability to deliver on real metrics like ROI and sales continues to grow, with tools like CRM and others that integrate across the sales and marketing departments, the importance of integrating your marketing efforts is an ongoing trend.
With this comes the importance of sales enablement. Darren says, "Working mostly in the business to business space I believe that the biggest opportunity for companies to grow is through alignment of the sales and marketing efforts. We have seen lots of progress and success in 2017. 2018 will see an acceleration of sales enablement in South African. Budgets are under pressure as are the executives who manage them."
With South Africa's financial status increasingly pressured, executives will be asking hard questions of the marketing teams regarding real returns from the investment and the sales teams will be under pressure to deliver.
As Darren explains, getting the most out of the marketing and sales efforts will require more collaboration and better efficiency. As marketing becomes hyper-personalised the lines between marketing and sales begin to blur, for this reason we need to get even better at aligning our efforts so that we are not working at cross purposes.


DECLINING ORGANIC REACH ON SOCIAL
The days of starting an Instagram page and streaking to internet fame are long over. Brands need to face the unfortunate reality that they're not going to get far with organic reach, and need to put spend behind their social media pages to see any real return on investment. Maricelle Gouws, Inbound Marketing Strategist and Social Media Specialist, says, "Brands must create strategies to find solutions to declining organic reach. Brands should accept that organic reach is declining and stop wasting time on short term tactics like optimising your social media profiles or posting evergreen content. Brands should be more selective about the social media platforms they choose to post their content on and should invest more in social ads and influencer marketing."


CONCLUSION
Inbound marketing is constantly growing and evolving, and that means trends are more than annual - they happen all the time. We hope you can start implementing some of the key trends and opportunities for growth we highlighted here.