Want to see success in your business and get the most out of your marketing? Take a look at this weeks blog and how we helped our client reach their goals.
About the client:
Lockstep is a leadership practitioner consultancy with a difference. They are constantly working towards the shared goal of enabling and empowering leaders of the finest caliber, delivering customised leadership solutions to support businesses throughout South Africa.
The Lockstep team is made up of industry experts with a wealth of corporate business experience, spearheaded by CEO, Rowan Belchers.

Learn more about Lockstep here.
The situation:
Being a traditional, face-to-face business, when the global coronavirus crisis caused a national lockdown in early March 2020, Lockstep needed to swiftly adapt to the changing climate. As their consultants were used to hosting both individuals and large groups in person, they needed to come up with a solution that would ensure the company continued to be operational during lockdown, as well as adapting to the changing needs of their clients.
The solution:
Lockstep decided to adapt and expand their existing services and move online.

They achieved this with a holistic approach, utilising a variety of digital platforms in order to go to market with their new digital product offerings.
1. Creating new digital offerings
The company created an entirely new set of product offerings, namely various high-impact and affordable Masterclasses available to clients as 45-minute recordings or as two-hour live virtual sessions.

The Masteclasses reflected the challenges leaders were facing at the time, with topics such as:
2. Creating a new landing page
In order to successfully promote their new digital product offerings, as well as for SEO purposes, Lockstep created a dedicated landing page for their new offerings.

Traffic from the rest of their marketing efforts was directed to the landing page, which housed a contact form in order for customers to easily get in touch with the brand.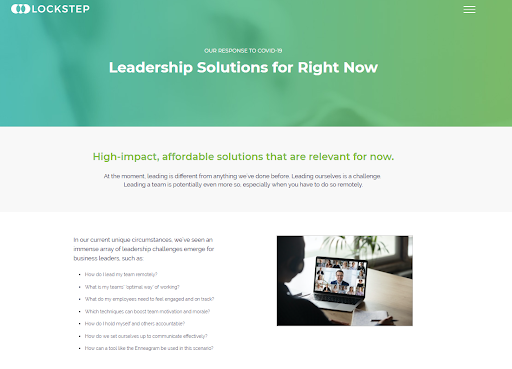 3. Hosting free webinars
The company hosted an array of free webinars around various relevant topics during the lockdown in order to increase awareness around their new offerings.

Their sales consultants gave their knowledge freely, resulting in added value, which delighted both existing and potential customers.
4. Using HubSpot's email functionality
Lockstep promoted the free webinars and the Masterclasses via segmented lists and databases in HubSpot. They also put the leads gathered into a highly-targeted email nurturing campaign.

They were able to successfully track and analyse the results of their email marketing efforts using HubSpot's reporting functionality as well as easily optimise and adapt based on the same results. This allowed them to be agile and responsive in a changing environment.
5. Leveraging the power of social media
Through a series of organic LinkedIn posts, as well as a targeted LinkedIn paid lead generation campaign, Lockstep was able to harness the power of social media. They leveraged off the fact that more users than ever before were online (as a result of many people shifting to home-based work).

The social media campaigns made use of both trending and branded hashtags, with strong call-to-actions and clickable links, driving traffic to the new, dedicated landing page.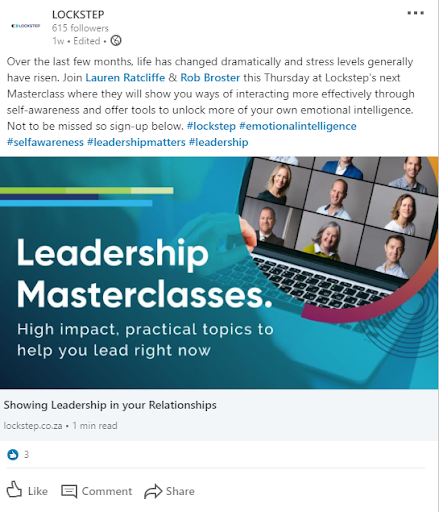 6. Running a targeted PPC campaign
In conjunction with the social media efforts, the brand also ran a highly-targeted PPC campaign, driving traffic to the new landing page. These ads were targeted to a series of specific, relevant keywords and audiences.
The results:
From 1 March 2020 to 31 May 2020, website traffic increased dramatically, month on month. Not only that, we saw some surprising results.
Key results include:
1 387 new visitor sessions
589 returning visitor sessions
1 976 total sessions
1 219.23% increase in leads compared to the previous reporting period
587.5% increase in customers compared to the previous reporting period
Key takeaways:
Even though Lockstep took a holistic approach to going digital, we can see that email marketing was the hero, which supported the entire digital ecosystem.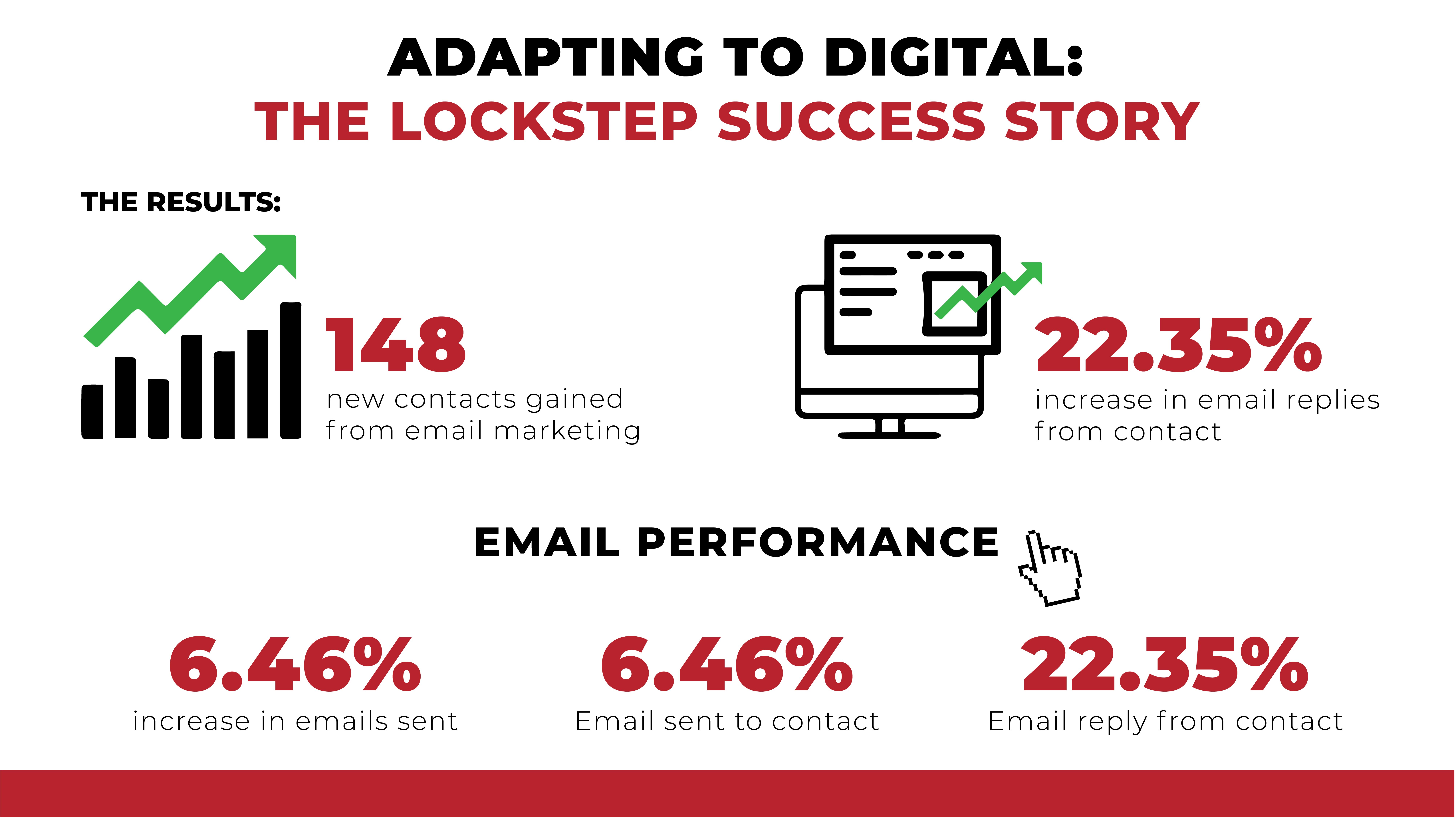 Total number of sessions from 1 March 2020 to 31 May 2020.

Total number of sessions by source from 1 March 2020 to 31 May 2020.

New contacts by source.

What the client had to say:
"The area where HubSpot was most helpful as COVID-19 hit was allowing us to create specific databases to share relevant Masterclass topics with key decision-makers. We've been able to track engagement, target our newsletters and ensure as many of the right people as possible connect with our team. We've seen remarkable results, with a 45% open rate and at least four new clients coming directly from these lead generation campaigns." – Carryn Ortlepp, Lockstep Chief Operations Officer
Want to see success in your business and get the most out of your marketing? Contact us today and get started.