HubSpot's annual look into the world of Inbound Marketing - State of Inbound 2017 - has been released. Here are our key takeaways from the report.
HubSpot released their annual report of insights into the world of Inbound marketing last month - State of Inbound 2017.
After giving everyone a few days to absorb the report, I polled the Spitfire Inbound team about their key takeaways from the report. From insights into sales, marketing, trends, content and social media, it was really interesting for me to see what our team members took away from different aspects of the report.
The takeaways below are in the writer's words. Whose opinion do you share?
---
Darren Leishman, MD, Co-founder, sales extraordinaire, creative and amazing doodler
72% of business leaders have closing more deals as a priority but only 27% have training as a priority.
To me this is like setting a goal to climb Mt. Everest and never even putting on your climbing boots.
---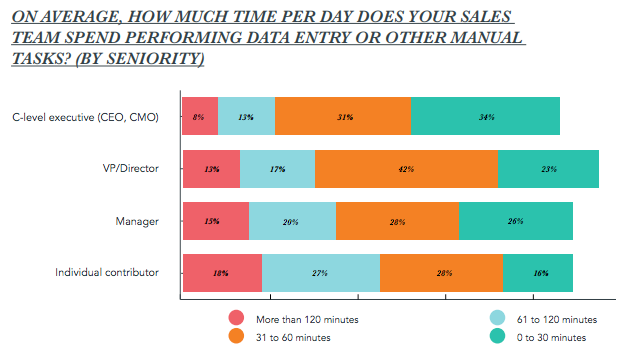 Salespeople are still using the phone and email to successfully connect with customers, they are also spending significant amounts of time doing manual data capture. I find it interesting how disparate the figures are between what sales people think and what their executives think. Does this mean that executive management is out of touch with the sales force? I see this trend daily, executives need to walk the walk and experience the sales process to understand the challenges their most valuable assets face every day.
---

Sales and marketing alignment is essential and seems obvious but only 22% of respondents feel they are aligned. This is a massive opportunity for most organisations.
Read Darren's article on helping your sales team
---
Marlize Laubscher - Inbound Marketer, design champion, our farm girl and owner of an amazingly stylish wardrobe
Marketers today find generating traffic and leads to be their biggest challenge, followed by Proving ROI and securing budget for marketing programs.
With the recent downgrading of South Africa to junk status, many companies are tightening their belts on marketing activities. However, when you optimise your process to generate traffic and leads your marketing becomes one of the most crucial income generators for your company.
---
We need to understand our modern buyer. We need to listen to our buyers and meet them where they want to be met. Good marketing makes the company look smart but great marketing makes the customer feel smart.
We see increasing smartness and competency levels in our B2B buyers.
---
Alison Leishman, Head Strategist, co-founder, data aficionado, and scrapbooking queen
Thinking specifically about inbound marketing projects, what are your company's top priorities?

This data highlights the importance of content to inbound marketing. Not only the creation, but the distribution and type of content too.
With respect to inbound marketing projects, marketers are focused on improving their SEO presence, creating more blog content that can be found via search, and distributing and amplifying content.
In the clutter of the online space, content needs to be found organically and it needs to be memorable and shareable. Creating content that is engaging is a key focus for us in 2017 so that those who engage with our brand, and our clients' brands, will become our brand advocates, promoters and influencers. Word of mouth remains the most trusted source of information, and this needs to be considered in any content strategy.
---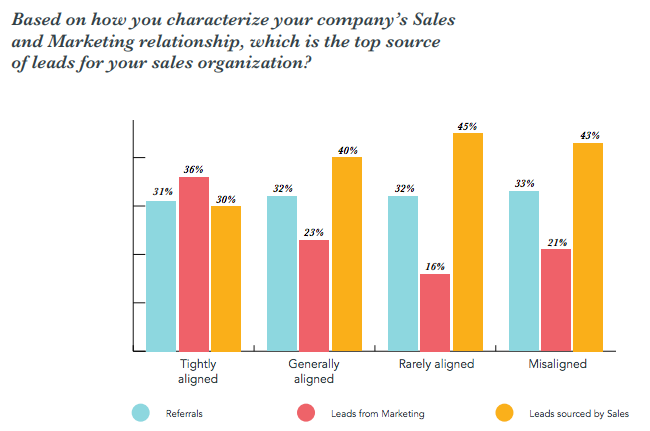 When sales and marketing is aligned there is an leveling out of the value attributed to the lead source - the responsibilities of lead generation is shared. This data is derived from the sales respondents of the survey which indicates the trust, as well as the quality of the leads, they get from marketing when the two departments are tightly aligned.
Read Alison's post on Buyer Personas
---
Lauren Lokker - Brand Journalist, tea addict, lifelong learner, and animal lover
Automation of content production will be a disruption. We are already seeing AI-generated content today. Most of today's news articles outlining sports statistics and earning reports are written by AI programs.
This stood out to me as a writer because I've always been relatively confident that creative roles are unlikely to ever be fully automated. It's one thing for a machine to master language - but can a machine truly make the words sing? I believe the key to excellent, quality content that delights readers lies in a synergy between technical accuracy (accurate facts, language usage, etc.) and emotional energy.
As a reader, I feel that a piece of content is only truly memorable when it's able to stir in you some sort of emotion - in such a way that you are, in that moment, actually transported into the world of the author. Whilst I'm an avid adopter of new technology and I do believe AI will disrupt content creation in many ways, I feel that only a human being can ever fully comprehend the essence of what it is to be human. Roles that require an actual human connection will always need a human touch.
Read Lauren's article on lifelong learning
---
Nicole Sengers - Inbound Marketer, team feeder and all round getting-stuff-doner
While most salespeople today use a CRM system to access and store customer records, data entry is the #1 challenge to using CRMs today, followed by a lack of integration.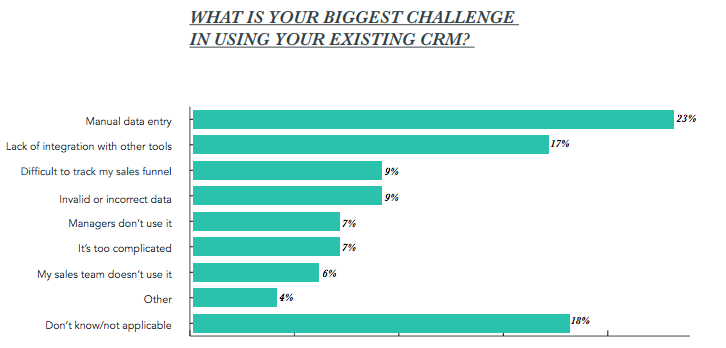 There is a lot of time being wasted because CRMs aren't being used properly. I think there's definitely an opportunity to train sales people in how to use CRMs, and how to integrate their technology seamlessly to make the sales process easier for everyone.
---
The times ... they are tumultuous. When we asked respondents about future disruptors to their business, people across the globe cited the current political landscape as a source of disruption in their jobs. For the first time, we received a multitude of references to current events: Brexit, the current U.S. administration, economic crises, world politics, and even a call-out on currency fluctuations in South Africa.
I think this is especially pertinent for us in South Africa - our economy often gets affected by our somewhat unstable political situation.
Read Nicole's post on Inbound PR
---
Samantha Steele - Content strategist, co-founder, coffee connoisseur and maker of the best whiskey marmalade in the Southern Hemisphere
SEO is a growing area of interest for all content specialists. With so many people trying to make a noise in the content space which is rapidly being saturated, having an SEO strategy is going to be crucial for creating content that stands out online.
There is a growing trend of organic social media being perceived as the most overrated marketing strategy.
While having an organic social following is growth, in the rapid-fire world of social media, numbers count. Your fans, followers and connections are going to be the strongest advocates for your content getting shared.
Read Samantha's article on curating content
---
Maricelle Gouws - Social Media Marketer with a tremendous talent for photography and a gorgeous jewellery collection
We have a hard time sometimes because we work in the rapidly changing world of social media analytics. Social channels are constantly introducing and rolling out new features and metrics. We have to quickly wrap our minds around if it's important to our audience, how our audience can use it, and if we should integrate some kind of functionality into our product. It's very fast-paced and difficult to stay on top of.
Social will continue to be a disruptor and we constantly need to be aware of our audience's needs and the platforms they are active on. Businesses will have to actively participate to expand their reach.
---
Social conversion is a big marketing challenge.
This speaks to the importance of continuing to create remarkable content, making sure content is mobile friendly, in context and, as our Content Strategist Samantha has said before, we should be creating shareable content that evokes emotions and feelings when consumed.
Read Maricelle's post on using video in Inbound Marketing
---
Lucille Moreton - Inbound Marketer, co-founder and all-round wunderkind
There's a generational change away from personal service and direct communication fed by a growing preference for technology—not people,
This is a seemingly small fact with huge implications. It's going to change how companies talk to their buyer personas and customers. We can no longer assume that a phone call is always the best way to close the deal - we're going to have to be smart with how we communicate with people. This emphasises to me the need to talk H2H (human to human) as a focus, despite being in a B2B or a B2C environment.
One of the best pieces of advice I can give is to ask your leads for their preferred means of communication - and follow it. If they want to be emailed, email them. If they want to be phoned, phone them.
---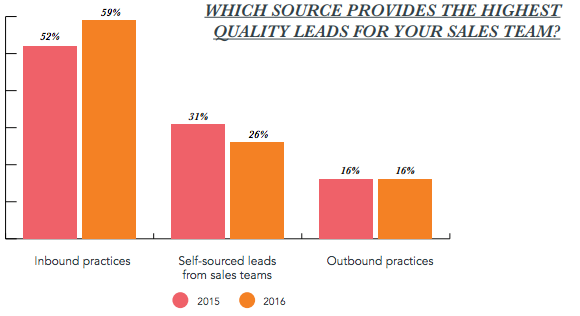 59% of marketers believe that inbound practices provide higher quality leads
This justifies the need of inbound marketing for clients concerned with the efficacy of generic marketing practices.
Click here to read my take on State of Inbound 2016
---
Sarah Mills - Inbound Marketer, operations manager and lover of running, fitness and sparkling wine #liveyourbestlife
Getting a response from prospects is the biggest challenge that salespeople are experiencing (38%)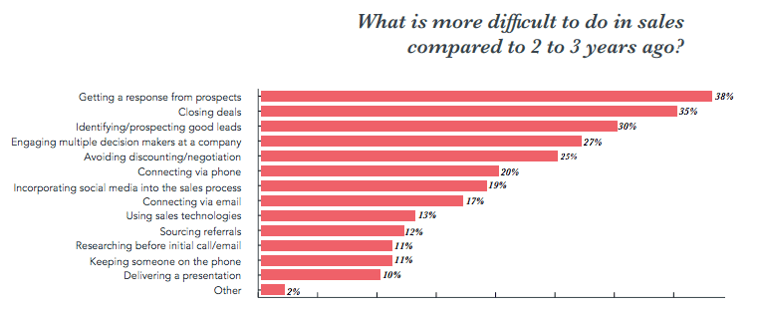 This speaks to the disruption factor and how getting people's attention is that much more important than it was 2-3 years ago. You need to grab attention by carefully designing messaging that the prospect wants to see.
There seems to be a major trend of disruption in marketing. Social media and AI are major disruptors that we need to keep our eyes on - there are many negative sentiments towards AI taking jobs, but we need to look at the positives and how we can use these to our advantage and optimize processes and strategies accordingly.
Read Sarah's article on inbound marketing terminology
---
Nkhensani Mabunda - Inbound Marketer, style icon and the best person to make an awkward (but hilarious) joke
On Sarah's point above about getting a response from prospects being the biggest challenge for salespeople, I think it also shows that even though prospects/leads show customer characteristics, they may not be ready to become customers and may never be ready. What this means is that sometimes contacts that look like they are exhibiting customer characteristics are simply doing research.
---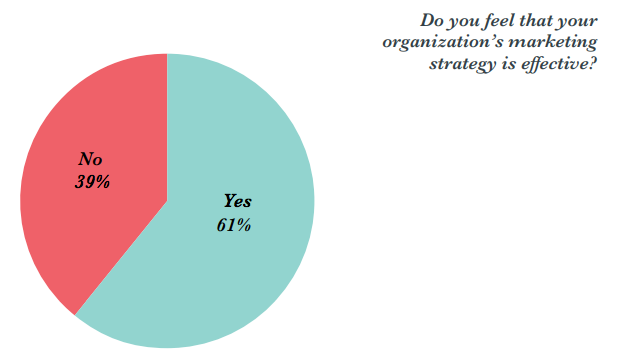 I completely agree with the 61% who replied yes to the question of whether they felt that their marketing organization's strategy was effective, however I think that the way in which marketing is done may be what is ineffective for some companies.
---
You can get your hands on a copy of the report here.
If you've read it, but need some help interpreting what it means for your business, we'd be happy to help.