Are you ready to power your flywheel? Position your business for growth in sales, service and marketing with HubSpot today.
At Spitfire Inbound, we live and breathe HubSpot. We've grown and evolved with the HubSpot CRM platform since 2016, and we've seen it develop from marketing software to a robust CRM platform that we love (and our clients love too).

You may find yourself asking, "What is a CRM platform?" And we're here to answer that for you. Buckle up, and get ready for the ride.

First things first. Let's look at what CRM is. According to HubSpot, "CRM stands for customer relationship management. As its name suggests, CRM software is a system for managing relationships with your customers. For most businesses, their most valuable and important asset is their customers."
As a marketer ingrained in this space, being able to have one platform which allows a central view of every engagement a customer has with the business, is essential! It makes everything we do more seamless and customer-focused.

A single source of truth for your customers
As a business, you have different teams working together to work towards one goal - customer delight. Your marketing, sales and service teams, as well as your website, probably have their processes and their software to meet your end goal. But what if you could combine all the software bits and pieces together to create a single source of truth for your customers and their experience with your brand?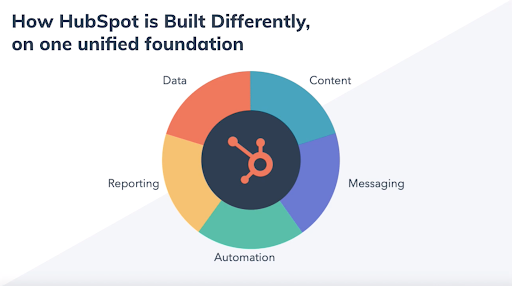 That's where the HubSpot CRM platform steps in. Here are some of our inbound marketing experts' views on how HubSpot allows them to meet their goals and delight customers:
HubSpot Marketing Hub
According to ROI Revolution, the term "digital marketing" was first used in 1990, since then, the world of digital marketing has gone from single keyword Google searches to multi-platform voice search and social media influencers. And with the growth of digital marketing, people don't want to be talked AT but rather talked TO. This is why customer-centric marketing is so vital.
"For me, HubSpot is the ultimate CRM Platform in the true sense of the word. It really offers the ability to do customer relationship management at every level and gives me the ability to understand the behaviour of the customers, allowing me to build more personalised persona-focused campaigns. It also helps me report on my marketing campaigns granularly, and, because the platform is an ecosystem with sales metrics added, I get an accurate representation of marketing ROI." says Shiran Sugerman, Strategic Inbound Advisor at Spitfire Inbound
Here are some of Shiran's top HubSpot Marketing Hub features:
Reporting: as a marketer, being able to prove the ROI on your hard work is vital and with the robust and granular reporting offered by the platform, you can see your marketing efforts making a real difference… in real time.
Ease of use: everything in HubSpot is easy, whether you're creating an email, landing page or a blog, they look and work great every time, without the need for a developer. With HubSpot's intuitive drag-and-drop templates, you can have your campaign looking AND performing great.
SMART content: this is one of the HubSpot features that really allows us to be customer-centric. With SMART content we can hyper-personalise everything from emails to landing pages.
Lead capturing: with HubSpot's lead capturing tools, not only can you see how your CTAs and forms are performing, you can also gather as much information about your leads as you want, without long forms! The progressive profile feature means that we can gather the information we need to give a great experience, while offering short, easy forms to our leads. Automation: Workflows within HubSpot offer marketers the ability to do almost ANYTHING. And with the continuous updates to the feature, you have the ability to be more strategic.
HubSpot for Social Media
For Lauren Espach, our Social Media and Digital Content Manager, HubSpot makes managing social media for clients a breeze. "Personally, I find it so easy to use the HubSpot CMS when managing social media for clients. With years of experience in the industry, and having worked on multiple social media platforms, HubSpot is by far the most user-friendly and comprehensive in terms of functionality. It allows you to manage all of your social media content in one place - you don't even have to leave the platform if you don't want to!"
The HubSpot CRM platform offers everything a social media management professional needs in order to do their job successfully. From social media scheduling and automation to inbox management (particularly useful if you manage multiple social media accounts) to managing, running and reporting on paid campaigns.
HubSpot gives you a bird's eye view of your social media marketing efforts and allows you to see how your social media marketing fits into the overall marketing strategy as a whole.
Lauren picked some of her top HubSpot features:
Reporting: all of your social media reporting data consolidated in one place. You can also customise your reporting dashboard to only see the metrics that matter to you.
Integration: add your social media posts to certain campaigns and post blogs straight from HubSpot. This functionality should be in every inbound social media marketer's toolkit!
Paid Social Media: set up paid ads, budgets, create lead generation forms directly from HubSpot, and then manage and optimise your campaigns, analyse and report on your campaigns with comprehensive data.
Content and images: create, store and repurpose the imagery, videos and content you use for both your organic and paid social media campaigns.
HubSpot Sales Hub
According to HubSpot, Sales Hub is "a powerful sales CRM that gives you deeper insight into your prospects, automates busywork, and helps you close more deals faster." HubSpot empowers your sales team to dazzle clients. With customisable deal pipelines, deal automations and templates, your sales team will spend less time doing admin, and more time doing what they're great at - selling.
"HubSpot Sales Hub is scalable from small businesses to enterprise levels - whether you have a sales team of five or 25. You can eliminate friction by bringing all your sales tools and data together with a user friendly interface," says our MD, Darren Leishman.
Darren shared some of his favourite HubSpot Sales Hub features with us:
Email tracking and notifications: you can see exactly when a lead opens an email so you can follow up at exactly the right time and close deals faster.
Schedule meetings with HubSpot: eliminate the need to play diary bingo with your prospects. Simply share a link that gives prospects the power to choose a time that works for everyone.
Tasks and Reminders: never forget again. Set up tasks and reminders to help you keep track of your follow-ups, and task others straight from HubSpot. No need to leave the ecosystem.
Manage your deals pipeline like a pro: with powerful sales analytics and reporting, quoting and even playbooks, you can rest assured that your sales team has access to best-of-breed tools to empower them to sell.
HubSpot Service Hub
If you have a customer service or help desk team, HubSpot service Hubs can help to expand your team's capacity through automation, templates, and even self-service options, so they can spend less time doing admin and more time resolving complex enquiries to help delight your customers.
For Nicole Sengers, our Head of Consulting, implementing HubSpot Service Hub for clients meant seeing customer care consultants saving hours each day by using the tools HubSpot gave them, so they could focus more on the critical enquiries. From an integrated inbox to having a single customer view, they didn't need to dig for information to create meaningful interactions, and could solve complex enquiries much faster.
Here are some of the key features of HubSpot Service Hub:
Embrace ticketing and automations to help customers succeed. Use automation to help prioritise critical issues, and spend more time delighting customers.
Create a knowledge Base: help your customers to help themselves by answering frequently asked questions on your knowledge base, a searchable library of help articles, videos, and documentation.
Offer real-time help with live chat: if you're ready to embrace technology, you can help your customers in real time via live chat. Route queries to available team members and build relationships with your customers through meaningful interactions.
HubSpot CMS Hub
Remember when you used to do window shopping in malls - seasonally dressed windows displaying the current season's best sellers to catch your eye. You have the power to do that for your business, online. Your website is your shopfront.
With HubSpot CMS, you can empower your marketing team to update, expand, and optimise your website. It allows you to quickly update your website, create new pages, and optimise for conversion. Working with the strong HubSpot Marketing Hub as a backbone, your website can go from so-so to oh wow in no time.
User experience is key: build your website with your end-user in mind, then keep optimising for conversions as you see their behaviour with Growth-Driven Design.
Easy to update: like we've mentioned before, with HubSpot CMS Hub, you don't need to be a developer to make updates to the website. It is intuitive and easy to understand.
Easy to learn: with the CMS hub, you don't need to have any technical knowledge to make website updates. We've successfully taught people how to use HubSpot CMS in mere hours.
Alex Girard, Product Marketing Manager at Hubspot says, "The HubSpot CMS Hub takes care of maintenance and website management for you, so you can focus on what really matters - the experience you're providing your customers."
At Spitfire, we use the HubSpot CRM platform to not only sell and market our own brand but also our customers' brands. We've seen how HubSpot can change the way people work, interact and save time to spend on what they do best - delivering results-driven marketing.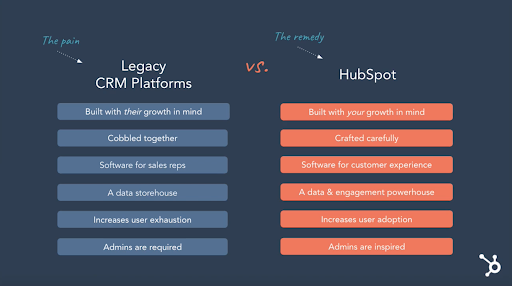 If you're interested in seeing how HubSpot can help you grow, get in touch with us today and we will show you the power of HubSpot for your business.
Interested in more articles from Spitfire Inbound? Subscribe to our blog today and get notifications delivered straight to your inbox.