Don't forget that current customers, turned into enthusiastic promoters, are the best way to keep your company's engine running full steam ahead. Here are some insights into the importance of adding delight to the buyer's journey.
Don't forget that current customers, turned into enthusiastic promoters, are the best way to keep your company's engine running full steam ahead.
Estimated reading time: 4 minutes, 48 seconds.
What is marketing's job? It's all presale, right? Marketing needs to alert strangers to you or your client's product, and, with breadcrumbs of information; bright, alluring adverts; and (if you're in inbound marketing) useful content; draw them in to become leads.
However in recent years, marketing and especially inbound marketers, have seen their role growing and changing to keep up with the modern consumer. It's not enough to lure in an MQL (marketing qualified lead), it's also important to assist the sales team (a process called sales enablement) and, with smarketing, to keep talking to SQLs (sales qualified leads).
But surely, surely once they become a consumer, marketing needs to take their hands out of the pie? This is where we and HubSpot, once again disagree with public perception - because happy customers are your biggest marketing opportunity.

That's why Spitfire's focus is on the importance of delighting your customer - the most ignored part of the inbound methodology, and actually one of the most important parts of your customer's experience with your brand.
After all, how incredibly frustrating is it, as a customer, to be wooed and nurtured and loved and spoken to presale, but as soon as the sale is made you're ignored, uncared for, and therefore, unimportant?
Attracting strangers and turning them into visitors, converting once-off visitors to leads, and closing them into customers is the journey most inbound marketers are comfortable with. Generally, once they're customers, marketing stops talking to them.
This is marketing's biggest mistake, and the biggest missed opportunity.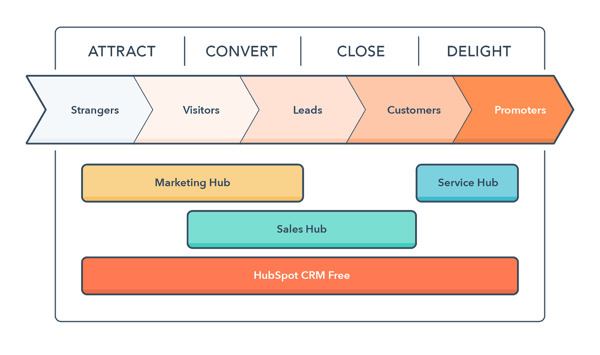 The inbound methodology currently places delight within the inbound process. At Spitfire Inbound we have chosen to place delight within the buyer's journey - and turn this into a flywheel.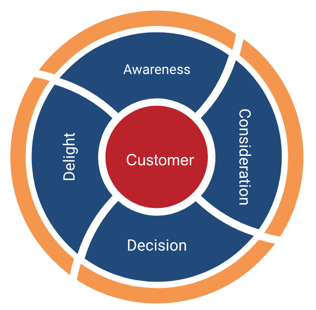 The buyer's journey currently consists of awareness (when someone knows they have a high level understanding of their problem but are unsure of what to call it, or what the solution is), consideration (when the buyer has done some research, understands their problem better and knows what to call but is looking for a solution) and decision (when the buyer has established the strategy for their solution is now deciding who will provide the service).
This buyer's journey is responsible for many components of the inbound strategy:
the messaging in your content including call to actions

the content offer that you deliver to a prospect or customer based on their research activity

the tone of your emails

the lead nurturing strategies they are enrolled in

their

lifecycle stages

.
With the addition of delight to the buyer's journey you are ensuring that you do not ignore this vital component of the inbound methodology. It ensures that just as you create content and nurturing strategies for awareness, consideration and decision, you also create strategies for delight. In this way you close the gap between the pre- and post-sale experience of the customer.
It's because of this gap between the customer experience presale and their experience as a customer post-sale that HubSpot came up with the concept of the Flywheel, explained in the video above - and why we have converted the linear buyer's' journey into a flywheel too.
Says HubSpot co-founder Brian Halligan, "Word of mouth is increasingly becoming one of our biggest growth drivers. In fact, I've stopped thinking about our business like a traditional sales & marketing funnel. It's more like a flywheel where the customers are the main driver that pulls in prospects."


It's important to remember this:
Your customer's experience with your brand

doesn't differentiate

between departments, nor between communication channels.

They expect to have a

consistent experience

from when they first encounter your brand online, to when they've handed you money and expect a service.
This is the best way to build loyalty and consistent engagement, and the strongest way to encourage customers to give you testimonials, ratings and reviews that all work to entice new customers in to your brand.
Without delighting your customers, you're missing out on many opportunities to easily convert current customers to delighted promoters.
BUT… PROSPECTS CAN BE PROMOTERS TOO
It is important to remember that it is not only those who are customers who are willing to promote you based on their experience with your brand. There are people who may still be a visitor or a lead who are willing to recommend you to a friend or colleague. They may not be a customer yet, but they may want to be as soon as they have the need, budget or decision making authority. Don't limit your delight strategy to your customers.


WAYS TO DELIGHT
Apart from excellent service from your product and team, there are a few ways to delight current (and future) customers:
Set up a specific email communication for your customers and non-customer promoters - monthly updates, useful product tips, and advice from your team of experts.

Regarding customers, when producing content think, "What would current customers want to know?" - don't just write for future prospects.

Offer specials, incentives and added extra for engaged customers and prospects.

Ask them to participate in unique s

urveys showing interest

in their experience - and give them feedback and if they allow it to acknowledge their contribution publicly.
As you can see, working with your current customers and future promoters is vital to providing excellent service, and to building the health and longevity of your business in the age of the Internet Consumer.

Do you want to improve your inbound marketing and sales strategy? Book some time with one of our specialists and we'll help you start the process.
Feature image by Alison Leishman