The Flywheel is the latest marketing buzzword and at the core of it is customer care. But what does putting the customer at the center of the flywheel really mean?
The Flywheel has become the latest marketing buzzword but guess what - at Spitfire, we live and strategise by this nifty methodology. That's also why we decided to give you a practical guide (and a downloadable checklist) to help you implement this awesome philosophy in a very tangible way in your business.
Table of content:
The theory: what is the flywheel?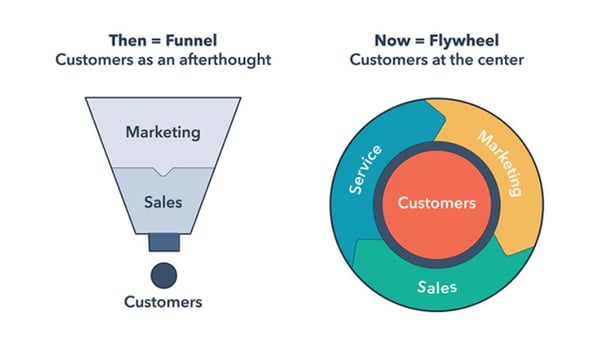 The Flywheel has one key philosophy: the customer should be at the heart of everything you do. Customers shouldn't leave a funnel and then be forgotten - customers are what drives your business and your business should reflect that in everything it does. From sales and marketing (which prioritise creating new customers) to service (ensuring existing customers are happy) and even product development, the Flywheel is a whole business methodology. "With the flywheel, you use the momentum of your happy customers to drive referrals and repeat sales. Basically, your business keeps spinning," says HubSpot.
This is beneficial for everyone, because happy clients spread the word and naturally draw in future clients through word-of-mouth. That's also why we at Spitfire believe that the buyer's journey needs to extend into delight - the next step after closing a prospect into a customer. Or as HubSpot succinctly puts it, "Delight is the process of providing a remarkable experience to users through focusing on their needs, interests, and wishes. The goal of delight is to leave these people so satisfied and happy that they go out and sing the praises of your brand."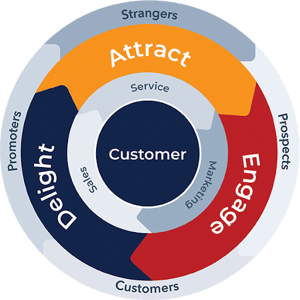 You might have noticed that some of your traditional methods for drawing in new customers don't work with quite the same gusto as they used to. Customers are more jaded and wary of brands; unfortunately they're used to being sold to but not to being loved as a customer. In a world where people are inundated with messages, where social media is used to sell politics (with little respect for the truth), where marketing messages run rife, genuine word-of-mouth is refreshing for today's consumer.
Here are some stats from HubSpot on the importance of word-of-mouth marketing:
"57% of B2B purchase processes are completed before buyers ever reach out to vendors. And buyers aren't looking to your company's marketing materials to make that decision: Third-party review sites, peer-to-peer recommendations, and word-of-mouth play a bigger role in buying decisions than ever before."
81% of buyers trust families' and friends' recommendations more than companies'.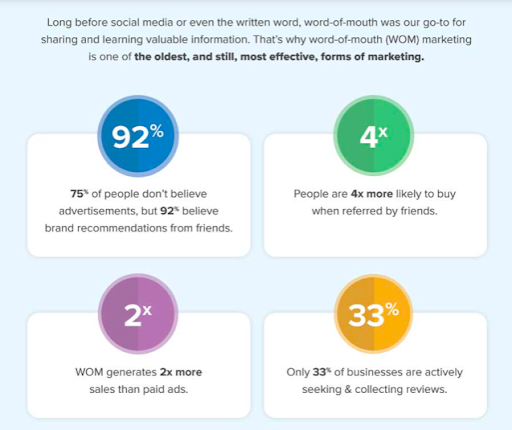 As HubSpot puts it, "Today, customer referrals and word-of-mouth have become the largest influence on the purchase process, which means the funnel has one major flaw: It views customers as an afterthought, not a driving force. You see, funnels produce customers but don't consider how those customers can help you grow. That's where the flywheel comes into play."
The Flywheel encourages you to approach your sales, marketing, and customer care differently, helping you to focus on putting your customers - and not your product - first.
---
If you're currently a HubSpot user, you have all the tools you need to start implementing the flywheel approach. But are you actually using all the apps you have? Take our HubSpot portal health check and find out.
<< Do a HubSpot Portal Health Check >>
---
Practical guide to putting your customers first
Shifting your strategic focus away from your product and prospects, and onto your customer, can seem overwhelming. And that's exactly why the Flywheel was developed: to incite a change in the whole business strategy.
As HubSpot explains in their launch of the Flywheel (emphasis ours), "...companies need to put their customers first and do more than just grow — they need to grow better. At HubSpot, growing better means remembering that your customers are people first, not numbers on a spreadsheet — so interact with them how and when they want. It's placing customers at the centre of your business and valuing relationships, not just deals. Growing better is applying force to the strongest areas of your business and eliminating any friction that gets in the way — especially if it has a negative impact on your customers."
Putting your customer first means becoming more honest about the value you add, which pain points you're solving, and importantly, translating those into transparent processes that service your customers and not just your staff.
It also means empowering your customer! Give them choices so they can tailor their experience to what suits them best. In marketing, this means, for example, adding multiple calls to action (CTAs) to a blog post. It also means allowing your customers to choose how they want to communicate with you - whether that's Facebook Messenger, email, or live chat! Your services department should ensure your customers aren't repeating the same story to every person they talk to - there should be a single contact record for a complaint, for example.
Senior Inbound Marketing Strategist, Shiran Sugerman: "To create a customer-centric marketing strategy, make the concept of 'customer-centric' part of the company culture. This ensures the entire company, from secretary to CEO, offers clients the same level of experience. It's important to understand your buyer personas and ensure everyone in the organisation, especially marketing and sales, understand their needs. You need to give your customers the option to communicate the way they prefer by offering several different communication points that appeal to your buyer personas like chatbots or Facebook messenger."
Using the Flywheel also means training your staff to be active listeners. This is even easier if you put yourself in your customer's shoes and it's good practice to actually try to buy your product yourself. What friction does the customer face on the road to a purchase? What friction do customers face after purchase?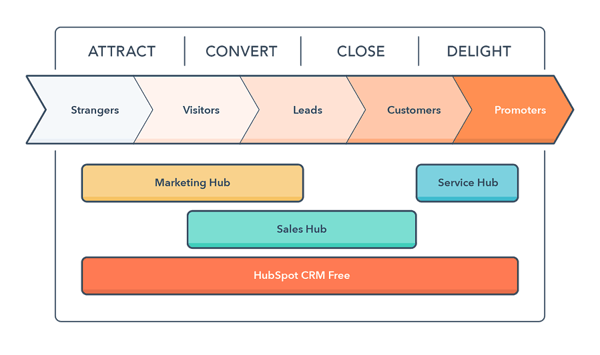 Strategically, this means extending your buyer's journey all the way to Delight and focusing on how to make your customers happy. It also means that your overall strategy needs to take your customer into account. At Spitfire, we not only create a buyer's journey, we also create the customer's journey that helps us understand points of friction and the experiences customers go through once they've converted.
Explains HubSpot, "As your company gets larger, it can be hard to coordinate all the departments to be as customer-focused as your customer service, support, and success teams. They can often have sales and marketing goals that aren't based on what real customers want. A clear customer journey map can be shared with your entire organization. The great thing about these maps is that they map out every single step of the customer journey from initial attraction to post-purchase support. And, yes, this concerns marketing, sales, and service."
Flywheel checklist
Use our checklist to pivot your business towards your customer and to really implement the Flywheel.
Create buyer personas to understand the pain points you're solving for
Map out your customer's touch points so you can understand where and how they're interacting with your brand
What actions does a customer take when interacting with your brand, and why?
To map out your customer journey, speak to actual customers!
Align your communications to customers - your social media team, sales team and marketing team might be accidentally spamming them simply because each department is sending them a message
Use personalisation software to tailor your messaging to each individual
Make sure you are responding to customer communications in a timely manner. This not only ensures a positive experience, it also shows them through your actions that they are a priority
Ensure your processes are transparent and easy to understand (you can also create content around these processes to help confused customers and prospects)
Extend your inbound journey all the way to Delight, and create content and automations around this stage to talk to and improve the experiences of current customers
Give your customer's options - like multiple CTAs, choices of blog posts and frequency of emails
Give your customers multiple options for communication like live chat, email, phone, and various social media platforms
Buy your own product to understand what your customers experience
Put someone in the role of "voice of the customer" to speak for them in strategy sessions
Sell for customer problems, and not your processes!


Employ active listening to be truly responsive to your prospects and customers


Listen and respond to customer complaints without taking them personally. Every complaint is an opportunity to improve your business


Be human and empathically listen and respond to your customers


Be proactive, not reactive, about meeting customer pain points. You can do this through helpful resources that customers can access when they need to, without having to wait for a response from your business.


Start delighting your customers
If you're ready to build a marketing, sales, and service strategy which will delight your customers and put them at the centre of your business, click below to get in touch.
What our customers have to say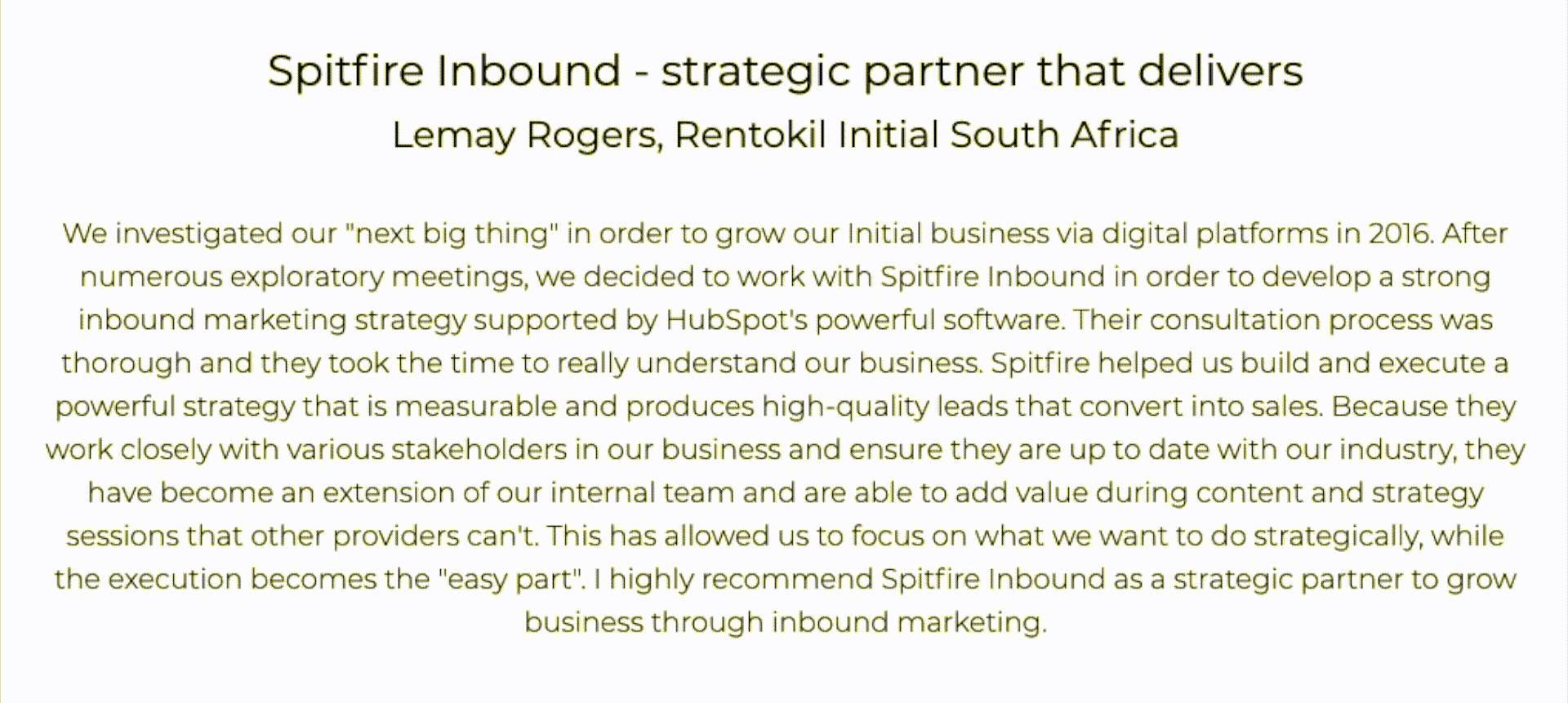 What our staff have to say
Lauren Espach, our Social Media and Digital Content Manager, says: "Customer-centricity isn't just about putting your customers at the centre of a project you're working on. The way you structure your company's internal process and procedures can have an impact on customer experience. The famous HubSpot saying of 'solve for my success, not your systems' encapsulates how businesses should consider their internal structures to ensure they don't get in the way of their customer's happiness and success."
Trevor Van Rensburg, our Commercial Director: "It's all about trust, ease of use and going beyond. You want your customers to have confidence in that you'll deliver on your promises timeously. There's already enough stress in the world for your customers so don't add to it. Making their lives easier will have them trusting more in your brand so choose the path of least resistance. Going beyond is not just about delighting your customers, but continuing to find ways to excite and inspire them in your products, service and brand as a whole."
Inbound Marketing Strategist, Lauren Lokker: "Without our customers, we wouldn't exist. It's important to build a mutually beneficial relationship (who doesn't love a win-win) where we deliver the best possible products, services, and experiences for our customers and in return, they support our brand and, where applicable, offer referrals. Whether you're a B2B or B2C company, the customer will always be the lifeblood that keeps your doors open, which makes it a relationship worth protecting and nurturing in every possible way. When creating a customer-centric strategy, make sure you talk to your customer."
Strategy and Marketing Operations Intern, Angie Shipalane: "A strategy that is based on putting your customers at the centre of your business means providing a great customer experience throughout the buyer's journey and therefore adding value to your company by allowing it to differentiate itself from competitors. Being a customer-centric business enables your company to provide unique customer experience, increase customer satisfaction, and recognise opportunities for growth, such as meeting unfulfilled customer needs."
Junior Inbound Marketing Strategist, Reo Monareng: "Being customer-centric means putting the needs of your customers first. It means taking the time to fully understand your customers' needs, aspirations, and pain points in order to create solutions that truly address the problems that they face on a day - to - day basis. There is no such thing as a good customer, a bad customer or an average customer. All customers need to be treated the same when taking a customer-centric approach. This is because every customer has their own unique behaviours and tendencies which require us to move away from one size fits all strategies."
Business Development Rep, Velile Sabelo: "Sales reps should actively share helpful content as well as insights on social media. Sales reps work directly with prospects and are aware of the pain points that most customers deal with daily. Having sales reps share helpful tips would provide fantastic value for the customer."
---
More articles to check out
As you'll know by now, this is a topic that we really care about and that's why we've written many articles on the subject. Here are some that we think you'll find helpful:

Don't forget that current customers, turned into enthusiastic promoters, are the best way to keep your company's engine running full steam ahead. Read full blog >>>

It's happened again. Like the sudden evolutionary jerk that turned fish into lizards, inbound marketing has just had another growth spurt that's going to change the landscape as we know it: HubSpot's introduction of the flywheel and the importance of customer care.
Read full blog >>>

Thank-you pages are a missed opportunity for many brands: they create a good user experience because you're guiding the user to other helpful content, and they create a second shot at conversion. Here's how to make yours better. Read full blog >>>