This week HubSpot is hosting the world's premiere inbound marketing event - INBOUND17. Three of our team mates are in Boston with inbounders from around the globe to join talks and events that inspire, innovate and illustrate the potential of inbound. Our content strategist, Samantha Steele, couldn't attend this year and highlights the best tweets from the day.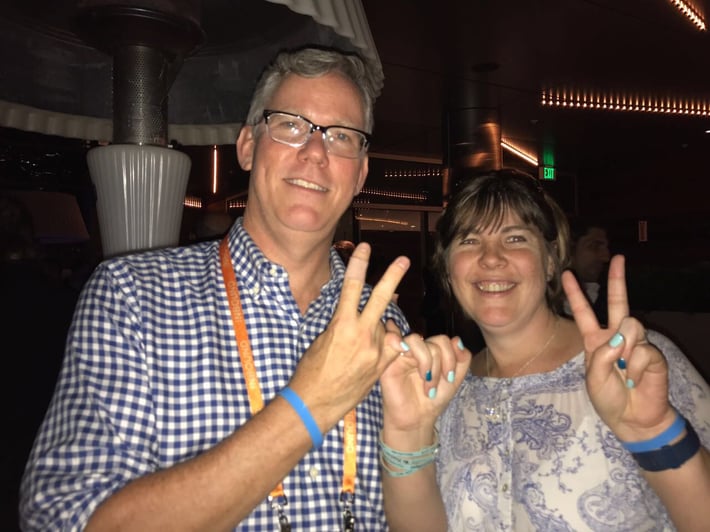 Alison Leishman and the CEO and co-founder of HubSpot, Brian Halligan
Yesterday was the last day of INBOUND17 and our team had another fantastic day meeting some incredible inbounders from around the world. The jealousy is real! Here are the best tweets and highlights from the day.
"It is easier to fix errors instead of trying to prevent them altogether" - Ed Catmull, Co-founder of Pixar #INBOUND17

— Nicole Jacobson (@nmjacobson) September 28, 2017
Thank you to everyone at #INBOUND17 for your questions, your thoughts, and most importantly your participation. Today was great. @inbound pic.twitter.com/EjpOUpaIPv

— John Cena (@JohnCena) September 29, 2017
"You cannot be everything to everyone, you're going to have to piss some people off." -- Wajahat Ali #INBOUND17 pic.twitter.com/I6ggavXlyL

— HubSpot @ #INBOUND17 (@HubSpot) September 28, 2017
Treat your men as you would your own beloved sons and they will follow you into the deepest valley.#SunTzu#INBOUND17 pic.twitter.com/YFsfWtaPHt

— Sunny Bear - Sun Tzu (@Sunni_Tzu) September 28, 2017
Some love all the way from Boston from our team at @HubSpot #Inbound17! Here at #NewGenAwards in spirit! @alisonleishman @VeeWainstein pic.twitter.com/Z7s3LGPG1Z

— Spitfire Inbound (@SpitfireInbound) September 28, 2017
Wait @JohnCena where did you go? #inbound17 #youcantseeme pic.twitter.com/5wmxpwlygl

— Jessica Teich (@jessicarteich) September 28, 2017
Great session from @nharhut - here are 3 of the 26! #INBOUND17 pic.twitter.com/A0ypvNvE5F

— Alison Leishman (@alisonleishman) September 28, 2017
A woman can be both fabulous and care about the state of the world. - @ElaineWelteroth #INBOUND17 @TeenVogue pic.twitter.com/pGQ8TxlOFB

— Tandem Partnerships (@be_tandem) September 28, 2017
There is a big difference in understanding a concept and integrating that concept into your company. - @edcatmull #INBOUND17 #pixar

— Christina Garnett (@RoanokeMaven) September 28, 2017
One of my fav sessions at #INBOUND17 from @julie_lellis these were my #TopTakeaways pic.twitter.com/E0CTS0mtgw

— Vee Wainstein (@VeeWainstein) September 28, 2017
We're going to be posting about our team's key takeaways and learnings from these knowledge packed sessions, so stay tuned for some great content in the next few weeks.
Subscribe to our blog and we will send you all our insights, learnings and key takeaways from Inbound 17 and more!