INBOUND21 Day 2 was filled to the brim with educational sessions, breakouts and spotlight speakers that really inspired us! Here's what stood out the most.
INBOUND21 Day 2 was filled to the brim with educational sessions, breakouts and spotlight speakers that really inspired us! Here's what stood out the most.
Day 2 covered in-depth educational sessions that delved into tactics, trends and new ways of thinking about how to use and apply the HubSpot methodology to everything you do.
The sessions sparked debate amongst Spitfire team members and was a catalyst for new thinking around familiar topics. Here are our key takeaways from the Spitfire team, and some of our amazing clients.
Alison Leishman, Spitfire Strategic Director, shares her takeaways from INBOUND2021 Day 2.
5 universal practices for creative:
Capture attention fast
Keep up the pace
Design under the assumption your video will be viewed on mobile phone
Use text to highlight key messages
Have a call to action - clear and crisp
Shiran Sugerman, Head of onboarding had some interesting takeaways from Tamsen Webster: How to script the stories that sell ideas.
Make the new perspective impossible to ignore. Let them validate without you. Make it a story they tell themselves and others!
Minimal viable message
Approach
Perspective
What they don't expect
Lauren Espach, Social Media and Digital Content Manager, also shared some of her top takeaways from this session:
Keep it simple and conversational.
How can you craft copy (stories) that resonate with your audience? Use simple and conversational English which is easy to understand. Stay away from jargon heavy, technical copy.
Write inclusively for groups of people. People want to feel a sense of belonging and identity as part of a group. By answering a user's questions, you will make people feel validated.
Engage and spark curiosity
What is a current question that they are asking right now but don't have an answer to?
People are curious to know how you're answering their big question.
What helps them achieve their unmet need?
How B2B brands grow: Great marketing to drive sustainable growth for companies with Ty Heath and Jon Lombardo sparked a hot topic of debate among the team. The big question from this session was, "what's more important, brand awareness or brand perception"?
Lemay Rogers, Lead Marketing Manager: Rest of World at Rentokil Initial, said that "perception can cancel out some of your education efforts if that group has a negative perception about your brand."
She also loved this quote from the session: "Why be flat when you can sparkle? - reference to carbonated water in how brands grow."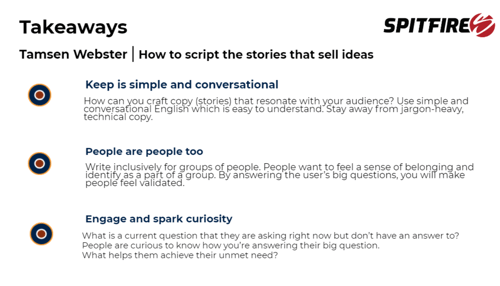 Jayde Troskie, Spitfire Strategic Inbound Advisor says, "awareness affects how your brand is perceived".
Lauren Espach votes that perception is more important because "perception can affect your out-of-market segment (future buyers), because having bad perception is worse than having no awareness. She goes on to say that, 'awareness can be fixed, but it's more difficult to adjust perception when it's bad."
Lauren Lokker, Spitfire Strategic Inbound Advisor, says that "with good brand awareness and a loyal following, good brand perception should follow". She mentions that when your business is customer centric, you shouldn't have to worry too much about perception as this would be a by-product of excellent customer service.
New to the Spitfire team, and experiencing INBOUND2021 for the first time, Kernishka Latchman, Spitfire Digital Copywriter also had an interesting opinion on this. She argues that "perception is what makes or breaks a brand, because a positive brand perception inspires trust and confidence with the audience".
Dana Jacob, SYSPRO Corporate Digital Campaigns Analyst, thinks that LinkedIn organic social vs. LinkedIn paid social is a balance, and you should be "using your metrics, successes and results to optimise and strategise"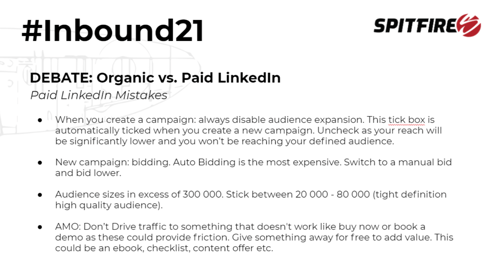 Tandy Coleman, CEO at Polyflor South Africa, loved this takeout from Day 2: "People fall in love with the way you have designed the solution to a problem and are prepared to pay money for it".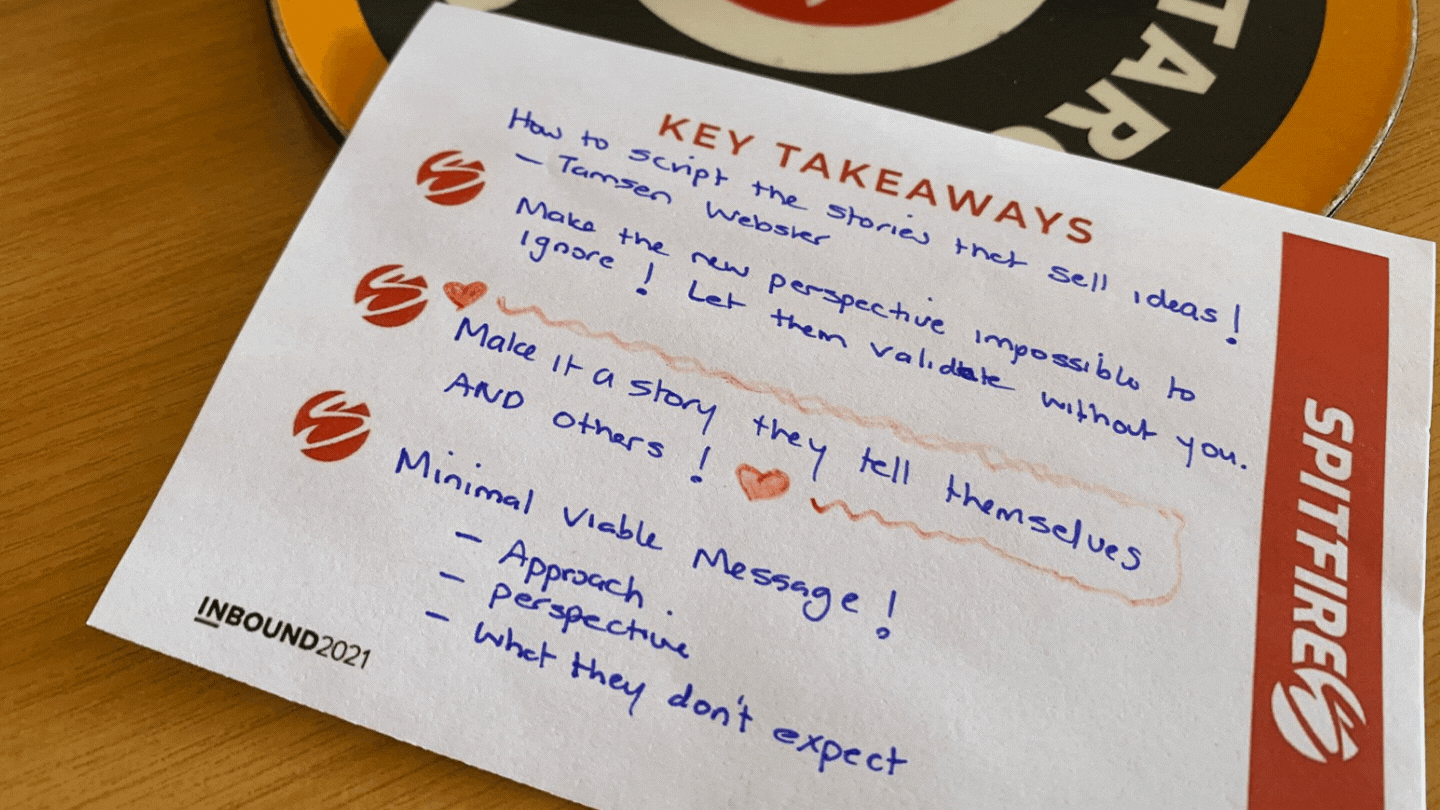 Elsabe Oosthuizen, Spitfire Inbound Implementer, enjoyed the debate session: which is more effective, ABM or content marketing? Here are her top 7 takeaways from the debate:
Don't trust your gut, trust your Data (ABM)
Without content marketing ABM does not exist
Inbounding your ABM strategy is possible
Top ways to start implementing an ABM Strategy
Content has a snowball effect, and targets customers you didn't know existed
Lead generation is a big part of content marketing
Content marketing is becoming more personalised
As INBOUND21 draws to a close, we're excited to see what new learnings will inspire us.
Keep up to date with the latest INBOUND21 news and our key insights and takeaways from this year's event.