INBOUND21 Day 2 was filled to the brim with educational sessions, breakouts and spotlight speakers that really inspired us! Here's what stood out the most.
It's been a busy week at Spitfire as our team attended HubSpot's annual INBOUND conference. Attending remotely gave the team an opportunity to join live sessions or watch them later, on-demand. A customer-centric approach to business was a major theme this year and each session was exceptionally insightful and valuable. Here's INBOUND21 in a nutshell.
INBOUND21 has taught us some lifelong lessons
We've pulled together some of our favourite highlights from the event, our team's takeaways for life, as well as emerging trends and what this means for the future of Inbound Marketing.

While each session had its own unique flair, provided useful tips and contributed valuable insights, some sessions were more impactful than others to certain members of our team. Here's a Twitter roundup of their thoughts and key takeaways from INBOUND21, their favourite quotes, their most profound sessions and top learnings: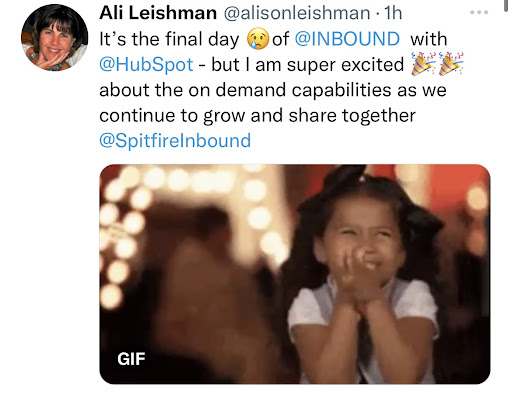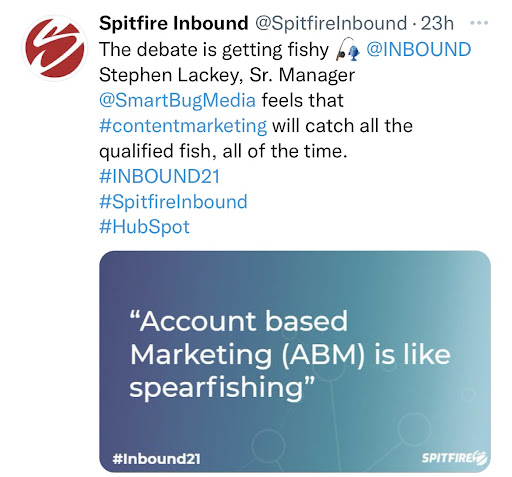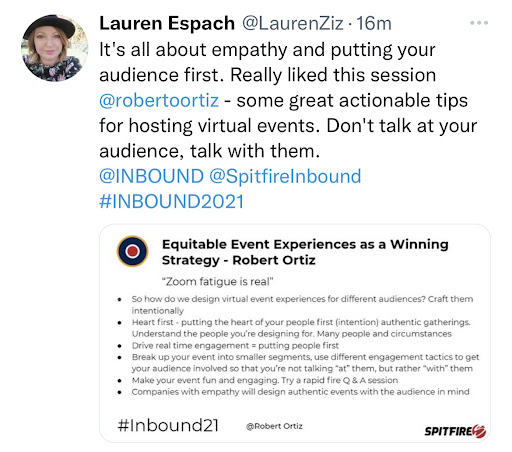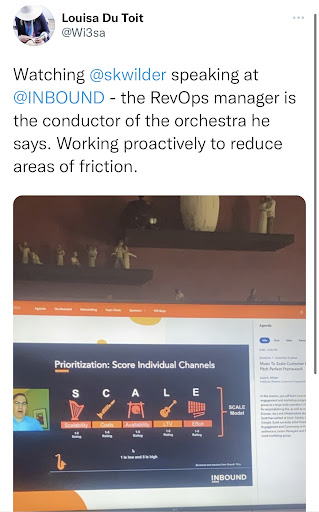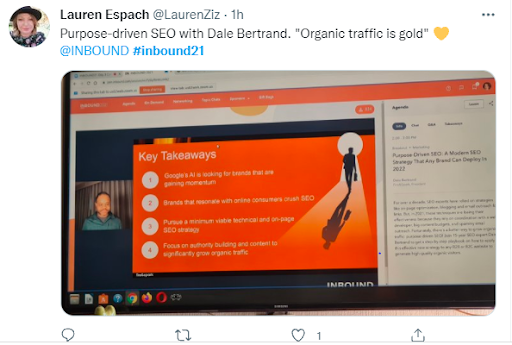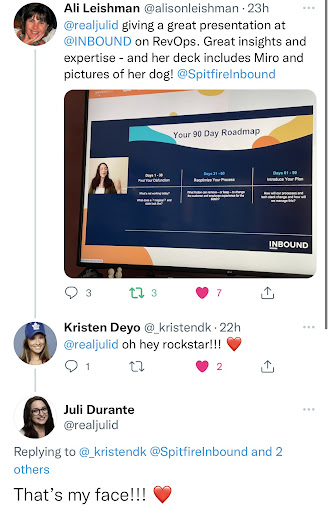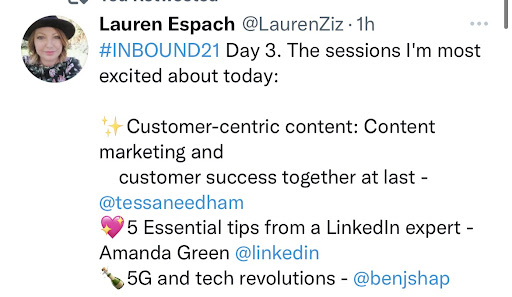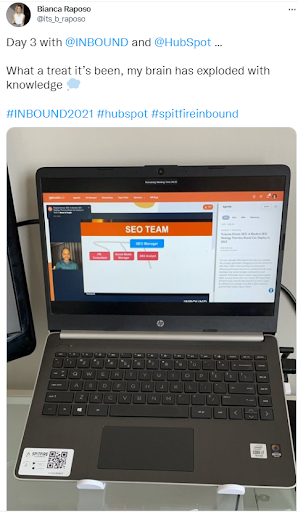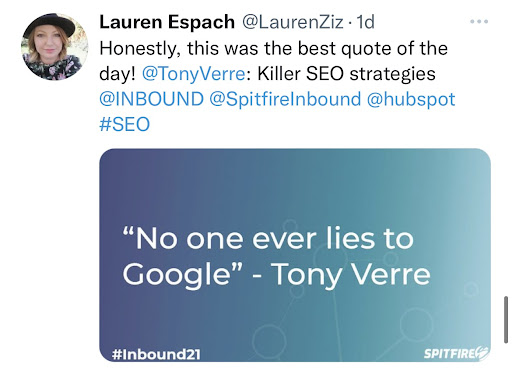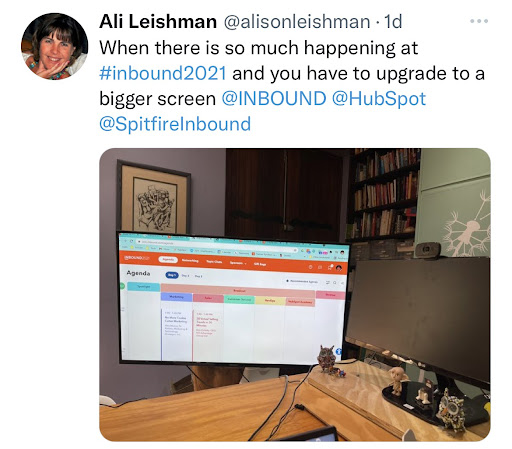 Here are some of the best quotes from the team and Spitfire clients:
Shiran Sugerman Spitfire, Head of Onboarding, loved the quote by Molly Gilson, Customer Support Manager at HubSpot, 'Rather than having a customer is always right mentality, instead say, always do right by the customer'.
'The greatest asset you can have in your career is the ability to learn fast- be curious', Michelle Zatlyn, Co-founder, COO and President of Cloudflare. This was the top quote for Tandy Coleman, CEO at Ployflor South Africa.
Chaz Driessel, Spitfire Inbound Implementer, loved this quote from Spike Lee, 'I will never get to the point where I know it all". So on brand with everything Inbound has been talking about marketing wise. We as marketers need to listen and learn to be effective. We will never "know it all".
Lauren Espach, Spitfire Social Media and Digital Content Manager, had a couple of stand out quotes from different speakers:
'Great customer success is a differentiator in a crowded market' - Tess Needham


'Buyer empowerment, NOT seller enablement' - Yamini Rangan


'Organic traffic is gold' - Dale Bertrand


'There's no such thing as fast SEO' - Dale Bertrand


'Google wants to show the meat and potatoes' - Marcus Sheridan
Lemay Rogers, Lead Marketing Manager at Rentokil Initial, shared her key moments from the session that she enjoyed:
Activate your people to drive others to your event in an authentic way.
People want real, and recognize real (pre-recorded won't do it anymore)
Design event experience for choice with the whole event and the individual groups in mind.
Kernishka Latchman, Spitfire Digital Copywriter, loved Tess Needham's analysis of Content Marketing and Customer success being a 'love story'- 'Content Marketing and Customer Success can lead to growth.'
Another quote that inspired her was by Tristan Walker, in the HubSpot Highlight- 'It's always the right time to tell your story, you just have to be consistent and authentic'.
"Sometimes you just gotta roll the dice and see what happens". - David Chang. This was one of Jane Valerie Moore, Spitfire Inbound Success Manager's, favourites.
Melanie Quitowitz, Spitfire Inbound Implementer, and INBOUND first-timer, she thought INBOUND21 provided good information on a whole range of topics, and had lots of great reinforcements for just how great HubSpot is. In particular, she loved Gem Rugg-Gunn's session on HubSpot portal maintenance.
Manoko Thoka, Spitfire Paid Media Specialist, particularly loved the sessions which covered SEO. She agreed with plenty of Dale Bertrand's ideas around SEO having a purpose.
The INBOUND platform
The INBOUND platform offered a seamless system, with fun graphic elements and a recreation of a stadium event. The team had fun exploring the different functionality and event areas.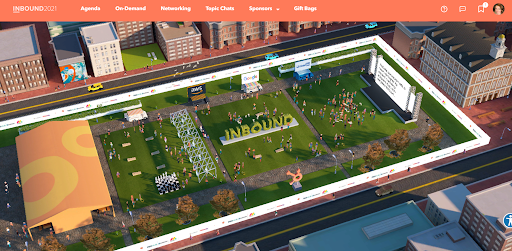 Agenda
Like last year, we had the handy agenda function. We had fun sharing our personal and team agenda's with each other and sharing our thoughts on the different sessions.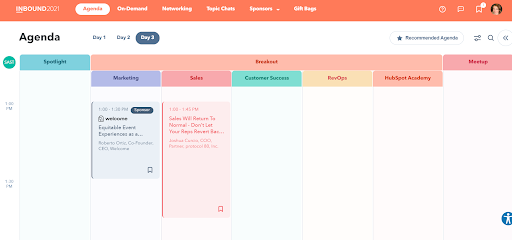 On-Demand highlights
Available 48 hours after sessions aired, the on-demand function has allowed us to go back and watch, or rewatch, sessions that we missed.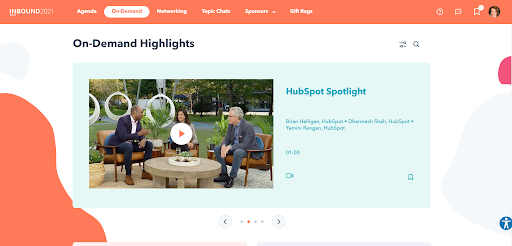 Networking opportunities
INBOUND21 focused on bringing the HubSpot community together by allowing attendees to interact and engage with each other.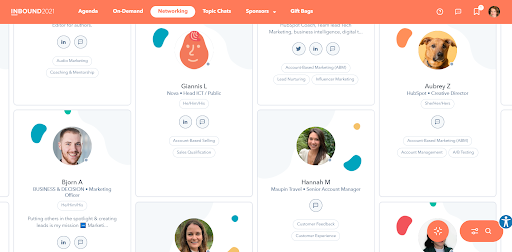 Topic chats
Mirroring the HubSpot community board threads, users had the option to host and attend topic-specific chats with attendees.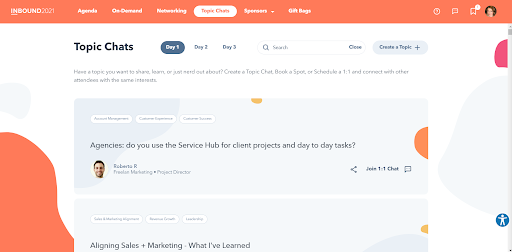 Sponsors
Sponsors offered free content downloads, resources and giveaways. We're eagerly waiting for our branded LinkedIn t-shirts!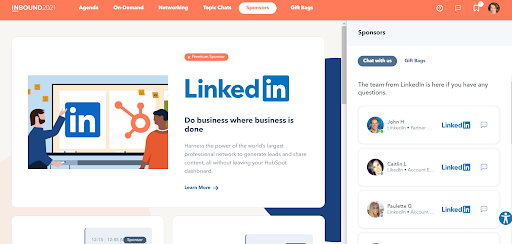 Gift bags
A new feature this year, INBOUND21 offered virtual "gift bags" from various sponsors and companies, freebies, discounts and giveaways.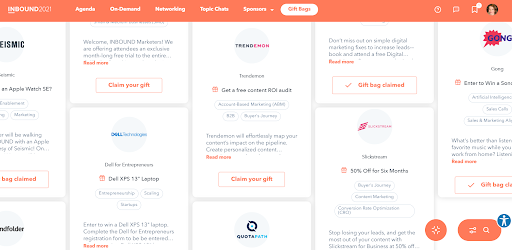 Points
INBOUND gamified the experience this year by allocating points for various activities within the platform. Tracked in the third tab of the agenda, the points were a fun way to engage with other attendees.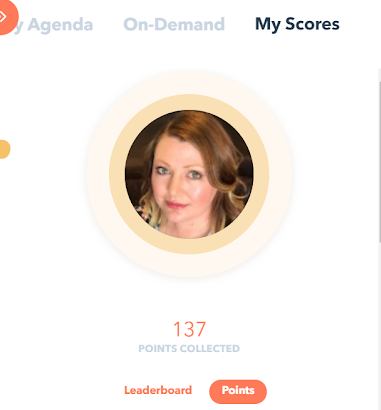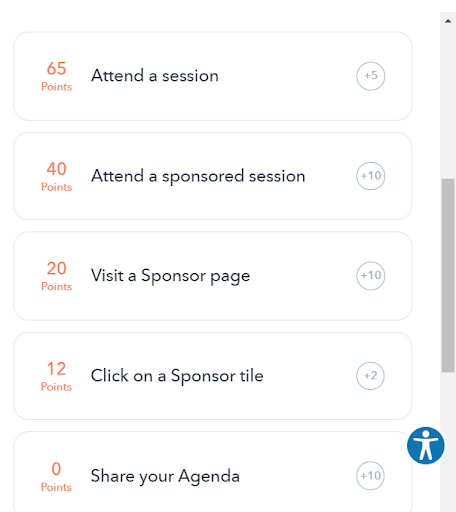 Alison Leishman covered the latest HubSpot product updates to come out of INBOUND21 including an overview with links to the knowledge base articles if you want to dive right in and learn more about them.
Sara Landry, Spitfire Inbound Implementer, one of our remote team members based in Canada, shared her INBOUND first-timer's review of Day 1 and Day 2. Her key takeaways include using the actionable methods and tips from various speakers and she says "INBOUND21 sparked curiosity".
In summary, it was three epic days and we're so grateful that we got to be inspired (again), and share the experience with our colleagues and clients. The parting thought: be intentional about who you're marketing to, what their needs are, and approach everything you do with empathy.
If you're interested in learning more about HubSpot and the inbound marketing methodology then subscribe to our blog for the latest updates.