HubSpot #INBOUND18 kicked off this week and there are already exciting new learnings about the ever-evolving and constantly adaptive inbound world.
INBOUND 18 kicked off this week and with it come some exciting new product developments from HubSpot.
Estimated reading time: 8 minutes, 44 seconds.
Every year, we get really excited for HubSpot's Partner Day and this year was no different. This is one of the most valuable sessions our team gets to experience, as we get to interact one-on-one with experts at HubSpot and get a first hand look at the exciting new products HubSpot are launching. This year, I was lucky enough to attend with our CEO, Darren Leishman. We both bring different things to the table and looked at the insights from different perspectives.
The 2018 Partner Day focus was on the customers being the growth center of the HubSpot flywheel. For that to happen, marketers need to become growth leaders and the architects of the flywheel.
There were many amazing new products to get excited about but Darren was most excited about the ecosystem road map.
HubSpot as a platform to make sure it is future proof. The new tech stack from freemium to enterprise enables all companies to grow better with HubSpot. - Darren Leishman
As a company HubSpot have expanded their offering to be more streamline. With the announcement to phase out HubSpot Marketing Basic and rather focus on FREE - Starter, Professional, and Enterprise options for each of the 3 HUBs - HubSpot has also changed the way they work by having a GM for each HUB… this allows them to make their product offering more robust.
Here are the top new products from HubSpot's Partner Day I really enjoyed:

Service HUB
Once again coining great ideas, in his talk, JD Sherman, President and Chief Operating Officer of HubSpot, talking about Solving For The Customer (S.F.T.C)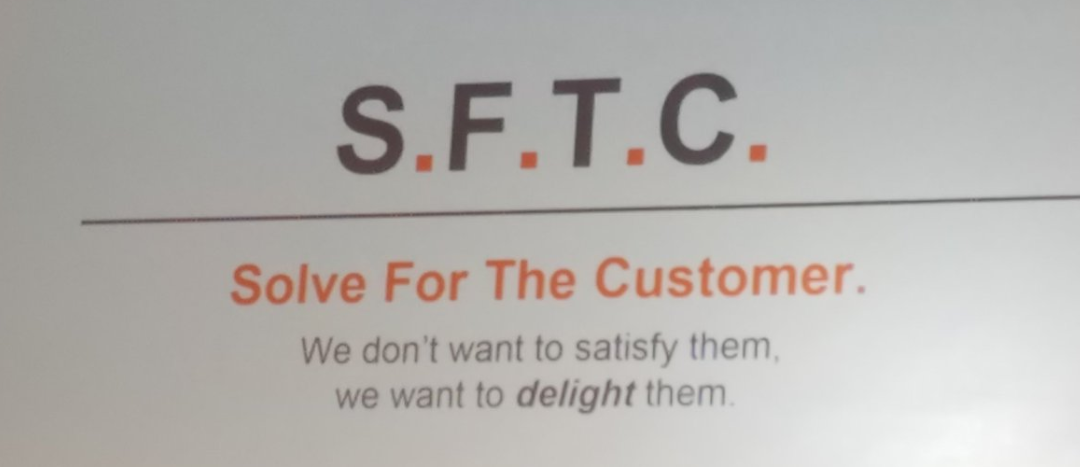 Image source: Sandi Abbott on Twitter
Service is the most common aspect of a business where people build Frankenstein models, and service teams spend the time fighting with tools instead of using the time to work with clients. This can isolate them from the rest of the business and keeps service ancillary from the the business.
Starter
The introduction of the Service Hub gives you one tool to build customer relationships and make your customer the centre of your flywheel. Their service motto is: Engage - Guide - Grow.

Service Hub starter includes tickets, snippets, templates, and meeting and is priced at $50 per month. But one thing I'm very excited about is that they announced that in the future a simpler version of tickets will become part of CRM free.


Pro and Enterprise
The Pro and Enterprise service Hubs will include many great features to help you focus more on the customer (each of which are only going to improve) including;
Custom support forms and ticket tags in emails - similar to what they do in Zendesk

Import object association - so you can import using ticket, numbers, etc.

They have also created upgrades to the feedback tools, as well as more customisation and flexibility

More targeted customer experience surveys and follow up automations - from tickets and surveys!

There have also been some Knowledge base upgrades (to all Hubs) including drag and drop categories and search - this gives you better visibility and adds the searches to the contact record so you can see what a contact searched.

Restricted access to articles by users - can make only available via a list - so only actual customers.

You can also now help customers with video! New HubSpot Video that gives you insights into how your videos are performing, insert videos into live chat, record videos, and trigger follow up videos. There is also no size or length limit on videos you host.
The list goes on so check out all the great features here.


Marketing HUB

Marketing Free
HubSpot has decided to take their CRM up a notch by introducing Conversations. Great communication with your customer is fundamental to the inbound methodology, and HubSpot's Conversation is the free messaging tool your inbound marketing strategy needs. What's exciting is that while Conversions is free, it's being thought about as a key part of all three HUBs. In fact, the GM of Marketing has taken Conversations under his wing as he feels it's most likely that the marketer is the one setting up the conversation tools.
Conversations will make communication with prospects and customers more fluid with its live-chat, team email and user-friendly chatbot all in one super inbox, easily integratable with Slack. This allows you to organically continue a conversation with a user, regardless of the messaging platform they're communicating with you on.


Starter
HubSpot Marketing Starter has become more robust, and I think HubSpot's marketing starter will now be a key product as a way to start sending email and tracking metrics, and the new form tool will help marketers capture leads. The goal is to STOP MANAGING TOOLS. START MARKETING RIGHT! It's only $50 and includes these great new features;
This new software expands on the foundational lead capture features already available in HubSpot's free marketing tool to assist teams in nurturing contacts.

Starter has a more affordable contacts tier pricing, at $50 per month, keeping the small businesses in mind and competing with models like MailChimp.

It has also giving marketers more capability to nurture leads with updated lead capturing and email features.


Professional
A new feature being added to all three HUBs is video, you'll now be able to use video in a whole new way. The recent We Are Social report shows that YouTube is a growing platform in South Africa which proves that video is a growing medium. With the new video feature being added in marketing you get hosts video, better tracking, and the ability to add CTAs, this means there's now no need for 3rd party integrate anymore. (in Sales HUB you can do 1 to 1 videos and Service HUB you can do both 1 to 1 video and marketing video - but as mentioned above in Service it's part of the Knowledge Base). Plus what's really exciting is you can now integrate videos into live chat!
On Pro HubSpot also has upped the ante on their reporting tool adding;
Custom reports and dashboards

Multi-currency reporting

Cross-object reporting

The number of custom dashboards available has also been increased because HubSpot knows that the ability to create personalised reports is key in developing strategic plans for clients and every business has unique reporting requirements.

HubSpot has decided to add a

custom tickets report

to their numerous pre-built reports within the reporting library. This new addition will help you get a more exact analysis of your data and make sharing this data with your team easier. The new additions include custom reports and dashboards, multi-currency, and cross-object reporting.
These features mean that basically all users in the marketing Pro suite can create custom reports to help them drive their business.


Enterprise
So here is where it gets interesting and where I am so excited - Marketing Enterprise has an explosion of new features.
20 new features - making enterprise a real winner and really giving it the value that people deserve from the product - it may previously have been said that you use enterprise if you need lots of contacts but NOW - enterprise if for people who want to scale and grow, and who want to use the very best advancements from HubSpot.
Email safeguards is a feature that helps you to prioritise email sends via blasts or workflows and prevents you from being a part of the clutter.

Continual testing is a feature that will start small but is expected to grow… in this tool, which uses machine learning, HubSpot will now test the various options and will then determine which option is most likely to convert

This will start with lead flows - showing all 4 of the available lead flow placement options until the data says when to use which option - this is a great use of machine learning to solve for the customer again.

Content partitioning is a feature that offers you the ability to use teams for your marketing assets.

Relational imports - this makes it easier to upload data into HubSpot and match properties. This is especially useful when pulling data from a legacy CRM or matching spreadsheets with your marketing data.

Brand domains now allow you to not just report better on multiple domains but offers you the ability to segment and report and add additional URLs that are from a multinational business within enterprise.

This opens up opportunities from group businesses, multinationals, and other enterprise accounts to scale and keep gathering key metrics and insights using the one HubSpot portal.

Calculated properties will allow you to actually use HubSpot forms as a calculator and record all that data within HubSpot.
HubSpot is also dedicated to making our inbound marketing lives easier and their new Connect integration library is going to help you customise your experience within HubSpot to meet your business's inbound needs. With over 200 connections, key integrations into Slack, Shopify and Workplace by Facebook is available.


Sales HUB

Enterprise
HubSpot is giving your reps back their day! Their goal is to turn managers into mentors by giving them tools to help manage their teams with ease. The new Sales Enterprise package offers a range of exciting new features including;
Custom Slack notifications

Predictive lead scoring (which allows you to get deeper insights into the factors in likelihood to close)

Quote approval management

eSignature

Importing made easier using custom objects to import. This means the the sales tool is finally making it easier to import data!


HubSpot CMS
We are excited to see that the CMS is a now a standalone product. This means that now you don't need to have HubSpot's other software to use it, you can build on HubSpot and then add sales/marketing/service products later. The HubSpot CMS has been invested in heavily and is a fully integrated content management system with a native integration to a CRM. This means that it provides a seamless connection between you and your customer.
What's really exciting about this is that with Basic no longer available, the HubSpot CMS is not only a good, but a better solution. Your marketing and sales will be more efficient, with the ability to dynamically tailor website content based on each individual visitor to increase engagement and conversions. The CMS package includes website building, landing pages, and a blog.
There are many more wonderful updates from HubSpot that you can get more information on here. If you were also at Partner Day at INBOUND 18, let us know what your favourite new product is.
Make sure to sign up to our blog for all the latest trends and updates on everything inbound.