Key insights from Spitfire Inbound as they attend INBOUND2020.
Yesterday HubSpot's annual INBOUND conference kicked off. This is an event we look forward to all year and though normally held in Boston, USA, like everything else these past few topsy-turvy months, the event pivoted to a digital platform and all of the team could attend - for the first time!
With talks stretching over the early hours of the morning, we're sharing some key takeaways from the team as well as from some of our equally enthusiastic clients. We're excited to share these with you as we prepare for another session of learning and inspiration today.
We set up pods to share the learnings, and the team at our Social Media and Digital Content Manager, Lauren Espach's, home fully embraced HubSpot in their set up and went orange!
TEAM WEST
Lauren shared her experience here:
"Wow, my first INBOUND event and Day 1 was packed with insights and learnings. It was really fun to watch the sessions with my teammates, we made a day of it. Sharing ideas and thoughts about the topics and concepts presented".
Top Takeaways:
The value of differing opinions - as a marketer you are always growing and learning, and hearing other perspectives and different ways of doing things lets you explore new avenues for growth that you may not have thought of before.
Marketing trends may come and go, but the fundamentals stay the same. You don't always have to jump on trends just for the sake of it.
Choose your sessions wisely - there's so much to take in!
My favourite speaks/sessions of the day:
Moby Siddique - Ask Me Anything Live: Leveraging Tik Tok before your competition does
Aj Beltis & Ashley Faus - Inbound Debates: Gated vs. Ungated content
John Lawson - 21 Kick-ass social commerce tactics to sell more today
Stand out quote of the day:
"Traffic is only a vanity metric. It doesn't pay the bills. It's what you do with that traffic that counts. Conversions matter." - AJ Beltis
Louisa du Toit, senior IMS, shared "As a first-timer at Inbound, I loved seeing that what we do at Spitfire Inbound matches up with best practice and just confirms that we're absolutely on the right track. Watching and listening to experts from around the world is enlightening, and has definitely given me food for thought and a drive to improve."
Key takeaways: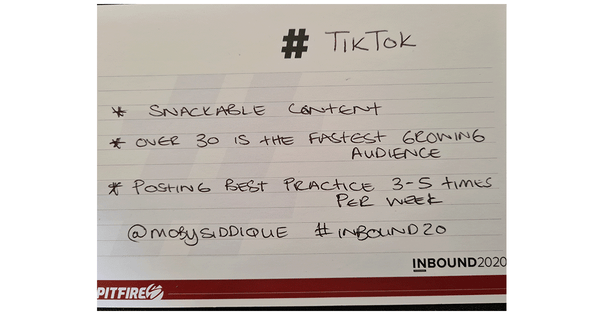 TEAM OFFICE
At the office, team members got together (with pizza) to enjoy their virtual INBOUND2020 experience.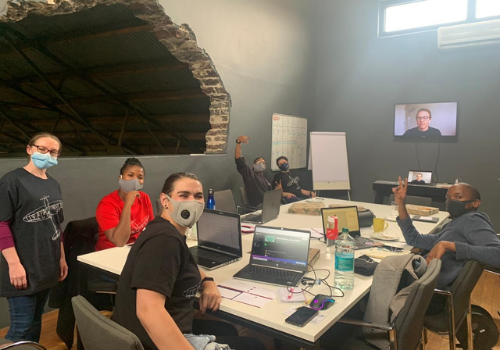 Marlene Oosthuizen, Inbound Marketing Strategist, shares her thoughts on the workflow updates: "I truly enjoyed my very first Inbound session. Learning about the new workflow updates already underway will be game changing to say the very least. I'm so excited for the different use cases and scenarios now available to grow better with our clients. Exporting workflow images, commenting and partitioning are some of the updates that I would like to start utilising immediately."
Key takeaways: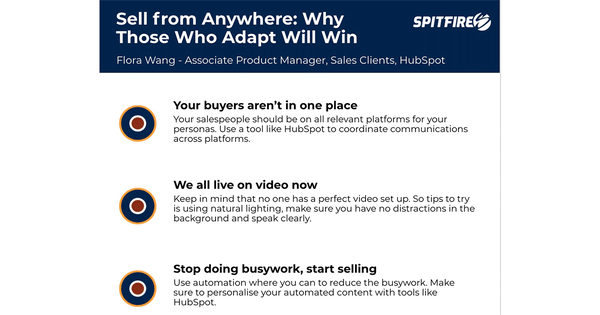 TEAM EAST
In the east the team happened to all have attended a previous INBOUND in Boston but enjoyed the collaboration that the virtual event allowed.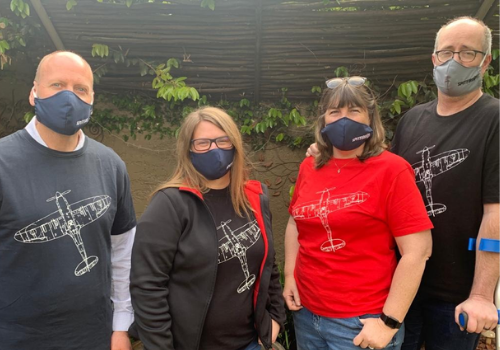 As Nicole Sengers, Principal Inbound Marketing Strategist & HubSpot Certified Trainer, put it: "After having attended inbound in person I was so excited to share the experience with the wider team and be a part of the virtual experience. I did less walking and more snacking but still lots of learning. The sessions I attended were informative and being able to share ideas and insights as we went along helps to foster some more ideas for the future. I was most impressed with the spotlight from Brian Halligan, Dharmesh Shah and Christopher O'Donnell. They shared insight into the growth of HubSpot and made me proud to be a HubSpot partner!"
The keynote with Dharmesh Shah and Brian Halligan was a definite highlight for me - they never fail to deliver. The importance of threatening your customers with exceptional empathy was highlighted as they discussed what our next few years are going to look like. I loved their optimism about how change always brings opportunities and how they are confidently optimistic for forward looking companies. Trust is central to this and is more important than ever. A key thought we left with was that we need to solve for joy. Something to think about.
There were also great sessions from Sandra Long on "How to Power Your Pipeline with LinkedIn Sales Navigator" and Amy Gallo on "Smart Fights: How to Create and Navigate Productive Tensions on Your Team" are both sessions that we will be watching together with the whole business in our weekly target practice as the lessons are important to share. Amy Gallo discussed how team members tend to personalise conflict and see this as negative - something to be avoided at all costs. This is artificial harmony. The sense that we all get along when there are underlying disagreements and things that people aren't talking about is not a great thing to have in your organisation. She gives us actionable tips to address this.
A focus on customer feedback came across strongly in the session with Eric Martin from Twitter on "The New Customer Feedback Management" as well as in the session with Leela Srinivasan and Pepper Miller on "Top Market Research Secrets That Every Marketing Leader Should Steal". Research and particularly customer research is a strong passion for me and I am excited about the process that they shared as well as the sparks they ignited. Another two sessions to watch with the team, and to back these insights up with the HubSpot Service Hub functionality. Exciting times ahead!
And speaking of exciting times - the new product features from HubSpot are incredible! The link to the release is here but watch our blog and social as we share some specific insights on these in the next week.
Key takeaways: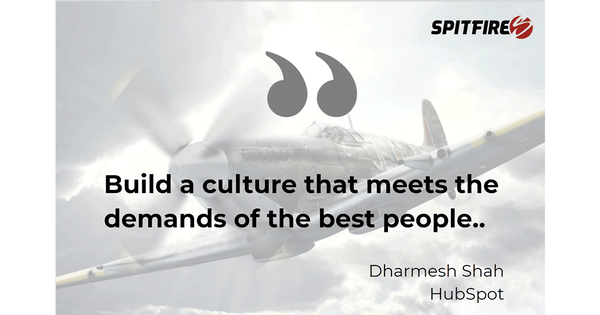 We are so privileged to have been able to share this experience with our clients. Megan MacDonald and Brendon Carpenter from Suzuki, Lemay Rogers from Rentokil-Inital South Africa as well as Tandy Coleman and Wendy Motrovitch all took advantage of their Spitfire INBOUND2020 kits and shared some of their key takeaways with us:
To stay in touch as we go through all the on demand sessions, subscribe to our blog.