Steen Gordon, International Channel Manager at HubSpot, spoke about sales enablement at the latest Johannesburg HubSpot User Group. Here are some of our key takeaways on aligning your sales and marketing goals.
Steen Gordon, International Channel Manager at HubSpot, spoke about sales enablement at the latest Joburg HubSpot User Group (HUG) session. Here's some of our key takeaways on aligning your sales and marketing goals.
Estimated reading time: 7 minutes, 35 seconds
We were lucky enough to spend some time with Steen Gordon from HubSpot recently and we sure learnt a lot. . .
Steen spoke about sales enablement at the Johannesburg HubSpot User Group on Wednesday, 7 March 2018. During his talk, Steen explained how marketing and sales people need to align their goals (using "Smarketing") enabling the sales team to improve their success rates. The following article covers some of our key takeaways from our time spent with Steen.


What is sales enablement?
That's a very good question. HubSpot defines sales enablement as "the technology, processes, and content that empowers sales teams to sell efficiently at a higher velocity."
At its core, sales enablement is about learning to sell to your prospects the way that they want to buy. - Steen Gordon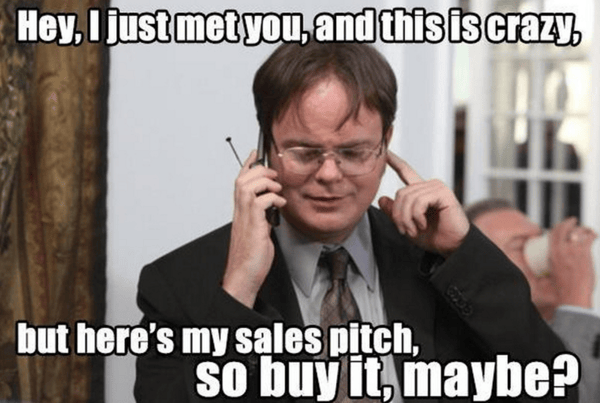 Successful sales enablement puts in place structured processes to help you diagnose and treat any gaps in your strategy. Unlike traditional "legacy" sales, inbound sales focuses on high-value conversations with prospects, to assist them in solving their pain points with personalised solutions rather than cookie-cutter sales pitches.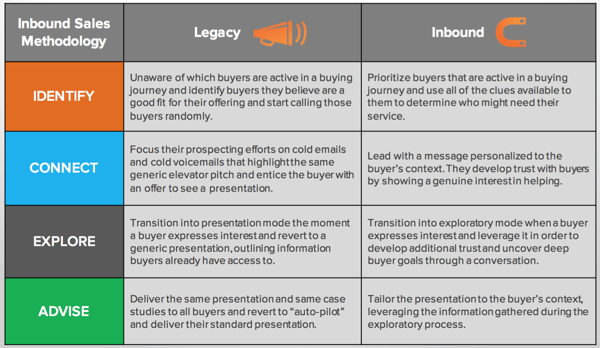 A comparison between traditional and inbound sales. Image source: HubSpot

Why does your business need sales enablement?
Buyer behaviour has changed - we live in the age of information and the informed customer. This has caused a huge disconnect between your customer's online experience, and their experience face-to-face with your sales team.
Prospects are spending hours researching online and, by the time they reach you, they often know more about your products and services than your sales team. This creates a frustrating experience for both your potential customers and your salespeople, who struggle to close deals.
Sales is the heartbeat of an organisation. When it beats regularly, the organisation thrives. When it doesn't; depending on the severity, sales enablement is either a pacemaker or a defibrillator. - Trevor van Rensburg

Bridging the gap between a customer's online experience and their experience in-store
If your business hopes to succeed in the modern market, you'll need to create a seamless customer journey. This requires marketing and sales to work together towards a common goal: nurturing leads down the sales funnel.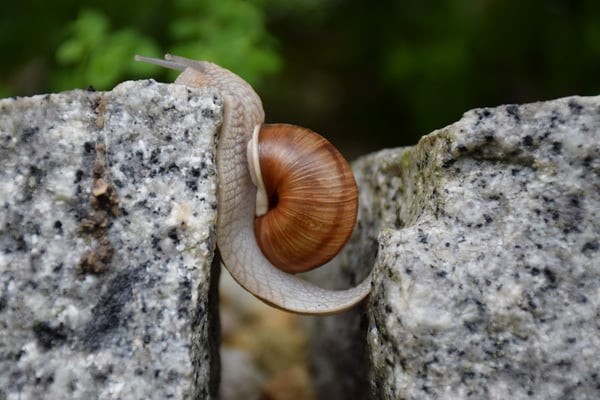 A tightly aligned sales and marketing team will help you create the seamless experience your customers are looking for - bridging the gap between their online and offline experience.
In his talk at the Joburg HUG, Steen explained, "If the salesperson can't add value beyond the information the buyer can find on their own, the buyer has no reason to engage with them." With the rise in popularity of inbound marketing, salespeople can no longer rely on the traditional legacy sales model.
To win business, modern salespeople need to use the resources created by their marketing team to engage with and nurture their prospects - constantly warming leads up and moving them further and further down the funnel.
---
Want to learn more about transforming your business with inbound and the HubSpot growth stack? Join us at the next Joburg HubSpot User Group (HUG).
---
Where does sales enablement fit in?
Sales enablement is about building a robust sales structure into your business, to improve conversion rates of visitors to customers. There is also the option of channel sales or selling through partners. So, if you're tired of spending weeks trying to teach new sales staff how to sell, a solid sales process can help.
Processes are the foundational building blocks a salesperson needs, to tell them where they are, and the next steps to take when bringing a customer onboard. - Steen Gordon
Processes empower your sales people to improve their win rates, by simply following the steps laid out to help them close deals. This means even brand new staff members can jump straight in - knowing that there's a series of steps that will walk them through their first sale.
Processes aren't only useful to new staff - they can also help your existing staff speed up the sales cycle, closing more deals, more often. This is because a solid sales process can help your team focus on the warmest leads first, by teaching them how to prioritise these leads (using methods like lead scoring).
HubSpot defines a sales process as "the specific, concrete set of actions your team follows to close a new customer."


How to build a sales process for your business

The inbound sales methodology. Image source: HubSpot
If you don't currently have a sales process, we suggest this simple five step process to help you get started with prospecting.
Do the research

Do a connect call

Have an exploratory meeting

Present

Close
Let's take a closer look at each stage:
1. The research
Research is the very first step of any sales process. During this step, you'll identify potential leads from sources like LinkedIn, conferences or events and, most importantly, referrals from existing customers.
Find out everything you can about your prospect's business. The goal is to understand your prospect's business and their goals as well as (if not better) than they do.
2. The connect call
During the connect phase, you'll initiate contact with the prospects you've identified and prioritised, through a discovery call.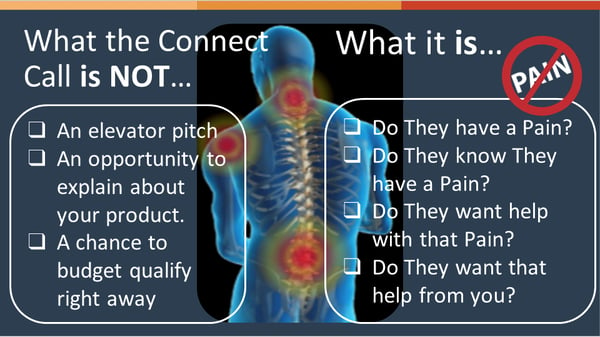 Image source: Steen's Joburg HUG presentation
A discovery call should be used to judge whether or not a lead is a good fit for your business. During this call you will ask questions to find out your prospect's pain points, challenges or goals. If, based on your connect call, you find the lead to be a good fit, you can move on to the next step in the sales process - booking an exploratory meeting.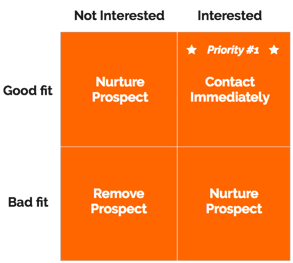 Defining your prospect fit matrix will help you prioritise which of your leads to follow up with first. Image: Steen's Joburg HUG presentation.
3. The exploratory meeting
In this meeting, your goal should be to gather more information about your prospect's business needs, in order to provide value and move them further along in the sales cycle.
During your exploratory meeting, avoid asking simple "Yes" or "No" questions.
Try to get your prospect to talk in depth about their pain points - giving you a better understanding of how your product or service can help them. There are various different sales qualification frameworks to guide you in this process, however we'll be discussing the GPCTBA/C&I framework (Goals, Plans, Challenges, Timeline, Budget, Authority, Consequences and Implications).
4. The GPCTBA/C&I framework is as follows:
In his presentation, Steen explained that at HubSpot, their salespeople use the GPCTBA/C&I framework (which they vouch sounds far more confusing than it actually is).
Goals: What are your prospect's quantitative goals?
Plans: What have they done in the past, and what they plan to do to in the future to achieve these goals?
Challenges: What are your prospect's pain points? In a sales sense, pain isn't a small cut - pain is a limb falling off. According to HubSpot, "If it's a critical factor to their business' success, you've discovered a real business pain." Helping them to solve this pain will increase your chances of closing the deal.
Timeline: Is your prospect ready to buy now? Or is this something they are only considering for the future?
Budget: Can your prospect can afford your solution? Often, when something is that critical, a prospect will make sure that they can find the budget to make it happen.
Authority: Is your prospect the buyer? If not, who do you need to get on board to continue with the sale?
Negative Consequences and Positive Implications: What will happen if your prospect achieves or fails to achieve their goals?
4. Present
Using your research, you'll then need to put together a personalised sales pitch for your prospect. The more you can tailor your product or service to align with your prospect's business goals, the better your chances are of closing the deal.
5. Close
During this phase you'll begin negotiating terms to achieve buy-in from decision makers. Aim to achieve a mutually beneficial agreement that will lead to a long term partnership with your customer.
---
Need help aligning your marketing and sales goals? Visit our services page to find out how Spitfire Inbound can help boost your ROI and grow your business.
---
The five key benefits of sales enablement for your business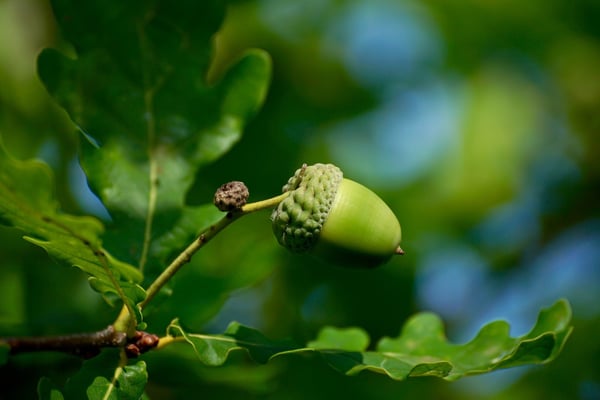 Inbound is a long-term strategy - just like growing a tree, it won't happen overnight, but once your "tree" matures, you'll have a sustainable supply of fruit for many years to come.
Sales Enablement:
Helps to close the loop between marketing and sales

Arms your sales team with the data they need to tailor their pitches to address their prospects' pain points

Builds strong relationships that lead to repeat business

Creates consistent brand messaging and a seamless customer experience

Increases your revenue, helping you achieve your business goals
Want to start turning your business into a sales machine? Download our eBook How to turn your entire business into a sales machine and find out how to align your sales and marketing teams and boost your sales the inbound way.


Take a second to let us know...




Featured image by Lauren Lokker