Five years later, Spitfire looks back at how we've changed and anticipates the future.
Five years later, Spitfire looks back at how we've changed and anticipates the future.
Five years ago, Spitfire Inbound was nothing more than an idea burning in the minds of the Leishmans.
Darren Leishman (CEO) was heading an integrated marketing agency, and was frustrated at how much of the deliverables were based on guesswork instead of raw data - he couldn't assign sales to specific marketing actions his business had taken. Alison Leishman (Strategic Director) was an occupational therapist with a deep knowledge of what makes people tick, and a passion for research and data from her academic roots. As Darren explains, "We compliment each other in terms of skill sets and I honestly believe she is amongst the most strategic thinkers I've ever worked with. She is incredibly valuable and I know that our staff love her - she is fair but firm and the passion for what she does drives the success of the business."
It turns out this power couple had the perfect combination of skills, passions and interests to nurture an idea - a specialised inbound marketing agency - into what is today - a multi-award winning business, providing inbound services, consulting, and training to clients literally across the world. Our motto is: Do better, be better.

"When we started Spitfire Inbound, a part of us wondered if this was a legitimate project," says Darren, reminiscing about the growth of the business, "We believed it would work, after doing our homework, and there was only one competitor at the time, but we didn't know there was a market for it. Ali and I built up Spitfire from scratch - it was very much purpose built - to perform inbound services and we had to develop compelling case studies from nothing. Since those days, we've won international awards - dozens - for work we've done in a short space of time. For a young agency that's remarkable. We're proud to be a Diamond partner at HubSpot, and have reached many milestones (like tiering up from nothing to Diamond!) and honestly I believe that in the next year we'll be Elite."
A team effort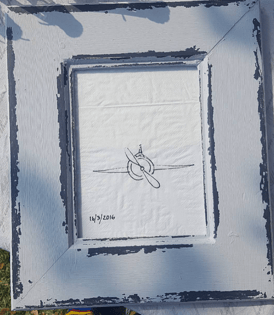 But (as the Leishmans's would hastily say) they didn't build the business alone.
I was one of four people present when Darren sketched the first iteration of the Spitfire logo on a serviette after a HubSpot User Group (HUG), and the thought of launching a new business was exhilarating. As Alison says, "It may seem a bit of a cliche, but we did draw this out on a serviette! Having Sam be part of this journey from that first moment until today and onwards has been fantastic, along with Grant Leishman who steered our finances before his move to the USA to launch GrowUp and remains involved to this day. We have a number of other long term team members too! Darren, as our leader, has always led from the front - his respect for his clients, and team as individuals and team members is core to our culture. Reading the reflections from the team is humbling - do yourself a favour and don't leave this article until you have read them. The care and empathy that they respect makes me a really proud Spitfarian!"
As employee #4, I've seen the business grow from a special service as part of an integrated agency to a powerhouse in it's own right. Spitfire adapted quickly to unexpected challenges (like a global pandemic) and now has some staff that are remote only. As Darren says, "As a business and a country we have an opportunity to tap into the knowledge economy, and we can service anyone over the world and we do that with a high level of quality and efficiency."
As a co-founder, shareholder and an employee, I'm proud of the values Spitfire upholds through its ethical and compassionate employee care and approach to ethical marketing and to doing better business.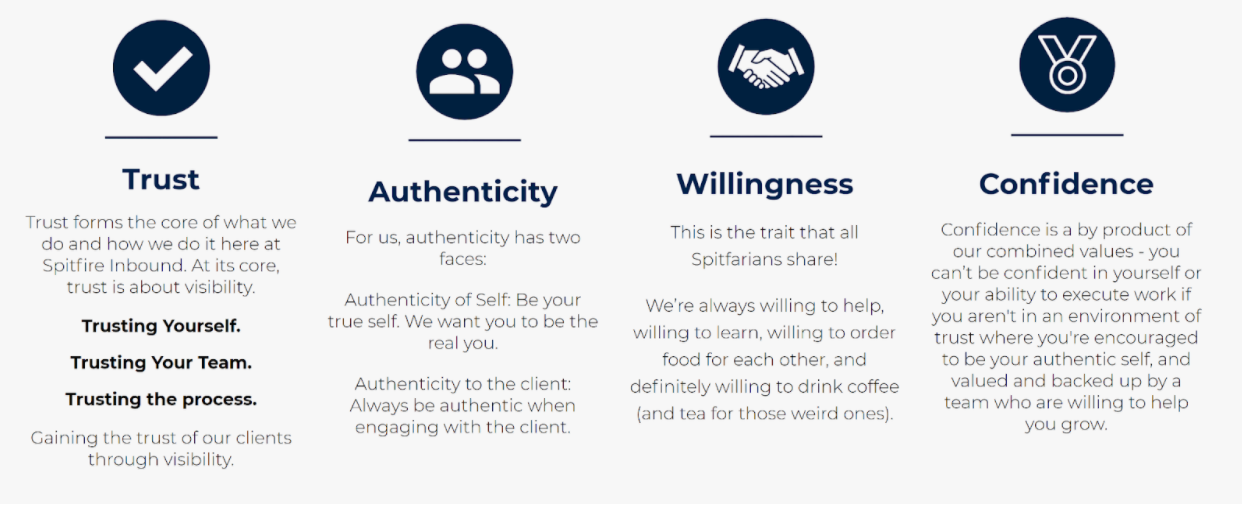 I built our content department from scratch, and then returned to work in a very different, part-time, capacity after maternity leave. As a working mom, I love Spitfire's compassionate flexibility - while never dropping the standard of our delivery to clients.
Ali had this to add "Looking at our growth - the number of team members as well as the number of small Spitfarians that have joined our tribe, I had to return to my roots and look at the developmental norms of a 5 year old and make a little comparison. We are happy to dance and sing (well, some of us), we use the future tense and show our independence. The things that we are either not keeping up with or are pushing the boundaries on, are following the rules (not sure my now teenagers did that at 5), wanting to be like everyone else, and doing somersaults! I am looking forward to the next five as we continue to work together to provide the best possible results for our clients while always doing better for our team!"
Far from our days of four employees ringing the inbound bell, Spitfire Inbound now has over 30 employees and is constantly recruiting as our client base grows. We also have a few of what we fondly call "boomerangs", staff who left to pursue other opportunities, and then rejoined the business a year or two later.
Here are some words from employees on what they love about the business:
Shiran Sugerman, Strategic Inbound Advisor: "What I love about Spitfire is the passion, the passion that we have for our customers, the passion we have for HubSpot, the passion we have for each other and the friendship and familial relationships that we have as a group - we have a lot of fun together. We laugh, we joke, we don't take ourselves too seriously, but we also work hard and we work to make sure that our clients have the best of what we can give them."

Hlanganani Nhlapo, Inbound Implementor: "They care about the clients. I've been in Spitfire for four months, but I haven't heard anyone bad mouthing a client, no matter how difficult they are, no matter how unreasonable the client may seem at times - they always handled with care which shows how much attention and focus is given to clients and how much the team cares. And that's what makes Spitfire different - they care about everything: landing pages, social media, business processes, the outcomes… not just selling you digital marketing, but the entire marketing experience. So that's what makes them different is they care."

Louisa du Toit, Rev Ops Manager: "I think Spitfire has an ingrained culture of inclusion and helpfulness. We band up to get things done, we have fun together and we can make things as mundane as Pictionary competitive. When I started, the team went out of their way to make me feel welcome, and I can honestly say, this doesn't happen often."
Boitumelo Jwere, Financial and Agency Services Manager: "Spitfire's growth brand is rapid which shows that there is a need for our services in the corporate world and that we are going in the right direction. My special memories are all the support that I get when I'm going through personal stuff. And also the support that I get in terms of career growth and just the love. There's no pretending, you just feel this warmth within the business, you feel safe. It's a safe space. Happy anniversary to Spitfire!"
L-J Geekie, Inbound Implementor: "I think the biggest impact for me has been how the team works together. It's not uncommon for a message to come in at four or five o'clock in the afternoon for someone to say, I need help and hands just shoot up left, right and center where everyone is keen to get on board keen to help a colleague. And you can sit on a Zoom call or a Google meets altogether. No one really talking, but everyone doing the work together. It's just that feeling of comradery that embraces the most remote person in the team. I've never felt more like I'm part of the team. And I know that help is just a phone call away or WhatsApp away, an email away."
Lauren Espach, Social Media & Digital Content Manager: "We have grown dramatically since I joined the team two years ago, both with our clients as well as Spitfire staff. We've hired some really talented individuals. We've also grown to Diamond status on HubSpot, which is an amazing achievement in such a short space of time."
Laeveil 'Velo' Anderson, Inbound Implementor: "The one thing I love most about Spitfire is its courageous and loving team. They give you that sense of belonging and make you feel at home within no time. Whether it's your first day meeting them or you being a part of the Spitfire team for years, the sense of belonging lingers. We are more than just colleagues, we are Spitfarians, we are Family. We maintain true and genuine relationships with our clients and ensure that they are aware that to us they are gold and they are valued. And treat one another within the work space with that exact attitude. We live and thrive by the motto 'Stay Curious', we help and encourage one another in all ways that we possibly can. We aim high and rise together."
Sasha-lia Coimbra, Senior Inbound Implementer: "I've been an employee at Spitfire for four years now. And it's been amazing to watch Spitfire grow from strength to strength. I think in the last four years, we have grown so much to the point where we are able to hire a lot more staff. I mean, we're creating job opportunities. We've also implemented a lot of learnerships, and given a lot of learnerships away. So, I mean, just watching and being a part of the growth has been amazing. Seeing how happy we make our clients and how far we've come from the beginning, it's truly inspiring. And I just want to wish Spitfire a happy fifth birthday."
What lies ahead
We've created something from nothing, we've made a mark on the global inbound landscape, and we continue to push the boundaries of what we've done for ethical and effective marketing, and sales and service, and using technology to do that is the future. "When we sat around the table and I drew the logo on the serviette," says Darren, "I said, 'This is the future of marketing'. We know that it is - non-interruptive, hyper-personal, helpful marketing, is the future. People don't want to be forced, they want to be helped. We stay ahead of the game. It's hard to predict what the next steps will be, but if we continue to work at it, we'll stay ahead of the game. There's always a better way."
Contact Spitfire Inbound to integrate the inbound methodology into your business - Do Better, Be Better.