This year's INBOUND2020 conference had some eye opening insights. Here's the team's key takeaways.
This year's INBOUND2020 conference had some eye opening insights. Here's the team's key takeaways.
It's really after an event like INBOUND2020 you can see that in some ways, a global pandemic is an equaliser. Never before would our entire team be able to attend the talks in cosy pods, sharing pizza and debates over the talk's insights (and never before has the term "comfortable shoes" applied to slippers instead of takkies to trek from talk to talk).
I loved watching the insights ripple across the business, affecting team members with different backgrounds and areas of expertise in different ways. Day Two also brought home some real top-notch talks and lead to some excellent insights.
HERE ARE SOME OF THE TEAM'S TAKEAWAYS, IMPRESSIONS AND INSIGHTS
SHIRAN SUGERMAN, Senior Inbound Marketing Strategist
Fantastic day at INBOUND. I really enjoyed all my sessions today. Thanks to Flora (Yuan) Wang, Lou Cimaglia, Dale Bertrand, Karen Hopper, and Yamini Rangan for sharing your insights and anecdotes. So happy I was able to attend this year, holding thumbs for next year!
REO MONARENG, Inbound Marketing Strategist
Inbound is an event that I believe every HubSpot enthusiast has wished that they could attend throughout the years and I must admit that this has been a somewhat long standing aspiration for me too, however this year we were all lucky enough to be given the amazing opportunity to attend INBOUND2020 digitally through a custom platform that HubSpot along with their various partners created for us which allowed for real-time interaction with both speakers and guests.
We were also spoiled for choice with regards to the number of sessions that we could join in on which covered various topics ranging from everything you need to know about the new features that are available in the HubSpot workflow function to lessons that guided us on how to properly build our content strategies so that they not only rank with Google's algorithms but also make sure that we create the strategies we come up with speak to our potential clients in an emotive way that at its core take clients ever evolving pain points into consideration.
As a bit of a tech nerd myself, I have to say that the session I found most interesting was the SEO session with Dale Bertrand as I gained a lot of insights on how to tackle SEO from not only a technical viewpoint but how to also make sure that our SEO strategies are more human and speak to the core emotion that's customers might experience when they run into an issue.
The session also made me realise that as marketers we sometimes get too caught up in optimizing our work for Google when at the end of the day Humans are who we are talking to, and Humans should always be the main focus of our strategies. All in all, I really enjoyed this year's sessions and I look forward to taking some of the things that I've learned and practically applying them to the various strategies that I work on on a daily basis.
LOUISA DU TOIT, Senior Inbound Marketing Strategist
I absolutely loved attending day two's sessions. Learning more about dark social, conversational marketing and email marketing has not only helped me grow my skills, but I can now Enrich our client experiences too.
SAMANTHA STEELE, Senior Content Strategist
I've long wanted to attend INBOUND, so was delighted to have the opportunity this year to not only attend, but also to enjoy the talks in little pods with my colleagues. As a content strategist, I definitely found that Day Two packed more punch and had some really thoughtful moments that will definitely impact the strategies I create going forward.
I was anticipating "Content Strategy for Retention" by Lou Cimaglia to be my breakout talk, and though it had insightful moments it more served to validate some of our key messaging for what we already do. My key takeaway was that interviewing customers should be a part of your content strategy - and it's something we can do more of!
My favourite talk was "The End of Technical SEO: How Google's AI Forces SEO Strategies to Be More Human" by Dale Bertrand. Driving your SEO through your brand's mission and emotive content rather than obsessing over the technical details really made sense to me, from a content strategy perspective, and I find it incredible how Google and the tech is catching up to what people want and need. Actually from both SEO talks I attended, my key takeaway is that you shouldn't be technical for the sake of it - you must do whatever serves the piece, the message you're relaying, and the people who read it.
When I joined @SpitfireInbound almost 5 years ago, the sparkling lure of attending @hubspot Inbound conference in Boston dangled just out of reach. For 5 years, I couldn't attend the prestigious conference for a variety of reasons, culminating last year... #INBOUND2020

— Samantha Steele (@mcsteelio) September 22, 2020
NICOLE SENGERS, Principal Inbound Marketing Strategist & HubSpot Certified Trainer
The virtual INBOUND experience was really an exciting one, and the ability to attend as a group gave it a completely different dynamic! I really enjoyed the talk I attended from the PieSync team - they are very dynamic speakers and I do love the product. Excited to see PieSync grow and improve now that it is part of HubSpot.
I really enjoyed Nancy Riley's session "Five Integrations to Help You Grow Better Through Anything" as I am always looking for great apps that integrate with HubSpot. I have already tried a few of the tools she mentioned out and I was impressed with the diverse number of apps she recommended. I signed up for a trial of Docket during the session and have been very impressed with the app so far.
LAUREN ESPACH, Social Media and Digital Content Manager
Day 2 had everything from technical LinkedIn Ad bidding strategies to email marketing techniques to crush the competition and how to leverage dark social media for brands. The speakers really ramped it up and I learned so much. Once again it was fantastic to have the team in my "pod" to share the experience with. I can't wait for next year.
Top Takeaways:
2020 has been a year for unexpected shifts. What worked a few months ago is no longer relevant.
Experiment with what works for RIGHT NOW.
Social proof is probably the most important thing right now for brands.
My favourite speaks/sessions of the day:
Jessika Phillips - Dark Social: How to Exhort and Influence in the Next Wave of Marketing
Jay Schwedelson - Critical Email Marketing Techniques to Crush the Competition
Aj Wilcox - Advanced LinkedIn Ads
Key takeaways from the team: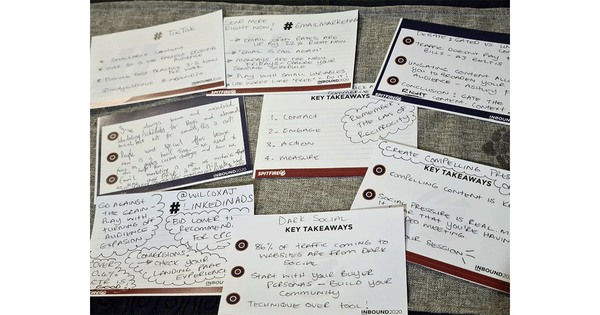 Subscribe to our blog and you won't have to check our blog again for new post