Thank-you pages are a missed opportunity for many brands: they create a good user experience because you're guiding the user to other helpful content, and they create a second shot at conversion. Here's how to make yours better.
Getting an email address is just the first part of the conversion battle for brands practicing inbound marketing: your ultimate goal is to turn that interested subscriber into an evangelical customer. Most brands don't realise that a thank-you page is an often missed opportunity for brands to do just that.
Using a thank-you page allows you to add a second call-to-action (CTA) or redirect users to another page on your website or blog. So, though an in-line thank you message is an easy shortcut, a full redirect to a thank-you page is a chance to increase lead generation, nurture leads and improve your conversion rate.
I came across an interesting blog post by Emil Shour, from the site Grow and Convert, a content marketing blog aimed at teaching people how to grow their business with content marketing.
The post, How to Turn Your Blog's Thank You Page Into a Lead Generating Machine, explains the tests Emil's team ran (using an exit popup message vs. a full thank-you page) to see if they could improve their existing conversion rate. Their test produced excellent results. As Emil explained (emphasis our own):
"This strategy has been very effective for our business. It has also dramatically shortened the typical time it takes to convert a blog subscriber into a lead for our sales team. One of the keys to converting on these [thank-you] pages is to create a 'message match' between the content that was downloaded and your free trial or product."
Emil's post outlines the process he followed to create the thank-you pages (read the full piece here) which increased his company's conversion rate from 2.6% to between 7.5% and 11%.
After reading Emil's post, I spent some time researching the key best practices, when building great thank-you pages. I found a lot of helpful tips on both Wordstream and HubSpot, which I've summarised below.
You can optimise your thank-you pages by applying these seven best practices:
1. Confirm the conversion
For example, something along the lines of; "Thank-you for downloading the buyer persona template", and provide the content you promised.
If you can't provide the content immediately, be specific about when the user can expect to receive the content offer. For example, "Someone from our sales team will contact you within 48 hours to book your test drive".


2. Post-related content
This is your chance to delight your users. You can suggest other interesting content on your website or blog, but make sure it's relevant to whichever content offer they've just requested.


3. Include another CTA
You can include a second CTA, with a progressive profiling form to help you gather more information about the user.


4. Include social media buttons
Including social media buttons is a great way to encourage a future relationship with your lead. Here you could include a benefit to following you on social media, for example, "to keep up to date with trends in the marketing industry".


5. Ask the user to share the offer with a friend
By accepting your offer, the user has acknowledged its value. Use this chance to ask the user to share the offer with anyone might also find it useful.


6. Include a testimonial
If possible, include positive feedback from your existing clients. This will reassure the user of the value of your product or service.


7. Send an auto-response email
This will begin the nurturing process. You can follow up by sending them other helpful or interesting content, straight to their inbox.


HubSpot provided this excellent breakdown of the elements of a great thank-you page, giving you an idea of what goes where. And don't forget, white space is your friend when laying out any landing or thank-you pages.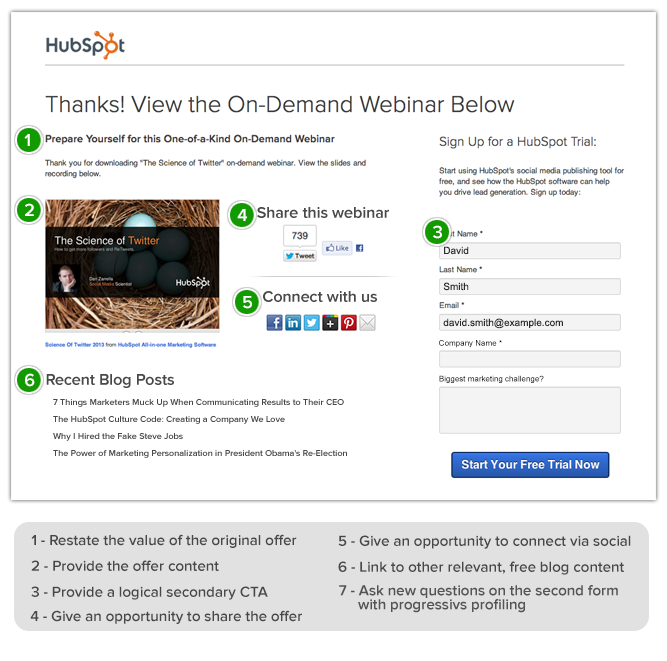 If you stick to these best practices, you're sure to create great thank-you pages which are both helpful and engaging for your users. The more you nurture your leads, the better your chance to convert them.
If you want to see a full breakdown of Grow and Convert's thank-you page experiment, read Emil's full article, How to Turn Your Blog's Thank You Page Into a Lead Generating Machine.
Struggling with your landing pages? Spitfire Inbound is a HubSpot Gold Tier Partner, and we can help. Get in touch with us, and let's work together.