Conversion rates make marketers obsess over marketing metrics. Which of your marketing strategies are leading your potential customers to take action?
Take the guesswork out of your marketing strategy by tracking your key performance metric - conversions.
Conversion rates are the magical marketing metric you should be tracking with near fanatic fervour. They are, as the title suggests, the Holy Grail of metrics and like Indiana Jones, you should monitor yours with both intensity and excitement.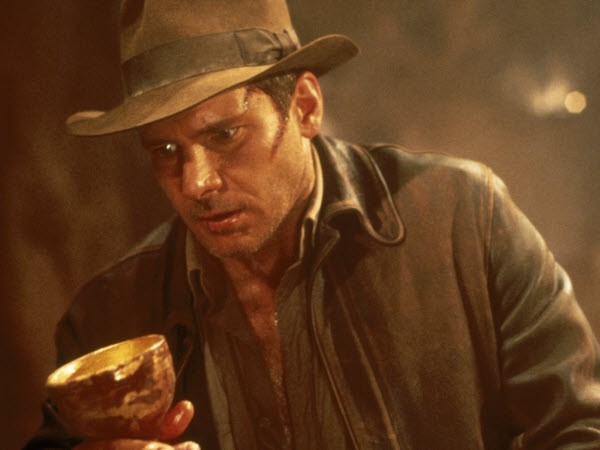 Image from http://mattward97.weebly.com/articles/the-holy-grail-is-irrelevant
The reason marketers become obsessed with conversion metrics is because those magical numbers are the most accurate way to judge if your marketing is working. It answers the question: which of your marketing strategies are leading your potential customers to take action?
As you can see from the image below, taking action is what drives people through the buyer's journey, and a conversion (indicated by >) happens between each stage.
A stranger (someone unaware of you and your product) visits your website, blog or social media platforms and

>

becomes a visitor.

A visitor fills in a form (to subscribe to the blog, download an ebook, or any other form) and

>

gives you their contact information to become a lead

A lead makes a purchase

>

to become a customer

A customer promotes your brand

>

to become a promoter

The smartest marketers know that the number of visitors to a website means nothing, unless you can get that visitor to fill in a form and convert to a lead. As HubSpot says, "It helps you figure out your baseline performance and ensure you're improving over time."


Why do I care about conversions?
First and foremost - If you aren't tracking your conversions, you aren't able to optimise your content, and could be missing many opportunities to nurture a potential customer into a paying one. In today's market it's not a question of whether you should look at your conversions - it is more a matter of gauging which conversions to track. If you're not tracking conversions, you're not aware of what content, call to action buttons, or a myriad of other factors are actually influencing your visitors and which of these may be ready for a call from the sales team. As HubSpot explains, "It can be a good indication if your sales team needs more leads, more high quality leads, or more content to help close the current leads you are generating.
This can help indicate whether additional content or resources need to be created in order to turn opportunities into customers. Looking at this information at an individual sales rep level can also be useful as you gather data about what content might be needed to close more deals."
A conversion rate will give you that consistent measure and answer important questions like, "Are the people coming to my website trusting me enough to engage? Are they converting to customers?"

How do I track conversions?
This is dependant on the software you're using. Here at Spitfire Inbound we use the marketing automation software from HubSpot, but Google Analytics is another option for the savvy marketer. Any software you use will give you reports which will give you insights into where you should be spending your marketing budget so you can get the maximum ROI.


What should I be tracking?
Aside from monitoring the different types of conversions we mentioned above (and there are others in between), it's important to track which forms, pages, emails and blogs are converting so you know what's working and what isn't. Key metrics like conversions should be driving strategy and highlighting critical focus areas for the marketing and sales teams.

So how do you increase that all-important conversion rate?
There are many different ways and different areas to optimise for a good conversion rate, but some simple rules of thumb to get you started:
Monitor and optimise continually. Use all the tools that you have in your arsenal in order to gain insights so that this optimisation to increase conversion rates is based on data.

Ensure that the length of the form you are asking a prospect to complete matches the value of the content offer. In our experience, the forms that convert are brief: nobody wants to complete a questionnaire just to sign up for a blog.

Use progressive profiling strategically - ensure that the questions on your form are related to the content you will be sharing.

Limit distractions by keeping conversion offers simple, and by placing them above the fold where they can be found immediately

Use A/B testing to determine how you could maximise conversions by making small tweaks to landing pages or forms

Ensure you have good quality content with an effective search engine optimisation (SEO) strategy

Use paid media campaigns. These should support your awareness and consideration phase content with a strong call to action.

Limit assumptions. Rather spend time

identifying what your customer really needs and wants.

Make sure that your customer's experience is consistent; offline and online.

Build your brand and make it recognisable, no matter where a potential customer may engage - on social media, on your website, in print and at events.

Don't forget to close the sales loop, online conversions are steps along the path to customer acquisition. Keep the sales team informed of the process so they trust the leads you generate and are able to close the deals when your prospects are ready to buy.
This is a summary of some strategies that you need in order to improve your conversion rates. Sign up for updates in order to ensure that you don't miss the upcoming deep dives into each of these.