Find out how Spitfire Inbound helped an education platform utilise HubSpot and inbound to grow their business.
Find out how Spitfire Inbound helped an education platform utilise HubSpot and inbound to grow their business.
About the client:
Jewish Interactive(JI) is a non-profit organisation who offers quality Jewish and Hebrew education for all children at home, in school, and in-between, via modern tools with rigorous, personalised high-quality content and deep support.
Their goal is to enable parents, schools, supplementary schools, and synagogues to deliver first-class Jewish education and Hebrew even when time is short, resources are squeezed, and there's excessive competition for our kids' attention.
Read more about Jewish Interactive here.
The situation
Jewish Interactive's South African based staff were introduced to HubSpot via their UK counterparts in 2016 and were placed on the platform with minimal training. Despite this, they embraced the tool and loved using it. But they were aware that they were not using the tool or the Inbound philosophy to its fullest and wanted to enhance their marketing efforts even more using HubSpot.
As a result, the JI team expressed a need for training on HubSpot to optimise their use of the tool, its functionality, and the Inbound Marketing philosophy (including best practises) to increase Ji Tap subscriptions and to start pushing their new subscription at the time, Ji Prime. And approached Spitfire for assistance after the Q2 Joburg HUG in 2019.
The solution:
The solution we built for Jewish Interactive was two-fold:
We started off by conducting a

full HubSpot portal audit

to assess their usage at the time, review their data, and offer recommendations for optimisation steps.
We then began a six-month consulting process where we worked with the JI team to help them implement the recommendations we made and assist the team in capitalising on the reporting functionality in HubSpot.
Once we began the consulting process we also discovered that JI required further assistance in optimising their Google Adwords campaigns. For this we did monthly training sessions where we assisted the team in rebuilding their PPC strategy, campaigns, and ads.
The portal audit identified some key steps the team could take to optimise their usage of HubSpot including:
Redoing their dashboards to ensure the entire team had a full view of the key analytics needed.
Creating more lists to enable more granular segmentation for more personalised automation.
Adding blog subscription emails and forms to encourage other opportunities for conversion.
Creating lifecycle stage automation.
Buyer persona housekeeping, question, and allocation going forward.
Campaign Strategy housekeeping.
Adding a naming convention across the portal (this was particularly key as they have several users working in the portal in different countries).
We worked with the team to optimise not only their usage of the portal apps but also their marketing and sales strategies, and their content across platforms, including:
Optimising forms: Updating the properties to better enable them to qualify leads and to make use of progressive profiling to ensure gathering of as much key info on leads as possible to assist with personalisation.
Optimising landing pages: Using A/B testing and looking at key best practices.
CTA optimisation to assist people in moving along in their buyer journey.
Assisting with optimising the pipeline for the sales team and offering advice on sales tactics.
And most importantly, optimising emails and aligning their strategy, as email is their key marketing tool.
The results:
The portal has seen growth overall in 2019, with several metrics increasing from the previous year, including sessions and number of new contacts.

Some key results include:
16.53% growth in blog views
Blog bounce rate dropped by 4.26%
Landing page submissions increased by 9.56%
Email performance had an 88.63% increase in opens and 69.65% increase in clicks.
With the implementation of a lifecycle stage strategy, contacts have been assigned to appropriate lifecycle stages, allowing the team to be more personalised in their efforts.
The JI team were also able to use the HubSpot tools and inbound best practices to see positive results during the Covid-19 outbreak, and despite the lockdown were able to increase their sessions, contacts, new customers, and email performance from March to May, compared to the same period in 2019.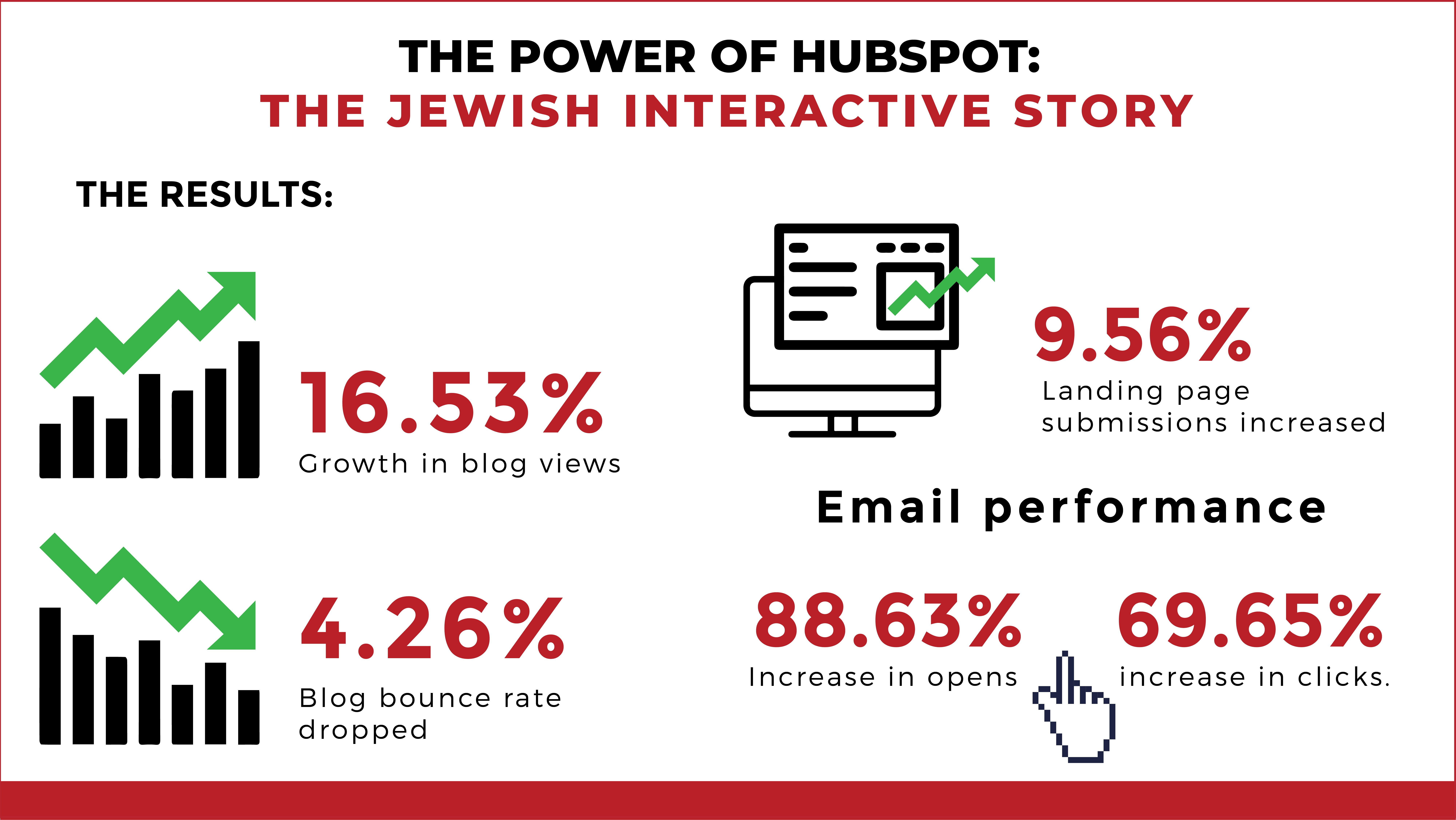 What the client had to say:
"The Spitfire Inbound team had an enormous impact on our use of Hubspot and Adwords." - Corinne Ossendryver, CPO
"The work that Spitfire Inbound has done with us on our Hubspot portal has made a significant difference to our company. They have taught us invaluable skills and walked us through all we need to know to optimise our CRM. The team at Spitfire is so efficient, helpful and easy to work with. From the outstanding staff to the excellent service, it was such a pleasure to have worked with you, thank you!" - Dini Ginsburg, Social Media Coordinator
---
Want to see success in your business and get the most out of your HubSpot portal? Contact us today and get started.