As a team of predominantly female marketers, our growing company has a deep respect for women and have been inspired by many. Here's who inspired us, in their own words.
As a team of predominantly female marketers, our growing company has a deep respect for women and have been inspired by many. Here's who inspired us, in their own words.
Let's face it: marketing is an industry dominated by women. On the Spitfire Inbound team alone, only 18% of our team are men. Because of this, our growing team, male and female, has a deep respect for women and have been inspired by many, in different fields, all over the world.
Have a look at our list from the Spitfire team, in their own words, and let us know who inspires you too.


This South African entrepreneur inspires our Senior Inbound Marketing Strategist & Operations Manager, Sarah Mills. She says, "We often see people coining themselves as entrepreneurs, and 'self-made', but we never know what really lies behind those respective terms. Kirsty owns and runs Stir Social and Braai Free SA. What I like is she's essentially kicking ass in a traditionally male-dominated space; e-commerce. She comes across as fearless and willing to take on anything. Her tweets are real in terms of her experiences as an entrepreneur - but at the same time show how hard work has paid off."


The music of Zolani, from Freshly Ground, has inspired and motivated our brand editor, Lauren Lokker. "If I could pick a South African celebrity to spend a day with, it would definitely be her. Music has always been my favourite art form (if I wasn't completely tone deaf I would love to have been a musician), and it has gotten me through all the rough patches in my life," says Lauren, "Zolani's music is really uplifting. I particularly love Freshly Ground's song Pot Belly, as it reminds me to accept myself flaws and all - I used to dance around my bedroom, with that song on repeat for hours (to the point where even my mom knows all the words backwards)."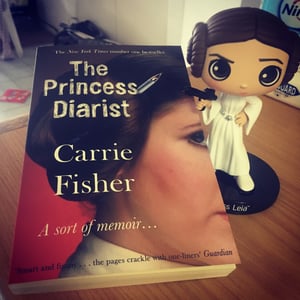 Inbound Marketing Strategist and Brand Editor, Shiran Sugerman, finds Star Wars actress and writer Carrie Fisher inspirational. She explains, "Everything I find inspiring about this woman is all about her after she was Princess Leia. She was bipolar and used drugs; it's not her faults that make her an inspiration but how she handled them. She was very open about her issues and openly spoke (and joked) about being bipolar. She talked about how the drugs where her way of self-medicating but she never lied or hid her issues. What most people don't know is that she was actually an exceptionally talented writer. She wrote several autobiographies and she was a coveted script doctor in Hollywood.
She rewrote many of the scripts in movies she starred in, including Star Wars! Secretly I've always wanted to be a scriptwriter and it's not an easy task. What I love about her is that she never wanted recognition or needed praise, she was just happy to be making something amazing and as someone who loves writing that's inspirational!"
Nicole Sengers, Senior Inbound Marketing Strategist, is herself very dedicated and has a strong work ethic. Because of this, she was inspired by Founder of the Huffington Post and CEO and Founder of Thrive Global, Arianna Huffington. Nicole explains, "I love her personal message around being committed to her own personal health and wellness above striving for success or fame... It is inspiring in a world where we all push so hard and overworking is so culturally acceptable. Her Twitter bio sums up so many great things about her: mother, sister, flat shoe advocate, sleep evangelist, HuffPost founder, and founder and CEO of Thrive Global. I love that she is all those things before she talks about work - this is super counter-cultural and something I strive to become more like. After being burnt out and exhausted from overworking in 2007, Arianna has built a business out of advising people on the best ways to Thrive and succeed by caring for themselves, health and family first and not letting work consume them. A message that is much needed in the fast-paced society we live in."


Natalie Roos, social media influencer and blogger
Naturally, our social media specialist and inbound marketing strategist, Maricelle Gouws, is inspired by a local influencer and blogger! Maricelle explains, "I'm inspired by the social media influencer and blogger, Natalie Roos. She started out as a K-TV presenter back in the 90s and always accepted small jobs in the journalism industry. Natalie established herself as a well-known social media personality by taking amazing photographs and inspiring people to push their limits. As someone passionate about social media, her story is inspiring to me. I think Natalie has inspired me to be more daring in life and to make use of any opportunity that comes my way."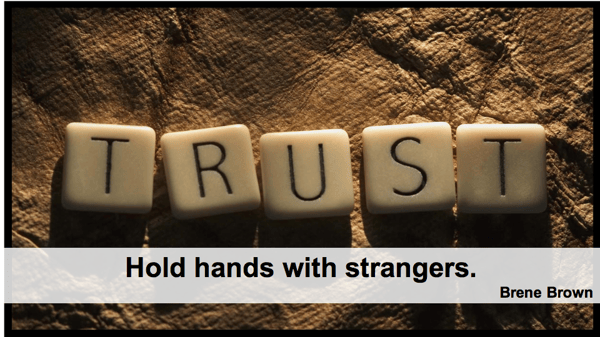 Brené Brown, author and storyteller
Our strategic director, Alison Leishman, began her working life in the field of mental health and community development before moving to academia and then inbound marketing strategy so it's no surprise that she is inspired by Brené Brown, who began in social work before moving to academia and storytelling with data.
"I have been fortunate to attend not one, but two events where Brené Brown was a keynote speaker (you can see our excitement here), and without a doubt her insights have been the most memorable, challenging and relevant to my life - not only to business but also to my personal life. Listening to her using storytelling to deliver her messages of trust, courage, and belonging, she is not afraid to be vulnerable herself. You get a real sense of her love and passion for what she does everyday and her love for her family. Last year at INBOUND17 she focused on belonging and two of my key takeaways were: "The words you use matter - start with generosity, civility and curiosity" and "The key to trust earning behaviour is the willingness to ask for help." These two principles are what I strive to develop in the Spitfire Inbound culture but also in my parenting with my two boys."


Our PPC specialist and Inbound Marketing Strategist, Mojalefa Mothudi, is inspired by famous South African author Antjie Krog. He explains, "Besides being a really talented author, what inspires me the most is her ability to understand people that are from a totally different sphere of society, without the need for her to become that person. To elaborate on this, she is an Afrikaans woman and she doesn't even try to be something else. However that has not prohibited her from understanding what it means to be a Sotho man or another kind of man."


Sasha-lia Scheepers, Inbound Marketing Strategist, finds Debora Patta's passion and bravery inspirational. She explains, "Mother of two, originally from Zimbabwe, this inspirational woman has worked in Radio, TV, and journalism. Her passion and bravery are what makes her stand out. She has proven that no one or nothing can stop her from getting to the bottom of the truth. Her hard-hitting journalism has opened many South African eyes to what really is happening in our country. Her bravery when interviewing and hardcore ruthless attitude is what gets her story out there, for me, I feel like she is making South Africans aware of what is happening around us. All the corruption in many different industries, things we were never aware of she has opened that door for us."


As an enthusiastic writer and fact-finder myself, I adore South African journalist and writer Rebecca Davis. She's funny, witty and smart, but more importantly, consistently tackles important issues with dedication and a sense of humour. Her excellent reportage and brilliant writing style has inspired me time and time again.

Who inspires you?
Looking for helpful tips and tools to boost your productivity? Download our guide for some thought starters or visit our resources page for more useful resources.