Some key points to consider on using data in a way that means we're not just doing marketing for the sake of marketing, we're doing it to deliver results and create a seamless customer experience.
There are two ways of looking at data: as something necessary but uninspiring, or as the key to unlocking meaning in your marketing - no surprises guessing how we approach data - with passion, energy and enthusiasm. Data is key to delivering great results for our clients. Here, at Spitfire Inbound, we're obsessed with data, and we do know a thing or two about analysing and interpreting your numbers.
But, to successfully do this, it's essential to know the differences between data, information and actionable insights. Actionable insights are what we're interested in and are insights that can result in action and push new ideas forward. Forbes continues, "Maximising the actionable insights you receive from your analytics investments is important to your data-driven success."
Data is useless on its own
To understand this is to realise that there are three ways of looking at data (at least):
In isolation – seeing data for data's sake;

In context – seeing it compared to what happened last month or last year, what has happened in the client's industry or in the broader world;

For results – seeing data as a means to an end and looking for patterns and trends that tell stories and create the potential for meaningful strategy and ultimately, action.
Think With Google, an online source for insights agrees, "Better measurement is the answer. It's the key to understanding and making the most of these interconnected touchpoints, but it's not always top of mind when building marketing campaigns. Lay your measurement foundation first—before you dive into the creative work—and you can achieve more with marketing."
Need help with your data and reporting? Download our Inbound Reporting Guide
Remember, data is good. But focusing on the wrong data and misinterpreting it can be downright dangerous. Having irrelevant information means you can make poor decisions. For this reason, at Spitfire Inbound, we believe that data should not be viewed in isolation; data should not be viewed for data's sake. As I am, known for saying "Measure what matters."
"The interpretation of data is just as important as the data itself."
That's why we never use just one data point to inform strategy. We use the data to build a narrative and put our customers at the centre of the flywheel. This is one of the reasons for our clients' success and great results. We can identify, based on activities, who the real leads are – and we send these to the salespeople. This ensures that they have the right leads and, once they follow up and nurture them in the right way, they increase their sales significantly.
In brief, these are our key takeaways about working with marketing and sales data:
Don't just measure things, measure the right things.
Understand which data qualifies people out, as well as in.
Don't make decisions too early – allow patterns and trends to emerge. Look behind the numbers until you see the things you never knew before.
Don't get lost in the data – step away, ask the necessary questions, and use the data to address your major concerns and priorities.
Don't stop there – always ask, "So what? Why should I care? What is this really telling me? What can I do differently because of this information?" Asking these critical questions will create actionable insights which will drive your business forward.

Image source: Think with Google
It takes great companies and excellent leadership to:
identify meaningful data

believe it, and

be brave enough to act on it
because the data doesn't always tell you what you'd expect, or give you the answer you want. But if you know it's accurate, it can be an invaluable source of information that can, if you use it wisely, change the way your business operates for the better.
Get the checklist
We've compiled a convenient checklist to help you use your data correctly.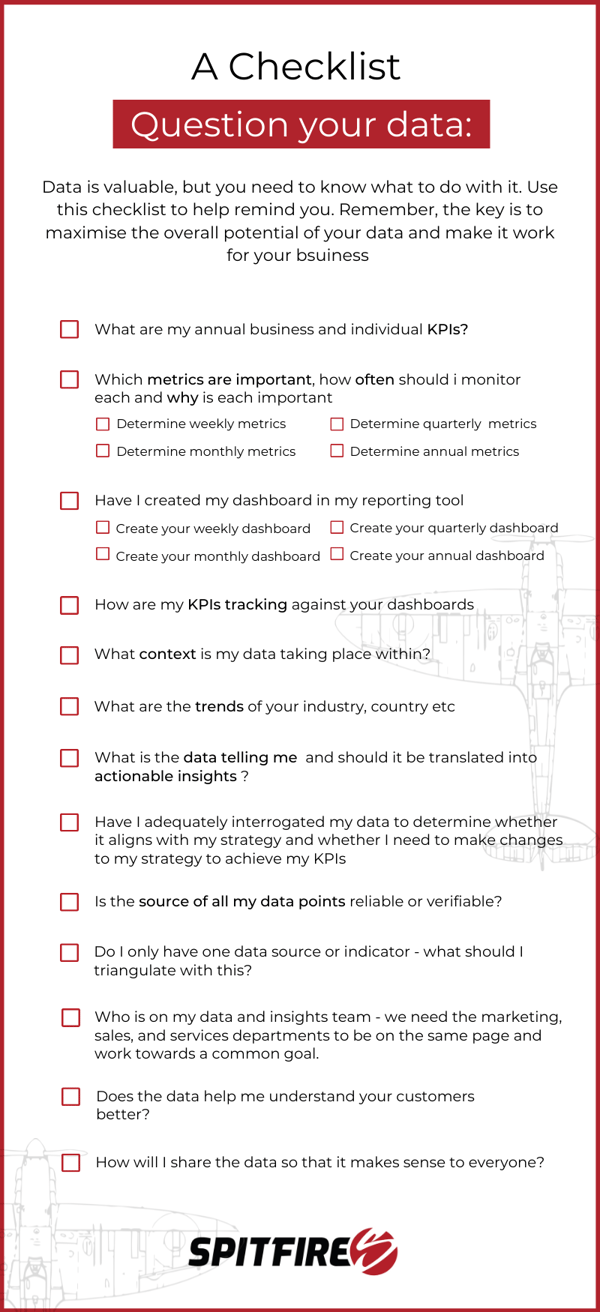 Click here to download a copy of this checklist
At Spitfire Inbound, we are fortunate to be working with clients who are partners in gathering, understanding and implementing data-driven marketing and sales.
Just a note: Every company is different and has different goals in mind, so it's best to contact us to discuss your needs.
If you'd like to see how we take data to the next level, read our case studies below:
Data is the lighthouse that guides your strategy.
Image:Lauren Lokker