Video remains an important part of digital marketing and sales strategies. Diving into the world of video marketing can be overwhelming if you don't know how to get started. HubSpot makes doing videos a little bit easier.
Video remains an important part of digital marketing and sales strategies. Diving into the world of video marketing can be overwhelming if you don't know how to get started. HubSpot makes doing videos a little bit easier.
Estimated reading time: 6 minutes, 7 seconds.
Video has been a continuous trend in the world of digital, especially in digital marketing. With its ever-growing popularity, it's important to keep up-to-date with the latest developments in video to continue creating excellent digital marketing strategies.
But what does this mean for your company?
Why is video so important?
Video is an effective form of content because many people consume online videos every day, either on YouTube or other social media platforms and websites. In their State of Video Marketing in 2019, HubSpot says that 81% of businesses are now using video for marketing, indicating that, in order to stay ahead of your competitors, you need to be creating high-quality video.
When it comes to your website ranking high on Google Search, video is a definite booster. According to a white paper done by CISCO, an international leader in IT, networking, and cybersecurity solutions, over 80% of all traffic will consist of video by 2021. Video is loved by search engines because they view it as high-value content. Which means you need to ensure your videos are optimised by using the right keywords or key phrases and that your keywords are in your meta descriptions.
If you're not already convinced of the importance of video in digital marketing, here are more statistics:
---
Here's 3 videos that your sales team should be watching to help them to continue closing those deals and hitting your targets.
---
More companies are using video on their landing pages and with more functionality built into tools that can send video via email, more businesses are able to incorporate it into their marketing emails too. Video isn't just for the marketing department, it can be useful in creating trust amongst prospects and your sales team.
The power of HubSpot Video
Head of Product Marketing of Service Hub, Marcus Andrews, explains that in Marketing Hub Professional or Enterprise, you'll be able to host 250 videos for free in your file manager.
These videos will have optimal playback and transcoding, and they can be embedded into blog posts and landing pages in one click," says Marcus.
With HubSpot Video, you can insert videos with CTAs and forms in your HubSpot blog posts, landing pages, website pages, and knowledge-base articles. Directly embedding a video to play in an email is also possible with the right HubSpot package.
HubSpot Video is available in the Marketing, Sales, and Service Hub with a Pro or Enterprise packages.
Integrating Vidyard with HubSpot
Vidyard is a video platform that helps businesses and brands use video strategically. It seamlessly integrates with HubSpot Video for HubSpot Pro and Enterprise users. You can also integrate Vidyard with the HubSpot CRM but it's important to note that, without the paid integration, videos from your Vidyard account will not appear in your HubSpot file manager tool and you won't be able to embed them in marketing or sales emails.
Tips for using video in emails
Now you know that using videos in emails is possible, here are a few things to keep in mind when using them:
The size of your file matters so ensure your videos are short. IMPACT suggests, "When it comes to your thumbnails, make sure your images and GIFs are good quality but small in file size. Smaller than (<)125kb would be ideal."


Don't be afraid to add the word 'video' in your subject line. People love videos and this is an easy way to grab their attention and get them to open your email.


IMPACT also suggest using a video thumbnail in your email if you can't get it to play within the email. "The key to making your thumbnail effective is customisation. It's extremely important to use authentic artwork and real images to make your thumbnail as genuine to your brand as possible."
Here are some tips from HubSpot on making a good video:
Metrics for your videos
When it comes to marketing, everything you do should be data-driven. . Before you start on this journey, look at the objectives of your business and choose the video metrics that will be relevant to you and provide insightful data. Setting goals is what you do for all your marketing efforts and it's no different when it comes to video marketing. As Marketing Automation Manager at FUNYL Commerce, Amanda Martin says, "Video marketing metrics are a lot like those of websites.There's a lot to measure, but that doesn't mean they're all valuable or speak to your specific goals."
Let's have a look at some of the most common metrics for video marketing:
Views -

Views are counted differently on each platform and aren't really the most important metric. Yes, you would like your video to be viewed as often as possible but the engagement is more important. Amanda Martin says to treat video views as "what typically would be considered reach would be is a good rule of thumb."



Engagement -

Engagement can be a number of things and give marketers qualitative data such as what kind of emotion your video evoked. Facebook says, "Likes, comments, and shares are the best measure of how well a video resonated with your audience."



Play rate -

Not sure what play rate is? HubSpot says "Play rate is the percentage of people who played your video divided by the number of impressions it received." This is an insightful metric to look to help you determine how relevant or appealing your videos are to your audience.


Watch time - Sometimes referred to as 'watch rate', this is the total amount of time spent watching your video. Along with average viewer duration and average completion rate, this where you'll gain a lot of insight about your videos. You'll be able to tell where your viewers fall off indicating you need to adjust the length of your video or possibly change the beginning . Perhaps the introduction isn't grabbing and retaining viewers' attention.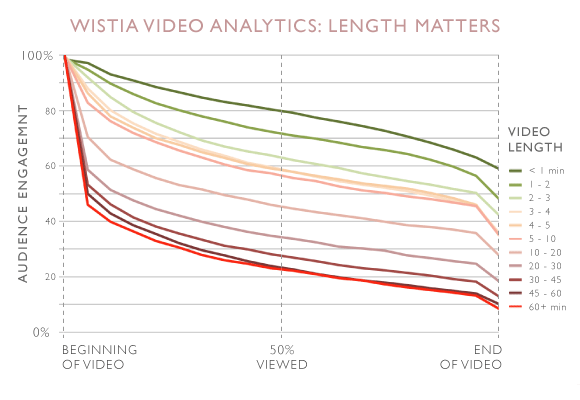 Image source: Wistia
Conversion and Click-Through Rates - You don't want to be making videos that don't bring some form of conversion or traffic to your website. "Conversion rate is the number of times visitors completed your desired action divided by the number of clicks on your CTA. Try adding a video to your landing page to see if your conversion rate increases." says HubSpot. A Link Click-Through-Rate, according to Vidyard, "measures which links or interactive elements within the video viewers clicked, such as a popup to download an eBook."
There's no reason not to add video into your marketing and sales strategies when there are so many tools and applications to use to get started easily. If you're already doing video marketing, it may be time to rethink your strategy, bearing in mind some of the statistics above and the insight you receive from your video metrics.
Not sure how to get started on video for your business? We're happy to help. Simply book a time for a consultation with one of our inbound experts.