A call-to-action or a CTA is an invitation for a user to take some desired action. It is a key element in your inbound social media post.
A call-to-action is a key element in your inbound social media post. It lets the audience know what to do next and it's a crucial factor in acquiring leads and conversions. Here are our top 25 compelling call-to-actions that could revitalise your inbound social media strategy.
Without a good call-to-action (CTA), your social media post could be an utter failure. A compelling caption and superb visuals will make for an interesting read for your audience, but remember not to drop the ball when it comes to developing your call-to-action. For inbound marketing success, more sales qualified leads should translate to increased revenue. To get more leads, you have to convert your visitors. And the trick for converting visitors is an effective and compelling call-to-action.
What is a call-to-action?
As defined by HubSpot, a call-to-action (usually abbreviated as CTA) is an image or line of text that prompts your visitors, leads, and customers to take action. It is, quite literally, a "call" to take an "action."
A clear CTA makes it easy for your audience to do what you want them to do and inbound marketing doesn't work if you don't use your call-to-action in strategic ways to encourage your audience to take the next step.
Social Media call-to-actions
Lauren Espach, Spitfire Inbound Social Media and Digital Content Manager, says that, "Inbound social media is intentional, strategic, and focused on nudging your social media audience to take a desired action, like clicking through to a specific blog article that answers a question for them, in a more natural and authentic way."

A social media call-to-action is text-based and is usually a clickable link that is strategically placed in a social media message. Inbound social media differs from normal, "organic" social in that social media posts are more tactical, and usually include a call-to-action that drives traffic to a specific blog page or website. Here are some examples of a social media CTA: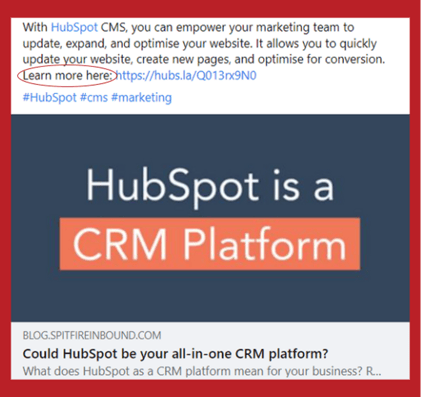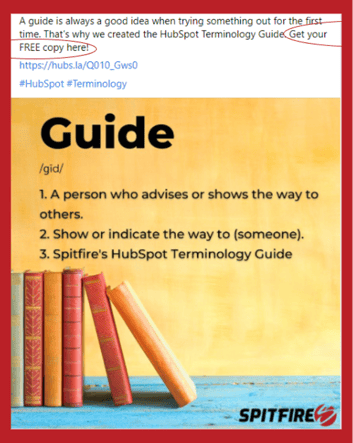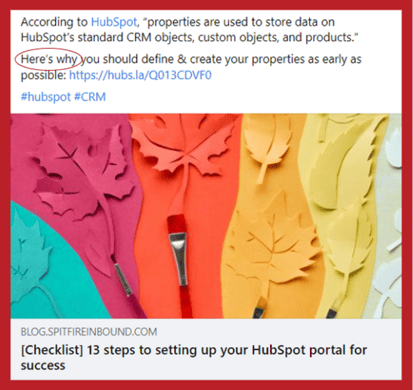 What makes a good CTA?
Before you begin crafting your CTA, make sure you've narrowed down your goals. The way you develop your CTA should persuade your audience to take a desired action. Do you want them to register for a webinar, download an ebook or read a blog post?
Lauren Espach, Spitfire Social Media and Digital Content Manager says that, "engaging with your audience, and encouraging them to take a desired action, like viewing your latest blog post, in an authentic way, is at the heart of inbound social media marketing."
Whatever action you'd like your audience to take, you want to prompt them to go for it. Your CTA should be powerful, concise, and instructive. It should drive further engagement and it needs to make sense for your social media post. Avoid using jargon and make sure that the CTA guides the audience to exactly where it said it would go. There's nothing worse than clicking from one page to another in search of your desired information. So, if your CTA says 'watch here', readers should only be a click away from watching the video.
Track your CTA! Your inbound social media call-to-action won't be serving its purpose if you're not tracking it. Tracking your CTA's helps you to evaluate:
Is it a good offer?
Is it compelling the audience to click?
How many people click through to the offer?
How many people complete the offer?
Remember that your CTA's are a lead generation tool which can be used to collect names and contact information about your prospects. However, it's important to be mindful of the POPI legislation when collecting information. (This is particularly relevant to call-to-actions that ask for personal information). The rule of thumb is that your contacts should never be surprised to hear from you.
25 compelling inbound Social Media call-to-actions
We've put together an extensive list of inbound social media CTA's that really work. Remember that you can also get creative and add your own.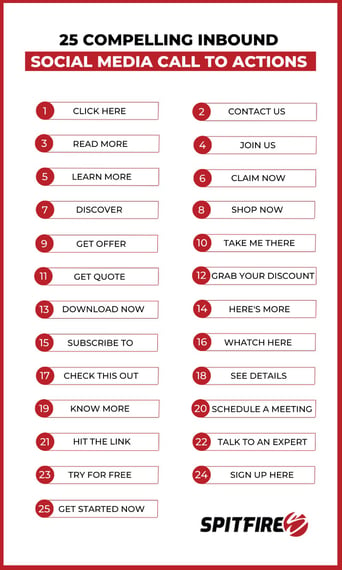 Writing an effective call-to-action really boils down to one thing: getting your followers to take action. The exact formulation of each CTA will differ depending on your content, and hopefully, our list has illustrated that.
If you need more help with formulating your inbound social media CTA's, speak to one of our experts.
Download our LinkedIn Playbook here, for everything you need to know about LinkedIn success.
Photo by Alexander Andrews on Unsplash