As many people may know, I am a huge fan of the HubSpot Academy. I enjoy being able to use this free resource to learn about HubSpot, and develop and improve my marketing, sales, and service - related skills.HubSpot Academy is a great place to learn how to market, sell, and grow an inbound business.
HubSpot Academy started in 2012 as HubSpot's official learning resource. The Academy started out as a place where people could learn how to use HubSpot and it focused largely on marketing, but as HubSpot has expanded its offerings to include sales, sales enablement, and customer support, Hubspot Academy has followed suit.
According to their website, HubSpot Academy is the worldwide leader in free online training for inbound marketing, sales, and customer service professionals. They specialise in comprehensive certifications, singular topic courses, and bite-sized lessons for professionals looking to grow their career and business.


Here's why I love it:
1. So many different topics are covered
The academy offers so much: you can learn about lead nurturing, customer service, how to set up your Service Hub account, and more. I have found material for writers, marketers, sales teams, marketing managers, social media managers, customer support agents, and inbound marketers. It is also a great resource that I share with clients who have questions around HubSpot or inbound strategy.
2. They offer multiple courses and constantly add course material
The Academy features 19 short courses, 13 certifications, and around 200 single lessons on a variety of topics. Each of these courses has a time estimate and many of them have short quizzes within the course material to help you test your knowledge so you can gauge how well you have understood the course material. In the last two years, Hubspot Academy has almost doubled the number of courses they offer and the topics covered.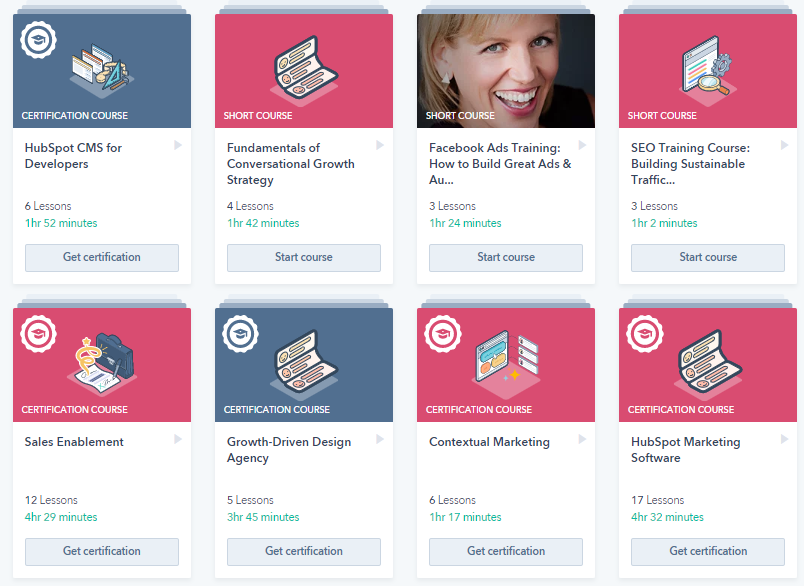 3. Whatever your learning style, they have you covered
While many people consider HubSpot Academy to be a series of video resources, on closer examination you will find that they also offer the video transcript and the slide deck along with the video material. This allows people who have different learning styles to learn in their own way.
4. Additional resources
Many of the courses in the Academy provide you with additional resources and tools that supplement the material covered in the lessons. These resources can be downloaded and used in the future which I find really helpful for myself, my team, and my clients.
5. The professors will answer your questions
HubSpot's courses are offered by a variety of experts, 7 professors who are listed on their website and many more guest lecturers who share their knowledge and expertise. This extends beyond the online course material. The professors are available on email or Twitter to answer questions and assist you if you get stuck. I have reached out to a couple of the professors in the Academy and they are always willing to assist and answer questions.

6. A chance to show off your skills
The certifications offered by HubSpot Academy are globally recognised and are useful to add to your LinkedIn profile to show your employer that you are learning or add to your CV and impress your future employer with your expertise.
7. Learn at your own pace
The way that the Academy is set up and its functionality allows you to search for lessons that you need, when you need them. You can also use tracks to take a series of lessons in such a way that you learn about a topic in a logical way. Each lesson that you watch shows up in the track as viewed so you can remember what you have covered and what you still need to learn to master the topic.
8. HubSpot Academy is FREE
Yes, that's correct. HubSpot offers this variety of online courses and lessons for free. Previously there was a cost for some of the courses, but they have now opened up all these resources to users at no charge.
There are many reasons to love the HubSpot Academy. To join, simply visit the academy and start learning!
If you are looking to work Spitfire Inbound's team of HubSpot Academy certified inbound professionals to further your training and Hubspot implementation, get in touch and let's talk.