CRMs often face challenges with implementation, adoption and optimal usage. Here's how to ensure make your CRM a success.
CRMs often face challenges with implementation, adoption and optimal usage. Here's how to make sure your CRM is a success.
Chances are you've encountered the term CRM (Customer Relationship Management) before. A CRM system is a pretty popular tool used by sales teams, marketing and services, and can transform a whole business if used to their full potential, by managing every customer interaction, aligning business processes and helping the business grow.
---
Definition: A CRM is a system that creates full visibility of your customer lifecycle and all of your company's interactions with customers and prospects. It gives you the power to access data on how contacts have engaged with your website, emails between them and members of your team, documents shared, their social media interactions, who they've had contact with in your company, etc. while capturing all of their information across all touchpoints. The main functions of a CRM include sales, marketing, and services, to give you a 360° view of the customer.
---
Though there are many different CRMs available, I work closely with HubSpot and will be referring to HubSpot throughout this article - please note that much of my advice is based on your CRM strategy rather than on the specific CRM you're using.
8 ways to make your CRM a success
Clean data
Alignment between business departments
Change management and buy-in from the whole business
Internal CRM champion
Clear objectives
Understanding your business processes
Evolve and Persevere!
A strong implementation team
1. Clean data

Data is everything! You need to work on your data to ensure your CRM is a success. Without clean data on your prospects and customers, it is difficult for a CRM to work effectively.
Moving over to a new CRM is your opportunity to clean and organise your data. With good quality data, the better your whole system will work and the more informed your teams will be - otherwise you'll keep running into the same data issues.

2. Alignment between business departments

CRMs are vital for businesses because they keep the business informed at every stage of the customer journey, from the awareness phase when a contact enters the system as a lead to the loyalty phase when a contact becomes an advocate for you.

When you create customer loyalty you are able to build out information on your customers over time and your knowledge of them becomes deeper. When you have access to this deep understanding, you gain insight into their motivations and pain points, and can cater to their needs better.

By keeping all departments aligned to your customers' needs and having a single source of truth for all customers, you're able to create a seamless and delightful experience for customers with your business as a whole.
3. Change management and buy-in from the whole business
One of the biggest hurdles to overcome when implementing a new CRM is around change management–with introducing any new technology comes resistance as generally people are comfortable and confident in what they are using! Getting buy-in from all affected to adopt the new technology is one thing, getting them feeling confident is another.
Companies often underestimate the importance of managing this change and spending the time required on this. We recommend that you sell the vision to your team and get them involved in the process! They need convincing that this change and the effort required from them to implement it is going to be worth it, so show and tell them what the value will be for them, for the business, for their customers, and for their performance.
At the end of the day it makes the business operate better, it makes their lives easier, it's new technology they have an opportunity to develop skills with, and ultimately it's there to make them do their job better.
Apart from having buy-in from the people working directly with the CRM, it's also crucial that the business backs the change. The whole business, from the top down, should take it seriously, the more forces driving this the more successful it'll be. This assists with adoption and utilisation of the tool.


4. Internal CRM champion

Having a CRM champion or driver is absolutely crucial. In our case, we would call them the HubSpot champion in your business. They take ownership of this new system–essentially they would be the middle person to pull everyone and everything together. They are the custodians of your CRM.

We have found, while onboarding clients, that if no one internally is driving your CRM it tends to stall - we can come in externally, implement and help support, but who will drive its continued growth and use? It takes continuous investment to shape, grow, and develop. The more successful the champion is, the more successful the system will be.

Between the different business functions, one of the biggest advantages of having a CRM is marrying marketing and sales. These two teams need to discuss and have a look at their processes and how data is being captured. It's vitally important: the more interaction and engagement they have the better.

In addition to this, services is feeding back to marketing and sales. Services is dealing with issues and customer feedback. How they can adapt their marketing efforts and sales processes is something everyone should be open to. That feedback loop is really important and an internal CRM champion helps to drive this process.


5. Clear objectives

Having clear objectives for your CRM is absolutely crucial, and it's important to revisit them continuously–without a vision and direction, what are you trying to achieve? Sometimes teams can set those in the beginning and not revisit them. Let's not lose sight of that. This vision is related to timing and business priorities - what do we need to achieve first?

It's easy to go down a rabbit hole - there is so much you can do, but you need to rope the team in and remember what your priorities are. Focus on one phase at a time, for example, on one core function like sales - getting the sales process and teams set up first if this is a top priority.


6. Understanding your business processes

Implementing successful CRMs require you to have a good understanding of your business processes and how that relates to data. Your sales process, for example, needs to be ironed out in order to be mapped and setup in the CRM system.

Project leaders are needed to drive planning, implementation, and adoption. As part of this, I find a common challenge is companies not doing enough planning before implementing a CRM. Companies want to adopt the technology before knowing exactly how it will fit in with their businesses and processes.

Depending on how complex your internal structure and processes are, it's usually a good idea to invest in an ERD (Entity Relationship Diagram), used to visually display how your data flows and is connected. We also do what we call a scoping workshop at Spitfire Inbound, where we identify the core functions of the business impacted by the CRM and how the technology will fit in with these to improve efficiency and performance.

This is a good place to start in your implementation journey as it will give you a good understanding of how everything impacted will be affected, how everything fits and flows together and challenges and opportunities identified sooner rather than later. This is never a waste of time and money: it is investing in the success of your CRM implementation.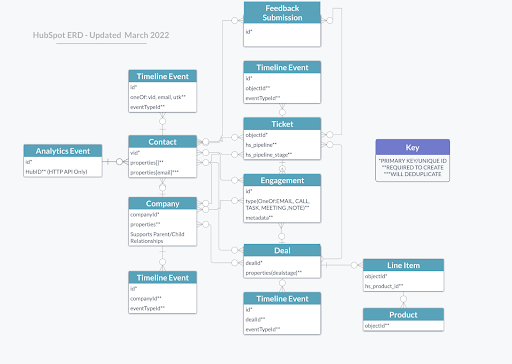 7. Evolve and Persevere
Keep investing in your CRM - it is continuously evolving and you need to keep developing your processes, and advancing the way data is captured. It's a constantly evolving thing, keep investing in it. It's not a 'set it and forget it'. It constantly can be improved at every point and every function.
Don't be stuck in your old ways. New tech challenges you to think differently and reinvigorate your work. A lot of the time we come in and people are stuck in their old processes. Ultimately the system is there to help you be more efficient.

8. A strong implementation team
This is a vital part of achieving success when implementing your CRM. Pull a team together of internal drivers and an external CRM partner who has done this many times before, it will save you time and, more than likely, money later down the line.
---
A good CRM partner will identify challenges and opportunities, and make sure you are getting the most out of the system. Ensuring the system is setup how your business needs it to operate most effectively, will set a strong foundation for your system to grow with your business.
I just want to add that HubSpot really empowers the user–even complete CRM novices. Aside from ease of use, they have created such a thorough resource for anyone trying to implement a CRM! There is so much content that exists. You can go through their Academy courses to upskill (any users of the CRM) and can access articles, strategies, guides - the resource is endless and with their Help function you can be assisted with 24-hour support agents for anything you're finding challenges with.
CRM adoption, implementation and integration can be challenging. Contact us to onboard your business and improve your business' productivity.