With strategic support and advice from Spitfire Inbound and a commitment to culture change, our client, Polyflor, increased revenue by 327.02%. As a result of fully adopting HubSpot Sales Enablement, their business has seen tremendous growth and HubSpot has empowered them to continue growing with a seamless and frictionless sales process.
With strategic support and advice from Spitfire Inbound and a commitment to culture change, our client, Polyflor, increased revenue by 327.02%. As a result of fully adopting HubSpot Sales Enablement, their business has seen tremendous growth and HubSpot has empowered them to continue growing with a seamless and frictionless sales process.
When Polyflor, an innovative vinyl flooring company in South Africa, approached us to help with their sales focus realignment, we immediately lent our leading inbound marketing and sales strategists to assist them with a comprehensive sales enablement strategy, followed by practical implementation and company-wide training.
By fully adopting HubSpot for Sales Enablement, which drove an internal culture shift, the company's revenue increased by 327.02% over a six month period (April - October 2019). Sales performance also increased drastically, with a 73.95% in new deals created, and a 91.66% increase in deals closed won.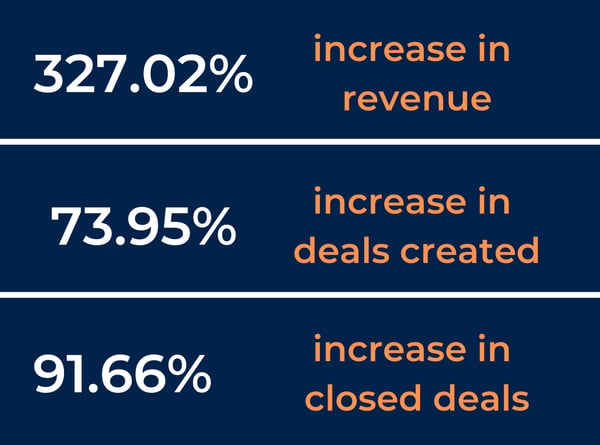 The results don't just end there - in this case study, we'll take a deep dive into how using HubSpot has fundamentally changed Polyflor's sales process (both internally and externally), company culture, sales and development, and customer satisfaction.
Tandy Coleman, Polyflor CEO, and Wendy Mitrovich, Polyflor Brand Manager, who both attended INBOUND19, and are huge HubSpot advocates, had the following to say about their experience with HubSpot and Spitfire Inbound throughout the Sales Enablement process.
As CEO of Polyflor it's been one of my greatest challenges, trying to get an accurate sales pipeline. It's something that's very hard to do when you've got lots of projects throughout the country, all lying with different sales people or agents." says Tandy Coleman, CEO of Polyflor
The Challenges
With the nature of the business being so complex, we knew we had to intrinsically understand their unique challenges, of which there were more than a few, as well as the goals they aimed to achieve throughout the process.
1. Sales process
Firstly, the sales process was identified as the biggest challenge. Because each deal is so complex and has multiple moving parts, the sales cycle is extremely long (anywhere from 3 - 5 years), and this posed a difficult challenge for the brand for both financial and stock planning.
2. Sales performance and productivity
Secondly, the company had been seeing low margins, and with no clear processes in place, the sales team was struggling to meet targets and the business struggled to identify the pressure points within the team.
3. Stock
Thirdly, there was a clear internal disconnect. Due to the complex sales cycle, and with stock being imported from the UK, the correct processes and procedures weren't being followed correctly, resulting in even more internal discord. Deals were also being lost due to insufficient stock.
4. Reporting
Lastly, without one cohesive CRM system, they were having difficulty analysing the data accurately, which in turn affected the company's ability to plan ahead financially. This also impacted the company's ability to accurately project sales forecasts. Tandy says that what she has found is that what you measure is what people pay attention to and so the reports and information makes the entire staff complement focus on the company's goals.
The Goals
Based on the above mentioned challenges, the company, along with Spitfire Inbound's assistance, decided on the goals needed in order to turn things around and start effectively streamlining their processes.
1. Increase profitability - The company needed to implement the right technology system to assist the team in driving success both from reporting and team management. Adding in sales reports allowed the team to forecast potential risks and plan accordingly.
2. Streamlining systems - Polyflor was using an outdated CRM system that did not integrate with their other systems. The setup of the system was very siloed and did not allow for accurate or advanced reporting. Polyflor identified that migrating to a more advanced system with smarter capabilities would help save their team time, increase productivity and prevent them from duplicating efforts.
3. Aligning sales and marketing - Originally this was not even a goal. However, once Spitfire Inbound investigated and started working with Polyflor, it became clear that without a frictionless process between departments, the entire effort to realign the sales focus would be wasted.
4. Motivating staff for success- Polyflor wanted a way in which they could encourage success, celebrate wins and keep the staff happy and motivated. Having a largely legacy staff who may be stuck in their ways and potentially scared of new technology provided some anxiety for staff.
The Solution
HubSpot Sales Enablement, Spitfire strategic support and an internal culture shift!
1. Custom-built HubSpot Dashboards
We built custom sales reporting dashboards within HubSpot which were used by various departments and executives to monitor and understand the state of the business in real time. Because they could now easily analyse data (at a glance), this solution allowed them to be agile and proactive, which directly, and positively impacted sales.
These dashboards and custom reports are the reason that Tandy says that Hubspot's Sales Hub is able to guide their business and why she says it makes a big difference to her and her job.

An example of their custom-built dashboard
Tandy says, "Our stock management this year has just changed, we are managing stock and rolling stock so much more efficiently because we've got so much more information."
2. Automations
In order to streamline activities, we built out automations within their pipeline. The benefit of this is that from the first form submission (contact us) all the way to ringing the sales bell and ordering stock, every department had clear tasks and a better understanding of lost deals (better analysis), which allowed them to be flexible, to have transparency, and a clear and concise process in which to follow.
3. Sales and marketing alignment
Our recommendation and advice was to bring the two departments together in order to reduce friction in the sales process.
The first point of alignment was for marketing to hand over sales qualified leads to sales and include insights on sales behaviour that could assist sales. We handed over deals in the pipeline so that the sales team could work more easily in the pipeline.
Wendy is so excited about the fact that they now have one central database which allows the teams, both sales and marketing, to have a single view of the customer and work together on leads.
Sales was also tasked to give feedback to marketing on the quality of the leads which allowed the marketing team to adapt and change their marketing strategy to better support sales and business objectives.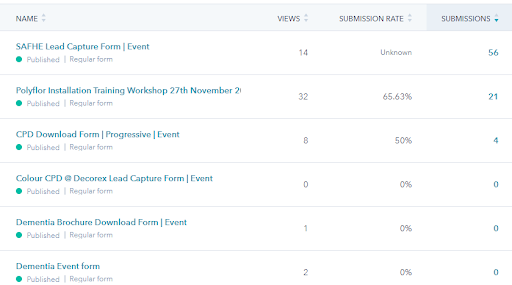 An example of how Polyflor used HubSpot Marketing Tools to support their sales teams
They used HubSpot tools, such as the tracking URL builder and landing pages, to strengthen their sales and marketing alignment, with the marketing department actively providing support to the sales team, especially with support for events, e.g. conferences, industry events, speaking engagements, installation training. Building custom landing pages and emails that supported their offline activities.
They also used the HubSpot tools for better tracking and understanding of the customer journey and fed these insights to both marketing and sales.
4. Lead nurturing
With advice from the Spitfire Inbound team and by employing the HubSpot's Inbound sales methodology, Polyflor has been able to strategically attract, engage and delight both customers and prospects in a more meaningful way.
Based on the below principles;
Audience segmentation
Continuously updating personas from the data we gathered through HubSpot
Tailoring content to the personas, of which Advice Seeking Asanda is the most engaged persona
Support and advice from Spitfire on how to attract, engage and delight customers and prospects
The Polyflor marketing and Spitfire Inbound teams came together and together, created their own smart content, such as landing pages with a combination of technical and non technical content, related blog posts, related ebooks and content offers, etc.
This took pressure off of the sales reps for lead nurturing, especially after events such as conferences and training sessions. Marketing event follow up was automated and allowed the sales team to allocate time to engaged prospects while the marketing team nurtured the rest of the leads. A smart decision was taken to nurture leads through emails, depending on the stage of the buyer's journey.
"45% of leads from 1 trade show became customers"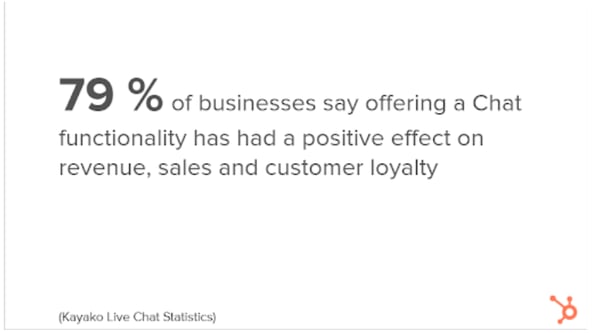 "19% of all events attendees became customers"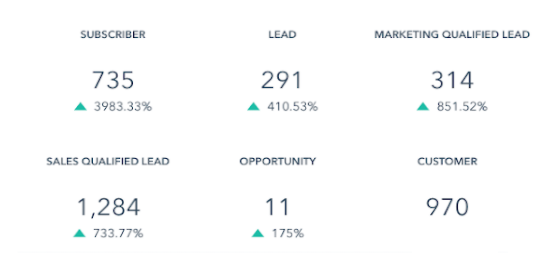 5. Culture shift
How do you change behaviour that has been ingrained in a company and thus become the culture? With advice from Spitfire Inbound, and a concerted effort and commitment from the company, Polyflor's employees enthusiastically took to the adoption of HubSpot.
Wendy Mitrovich, Brand Manager of Polyflor says "There's been a massive mindshift towards transparency, so people are now sharing [information]. There's one central process and platform that's transparent to everybody and that is driving efficiency and improving communication. There is also a feeling of inclusiveness, everybody seems to be more in the know."
Polyflor did this by including the use of HubSpot as part of their incentive scheme and commission structure, thus incentivising staff to adopt HubSpot effectively and use the tool correctly.
It's changed the culture. We had a history of everyone operating in silos. All of a sudden with this transparency, we feel like we're a team and working towards a goal.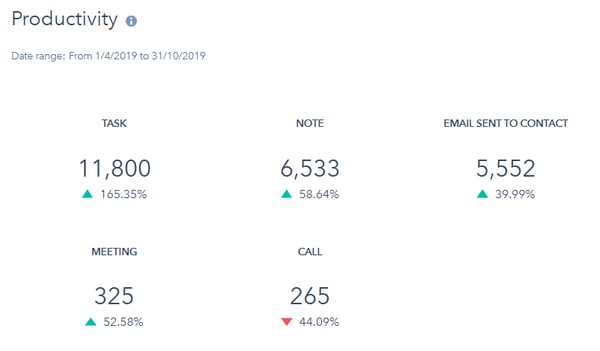 Summary of Polyflor sales team productivity performance
A bell was installed in the head office, which the sales rep could ring once they had closed a deal. The process to alert them of the deal being closed was automated through HubSpot with a task being sent to let them know they can ring the bell!

Automated ring the bell task
6. Sales performance and productivity
With the adoption of HubSpot, came more accountability. The sales reps were empowered to track their own targets and manage their own workloads.
This meant that they started working harder, were more productive, and were more efficient because of the new streamlined processes.
The Results
Compared to the previous reporting period, the metrics drastically increased:
Contacts created: 3.09% increase
Contacts assigned: 8862.5% increase
Contacts worked: 28.9% increase
New deals created: 73.95% increase
Deals closed won: 91.66% increase

Polyflor's sales performance
In terms of productivity, by correctly utilising the HubSpot tools at their disposal, they had complete transparency over their workload:
Tasks: 165.35% increase
Notes: 58.64% increase
Emails sent to contacts: 39.99% increase
Meetings: 52.58% increase
The company's revenue increased by 327.02% over a six month period (April - October 2019).
Delighted customers
Eliminating friction internally had a huge impact on customer experience.
It's been phenomenal. I love that we can track it all. HubSpot has allowed us to track so much and we have so much information. We have one central database and we know so much about these clients.
Looking Ahead
As part of Polyflor's 2020 strategy, they are aiming to make each process, whether internally or externally with client, as frictionless as possible.
They have set out clear KPIs for their employees, which include being incentivised to complete sales courses and training through HubSpot's academy. Making use of the free material means that the company, and it's employees, will continue to have full transparency and accountability in everything they do.
Additionally, their sales and warehouse process is now completely integrated with the HubSpot tool and flywheel methodology.
With the significant culture shift that took place and full adoption of HubSpot, Polyflor has been armed with the tools to empower their employees, to continue growing (with a frictionless sales process), and delighting customers.
We look forward to working with Polyflor and seeing their growth in 2020 and beyond
---
Ready to get started on your own winning Inbound journey? Contact us today.