Your website is an important part of your business, so the CMS you use should make building and optimising your website easy. Here are some insights into how the HubSpot CMS and WordPress differ.
Your website is an important part of your business, so the CMS you use should make building and optimising your website easy. Here are some insights into how the HubSpot CMS and WordPress differ.
According to Broadband Search, 61.4% of the world's population uses the internet, and of that Africa makes up 11.5% (that's more than the usage of North America, the Middle East, and Australia). That means that a huge percentage of your audience is living online, and we also know that the way people buy has changed, with the majority of the buyer research taking place online.

Your website is not just a placeholder for your contact details or a place to show people your product. It's one of the most, if not the most, important marketing assets you have. People visit your website before having an interaction with you. They form an opinion based on their experience and interaction with your website. If their user experience is poor - if your website is slow or they can't find the information they need quickly and easily - you could lose a potential customer or advocate.

Remember, your website is never done. Here at Spitfire, we follow the growth-driven design (GDD) philosophy, which focuses on an agile approach to website design using data from tools like HubSpot and Google Analytics, to continually optimise your website. But in order to build a great website that can be optimised easily, by both marketers and developers, you need to choose a CMS that gives you what you need.

Take a look at the website we developed for Interwaste using GDD and the HubSpot CMS.
What is a CMS?
CMS stands for content management system. In a nutshell, it's the software that allows you to build and manage your website without having to code it from scratch.

Read our blog Why HubSpot CMS: A review of the ultimate CMS for marketers for more insights into building websites as a marketer.
How to choose the right CMS for your business needs
There are seven key elements to consider when choosing a CMS:
Domain registration
Hosting
Design
Developer involvement and fees
Security
Backup and storage
Support
Below we've done a comparison of what HubSpot CMS and WordPress offer in each of these elements.
1. Domain registration
In order to have a website on a URL that matches your brand you need to buy a domain, you can buy multiple versions of your domain.
HubSpot CMS
You have to buy your domain through a third-party like GoDaddy, then connect your domain to HubSpot.
WordPress
You can register a domain directly in WordPress and spin up a site within minutes.
2. Hosting
Hosting means that you are buying or leasing a space on a server where you store the files that make up your website.
HubSpot
When you build your site on the HubSpot CMS Hub, you simply host it in HubSpot. Cost ranges from $240-$900 per month. This may sound like a lot but it all adds up.
Hosting with HubSpot CMS Hub includes many add-ons you'd have to buy with WordPress. For instance, HubSpot comes with a drag-and-drop editor and a variety of customisable themes (premium themes can cost extra). You also get dynamic content options with HubDB, SEO recommendations, A/B testing, conversational bots, and more.
WordPress
If you build and host your site on WordPress.com, you can actually get a basic level of shared hosting for free. However, if you want to have your own domain (yoursite.com versus yoursite.WordPress.com) you'll need at least the Personal plan, which is $4 per month.
You'll also have to upgrade if you want more than a basic design. And don't forget that WordPress requires additional plugins no matter what plan you choose, and depending on your needs, this cost can be high.
3. Design
The look and feel of your website is very important, it's your digital storefront and choosing the right design and template can make a huge difference.
HubSpot
With the HubSpot CMS Hub, you'll have access to the simple drag-and-drop editor so you can create your own website with a WYSIWYG feel, as well as templates in the HubSpot Marketplace.
Almost all you need is included and easy to use without coding. You can also upgrade your templates to more premium levels and buy packaged themes with a once off cost, which vary from $50 to $500 (or more) depending on what you want.
WordPress
When you build in WordPress, you'll have choices of themes from basic to premium, with costs from free to hundreds of dollars.
Most of the themes still require plugins, which can also be free (WordPress is an open-source world so a lot of developers offer free code, which are easy enough to install) or cost around $500-$1 000 per year (according to WP Beginner).
4. Developer involvement and fees
The main question here is - who will build your website? The beauty of a CMS is that you generally don't need a developer to build the site, however, some platforms still need a developer to maintain the site.
HubSpot
Because HubSpot doesn't use plugins it doesn't need third-party backend maintenance, and the marketplace for website templates, which is growing all the time, includes many drag and drop solutions which need no developers, even if you're building from scratch.
"CMS Hub takes care of maintenance and website management for you, so you can focus on what really matters -- the experience you're providing your customers. With security and regular updates taken care of, you can focus on creating new content. And with CMS Hub's flexible design system, your marketers will never have to work through their developers to make simple updates to their website." Says Alex Girard, Product Marketing Manager at Hubspot.
WordPress
WordPress does offer a number of themes to choose from, some are free, and a fairly tech-savvy marketer could build a website using these themes. One thing to remember though is that if you want to customise your website, a developer would likely be your best option and we highly recommend having someone with advanced backend knowledge to help maintain your plugins and themes.
5. Security
Website security ensures that your website is safe, not only from hackers who can crash your site, but from spammers, and for your visitors. The standard security for all sites should include an SSL certificate but there are other elements to consider.
HubSpot
The HubSpot CMS Hub is built and hosted in the HubSpot ecosystem with top-tier security. It has 24/7 security monitoring and threat detection and they have a dedicated security team whose job it is to ensure the safety of your site. They do regular automated and manual checks for attacks, potential abuse, or other anomalies.
The CMS also offers a content delivery network and Custom CDN configuration. This means your website remains active and your visitors never experience downtime through their global CDN, built to handle high levels of traffic.
WordPress
With WordPress, your security options depend on how you host. If you're hosting directly in WordPress.com, you won't have to worry about any additional security costs because, like HubSpot, WordPress.com has a team who will manage it for you. We do recommend though that you check security regularly.
And, if you're self-hosting you'll have to take care of it yourself. While you can find plenty of free options out there for security plugins, you install them at your own risk.
6. Backup and storage
Here's another important question to ask yourself - where will you store and backup your website data? You want to make sure your info is backed up and that you have all the space you need to keep your website going.
HubSpot
HubSpot's file manager can handle images, fonts, audio, PDFs, and more without limits. Plus your site is backed up on HubSpot's servers without any additional costs.
WordPress
Depending on your WordPress hosting and configuration, you may need to pay for storage over and above your current package. We recommend you do your research and establish your option before you make your choice of package so that you can ensure that you have this in your budget.
7. Support
Troubleshooting is every marketers nightmare, no one wants to be left without support when something goes wrong… especially on your website. Don't underestimate or take for granted the value of good support.
HubSpot
HubSpot Support has been noted for their expertise over the years. You have three options on how to contact support, you can use their live chat function (within office hours), you can log a call via email (they reply within 24 hours) , or you can call them, 24/7.
Plus you can use HubSpot Community platform or self-service using their extensive knowledgebase.
WordPress
With WordPress, support depends on your hosting path. Your choice of either hosting with WordPress or self-hosting will determine the kind of support and its quality.
It's also important to note that support for WordPress as a platform and support for troubleshooting the theme can be separate. Not all WordPress themes are built by WordPress and if you purchase a theme from a third party developer (these can be really great themes with added features), we recommend checking what support they offer.
Pricing comparison between HubSpot CMS and WordPress
If you are asking "which one is the best on price?" read on.
This question is relative. If you're planning on building a major website with multiple domains and want it to function on a high-level, you'll find that you get more value from the HubSpot CMS. If you're a start-up or small business looking to get a good website live using templates and minimal customisation, WordPress might be the better option for you.
Take a look at the table below for a breakdown of the costs for each platform.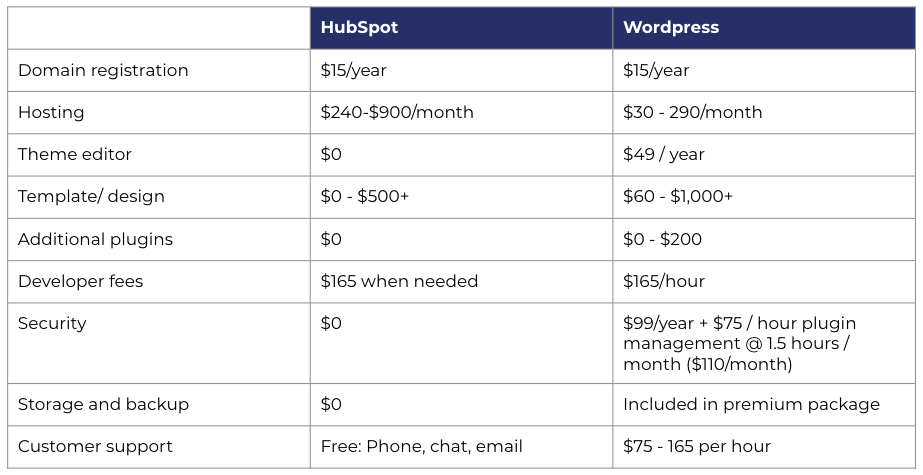 Source: Impulse Creative
At the end of the day, there are functional and pricing pros to both platforms and choosing the right one for you will depend on your needs and budget. Once you choose a CMS it is possible to move to another (for most CMS platforms) but it's a process. We recommend reviewing your needs and consulting with website experts before jumping in.
If you need help choosing the right platform for your business, or want help growing your business with the HubSpot CMS, contact us today.