Did you know that according to Vidyard, "Working from home, social distancing, and travel restrictions have led to an increase in business video usage?
Get on the video train with these easy to implement tips.
According to Vidyard, "Working from home, social distancing, and travel restrictions have led to an increase in business video usage. 87% of respondents are using more synchronous video than ever before [like a video meeting] and 55% of respondents are using more asynchronous video than ever before [like sending a pre-recorded video to people]."

Here are some more stats you might find interesting: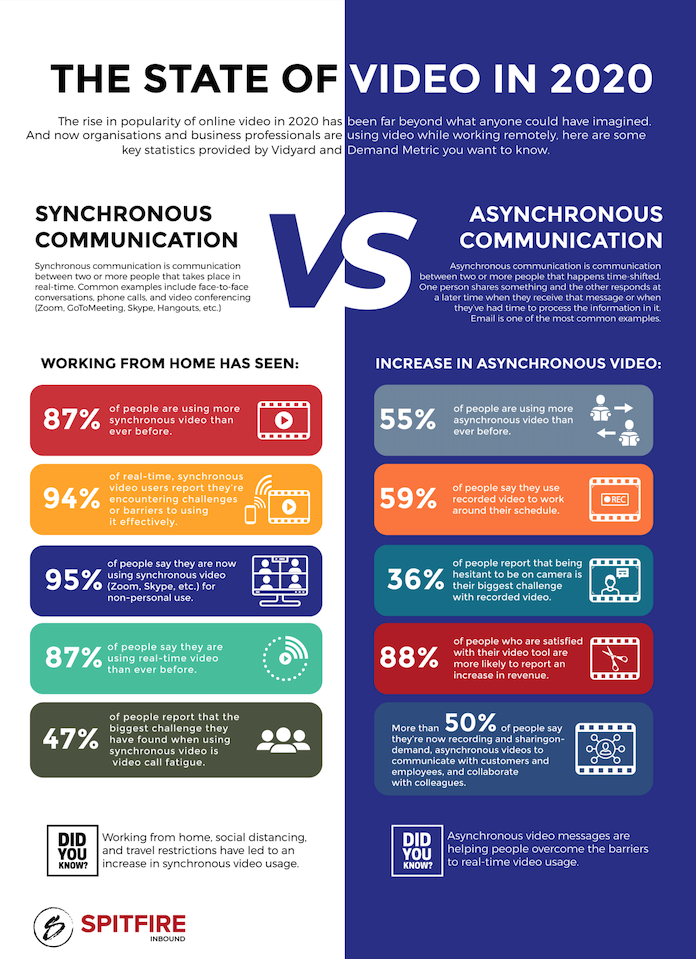 With this in mind, we at Spitfire have partnered with Vidyard and use it frequently internally, and as a salesperson I find it incredibly impactful and useful in my sales conversations – and to assist customers beyond that. I know video can be particularly compelling when you're demonstrating products, so I found Vidyard's article on How to Make Demo Videos That Drive Pipeline and Revenue fascinating.
Here are my key takeaways from this post ( feel free to click through to read the whole article):
They're a time saver: "Product-level demo videos are a fantastic way to free up time and empower sales reps. It can also help qualify prospects early on in the deal cycle before they commit to a full demonstration."
They are pretty fantastic overall: They are repeatable, entertaining, great at explaining things simply, inexpensive and personal.
There are many video styles, but my favourite has to be, "Desktop screen capture plus selfie webcam capture".
You need to approach demo videos strategically: "Salespeople and marketers should use demo videos to unstick prospects from a particular stage of the funnel. For instance, are site visitors not converting? Place a brief demo video on the homepage to make the benefits clear. Are prospects hesitant to take a call with a salesperson before they know what they're getting into? Give them a taste with a 90-second product demo video that ends in a cliffhanger."
I loved their tips, but my most memorable tip is, "Have a hook, so audiences watch past the first few seconds. You have, on average, just a few seconds to capture someone's attention."
PERSONALISE!

"More than anything, personalise the demo for the intended viewer. The more you can tailor your demos to your audience, the better. What matters to a senior leader is different from the end user.'"
Vidyard really knows their stuff, and this blog has some excellent advice and shares links to some great demo videos too in this post.

From my own experience, here are some of my winning video tips:
I love using what Vidyard calls "asynchronous video" for proposals, where I can record a personalised video that the prospect can watch when it suits them best. This is often easier than trying to find a time to meet.
With Vidyard's data on video, I can see what information the prospect missed out on (say, if they didn't watch to the end) and gives me insight into what they care about and what they don't. Maybe there is something you missed in your proposal that is missing the mark and lets you decide on your follow up which the next step is.
Keep people engaged by being personal – use their name, use their logo – this is not a YouTube video.
Make sure you have good sound quality so you sound warm and personable, not tinny.
I personally don't like having a script, but I do think it's a good idea to map out your talking points beforehand so you don't waste time doing your video again and again. Think: what are the three things you want your prospect to take away from the video?
Don't put on a persona when you record a video, or chase perfection, as authenticity is key.
If you're interested in selling with video, but are not sure where to start, contact us for help.