Don't let your overflowing inbox get you down. Managing your inbox is doable with a few easy tips.
Don't let your overflowing inbox get you down. Managing your inbox is doable with a few easy tipsManaging your inbox, whether you're using Microsoft Outlook or Gmail, can seem like an impossible task. From client service roles through to senior management, everyone experiences periods of inbox chaos, some more so than others. From time to time we all find ourselves drowning in an overflowing inbox. I've learned a few tips along the way that help me manage my inbox.
Is Inbox Zero achievable?
Inbox Zero rose to popularity many years ago as a time management and productivity technique. American writer and podcaster, Merlin Mann, developed Inbox Zero in 2007 to help people keep their inboxes empty at all times. In this day and age I don't think it's possible and not the best idea either. Author and columnist Geoffrey James says, "Obsessing about your inbox is a perfect example of letting the trivial rule your day. I scan over my inbox periodically for issues that need handling, but I certainly don't waste my time thinking about what to do with each message."
I agree with Geoffrey that obsessing about achieving Inbox Zero, meaning not a single email not prioritised or relegated to a to-do list every day, is not a good use of your time. Not only that, but it's a head space issue too. Some people can't "not" respond to emails, and that doesn't do wonders for productivity levels. There is always something to do, even if it's not for the 'now', I recommend marking as 'unread' in the relevant folder so it doesn't fall off of your radar.
Categorise!
Author and business etiquette expert, Jacqueline Whitmore suggests organising your inbox with labels, folders and categories and I completely agree with her. She says, "The better your filing system, the easier it will be to locate specific emails when you need them." I believe it can be overwhelming to see one inbox with completely everything in it - so I think it's useful to simply put them into relevant client or business folders.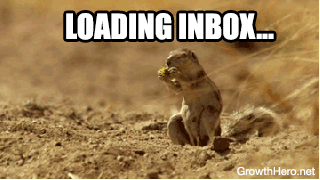 Categorising and organising folders with the relevant labels helps you to focus on one thing at a time and get to the actions related to those emails. You won't miss any important emails if you have folders. Folders allow you to see and manage all incoming emails. I have a 'very important' folder which helps me keep track of all high priority emails. Further, this act of email prioritisation means that when you get to those emails, you can action work per client or topic, and focus on one thing at a time.
Archiving vs. deleting
Deleting and archiving are two very different things. J.D. Biersdorfer from the New York Times explains, "The archive action removes the message from view in the inbox and puts it in the All Mail area, in case you ever need it again. The delete action moves the selected message to the Trash area, where it stays for 30 days before it is permanently deleted." In the digital world, you never know when you'll need to refer back to an email so I advocate for archiving.
Meeting acceptances and the like can be deleted, as they live in a meeting request. Other than that, I recommend archiving. Archiving client-related emails is the way to go if you are that desperate to clear your inbox without having it 'gone forever'. That being said, archiving still takes up memory so I'd recommend upgrading storage as well.
Read more on how to create the perfect inbound email with these nine easy tips.
Even if you get through 20 emails today and have another 25 emails by tomorrow morning, managing your inbox is doable. Another helpful tip is to have a 'delayed response to email' responder. If you're in strategy sessions or meetings for a period of time or most of the day, you can't tend to emails so this really comes in handy.
By having this responder, you set an expectation with your client that although you're not available at the moment, their email is still important to you and if it's urgent, the person emailing you can contact someone else in the company.
Though it may not be possible to achieve inbox zero, it definitely is possible to manage your inbox effectively and get the most out of your inbox productivity.
You can also subscribe to our blog for more Hubspot insights and productivity tips.