If you're doing inbound marketing and social media, you want to reach the right people at the right time, here's how to do that on your social media platforms.
If you're creating inbound social media content at any scale, you'll want to be reaching your ideal buyer personas at the best time for maximum reach, engagement, click-throughs and ultimately conversions.
If you're experiencing changes to your social media metrics, particularly engagement and click-throughs, it might be time to rethink when you're scheduling your posts.
We're not quite in post-Covid times yet, but there have been some significant changes to social media within the last 12 months which have reshaped buyer behaviour and how people interact with, and use, social media.
Sprout Social sums this up as: "As social media algorithms increasingly move away from the reverse chronological timelines of the past and towards relevance-based curation, social media marketers must continually refine their tactics in creating high-quality content and maximising opportunities to earn engagement."
One of the significant changes we've seen in 2021 is that as lockdown restrictions ease around the globe, people are less active on social media over the weekends and more active during the week, both during work breaks and after hours.
Increased visibility leads to increased conversions
As stated in an article I wrote in May 2020, titled [TRENDS] The changing social media landscape amidst a global crisis and the impact on your brand post-covid, when we were a few months into the thick of the pandemic, and which still rings true almost a year later, "People are still expecting to hear from brands". However, brands need to be more strategic and selective when it comes to talking to customers and timing is an essential element to consider when distributing social media content in order to achieve top-performing KPI's.
The lifespan of a social media post is different across each platform, for example, a tweet's lifespan is less than 20 minutes. So reaching your audience on the right day, at the right time, on the right platform, is crucial for inbound marketers.
Here's how you can maximise each platform, and check out our handy cheat sheet listed in the below infographic!
LinkedIn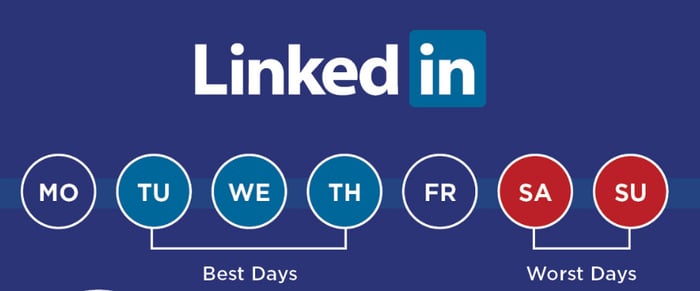 The latest research indicates that posting on a Tuesday through to Thursday before lunch, when people are catching up on industry news and networking, is when your content will get the most amount of traction. Avoid posting on weekends and after hours - after all, LinkedIn is primarily used in a business context, and users are more likely to be active on other social media platforms in their "personal" time.
Spitfire Tip: The LinkedIn algorithm prioritises video content in the newsfeed. Video posts are 20x more likely to get shared.
Best days to post to LinkedIn
Tuesday
Wednesday
Thursday
Best time to post to LinkedIn
Worst days to post to LinkedIn
Looking to make LinkedIn the go-to channel for individuals, salespeople and your business? Download our LinkedIn Playbook for tips on running a successful LinkedIn profile and page.
Facebook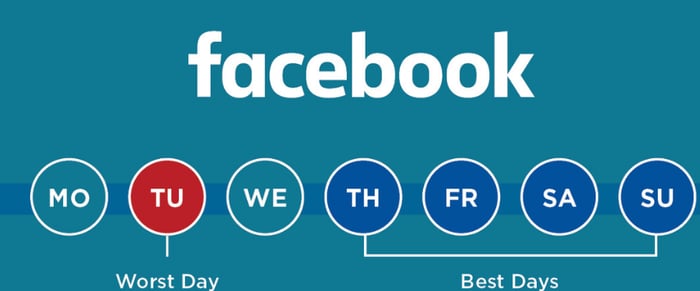 Towards the end of the week and weekends, Thursday through to Sunday, when people are browsing in their "downtime" is your ideal time to publish content to your brand pages. Experiment with posting between 1 pm and 4 pm for maximum engagement.
Spitfire Tip: Experiment with video vs. photo posts. The average engagement rate with a page's video post is 7.6%, however, the engagement rate drops to 4.13% when it comes to a page's photo post. Use the format that makes the most sense for the post.
Best days to post to Facebook
Thursday
Friday
Saturday
Sunday
Best time to post to Facebook
Worst day to post to Facebook
Instagram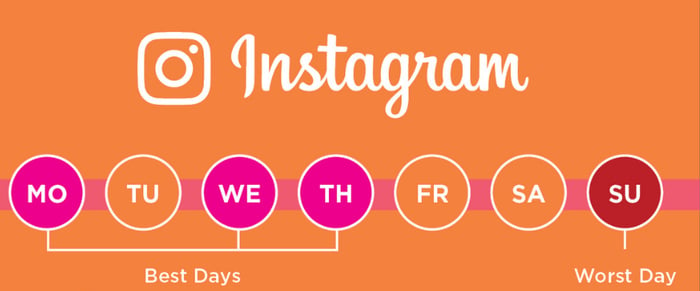 Most people log onto Instagram via their mobile phones, usually Monday, Wednesday and Thursday during lunchtimes and after hours when they're killing some time or relaxing on the couch at home. This is the best time to get your content in front of your Instagram audience, especially if you use branded, relevant hashtags and geolocations.
Tuesday and Saturdays are a bit of a grey area, with some traction, but not as much. It could be that people are either busy getting into their workweek by Tuesday or are out and about on Saturdays. Interestingly, avoid Sundays, but check your brand's stats; you may find industries that are outliers here, especially in the B2C space.
Spitfire Tip: Posts with a location receive 79% more engagement than posts without a geolocation tag.
Best days to post to Instagram
Monday
Wednesday
Thursday
Best time to post to Instagram
Worst day to post to Instagram
Twitter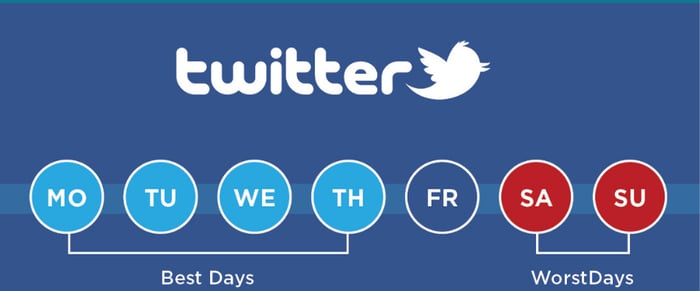 News outlets strategically schedule their posts in the mornings before breakfast, afternoons around lunchtime and evenings near dinner time when people are primarily taking breaks and are more likely to be scrolling through their newsfeeds for trending content. Brands could get more social engagement and click-throughs by posting during the week, Mondays through to Thursdays from around 12 pm and 1 pm. Avoid scheduling your posts on weekends.
Spitfire Tip: The lifespan of a tweet is short! It only takes 18 minutes to reach audiences before being buried in new tweets!
Best days to post to Twitter
Monday
Tuesday
Wednesday
Thursday
Best time to post to Twitter
Worst days to post to Twitter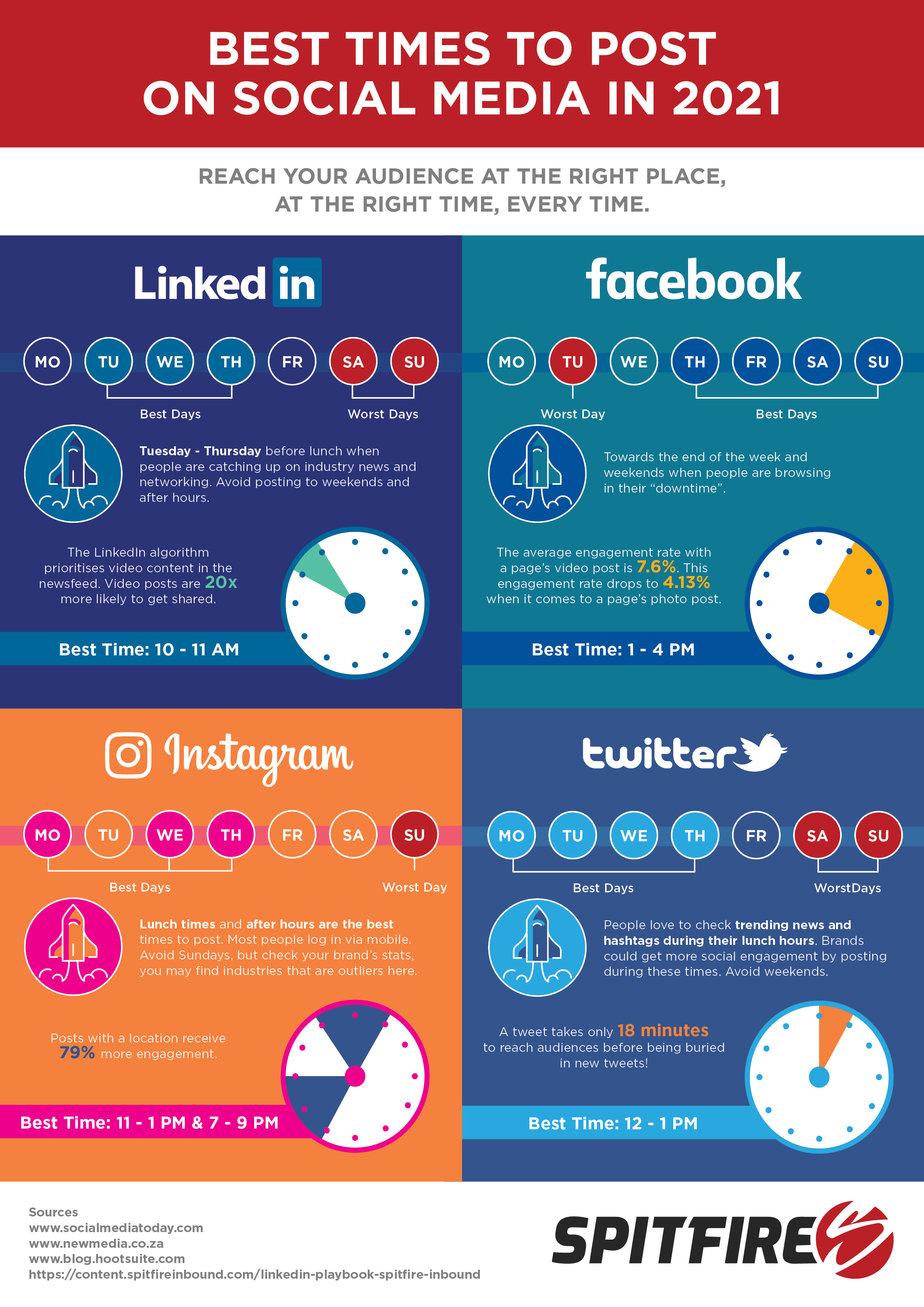 We recommend using this as a guide to your posting schedule, but remember, there's no one-size-fits-all when it comes to social media, and factors like industry, buyer personas, global and local trends, and current events all play a key part in user engagement and content traction. What works for one company may not work for another. Test, play around with various posting days and times, analyse and measure the results, and then iterate based on your findings until you find your groove.
Using a CRM platform, like HubSpot, can help you pre-schedule your posts according to 2021's latest trends and data.
Keep up to date on all the trends in the inbound marketing and social media space, subscribe to our blog or take a look at more of our resources.