Find out how over a four-month period during a global pandemic Spitfire Inbound helped a 20-year old vinyl flooring business achieve a 43% increase in website sessions and a 9% increase in new contacts.
Find out how over a four-month period during a global pandemic, Spitfire Inbound helped Polyflor achieve a 43% increase in website sessions and a 9% increase in new contacts – all while living their brand values.
About the client
Polyflor South Africa is a vinyl flooring specialist company started by Denver Coleman in 1992. It was built on close family ties between the Coleman family (in South Africa) and the Halstead family (in the UK), spanning three generations. Polyflor SA initially represented the UK range of vinyl flooring products and has an extensive network that operates successfully throughout Africa. Over the last 20 years, they've sourced various other suppliers and product ranges to complement the Polyflor South Africa range.
The situation
In March 2020, the global COVID-19 pandemic washed up on South Africa's shores and a stringent Level 5 lockdown was announced, immediately and massively affecting businesses across the country. Polyflor, a once on-site business, had to switch to a remote workforce with little warning. They faced huge challenges as the business was unable to send out their sales reps, receive delivery of stock, or otherwise engage in their normal business activities.
The solution
The Spitfire Inbound team worked with Polyflor to help them pivot from overtly selling to having a more helpful, educational online presence that was able to live their brand values.

A large focus for the wider team was to build connections, reach out to their contacts, and offer guidance. Tandy Coleman, CEO, tasked her team to live out the brand message and show empathy, not to push sales, but rather to focus on support, guidance and being available when requested by various clients.
Here's how we helped Polyflor achieve this:
1. Spitfire's responsive relationship with client

We acted as an extension of the Polyflor team by holding regular strategy meetings and brainstorming sessions to assist the brand in pivoting to this new strategy. We ensured we had quick turnaround times, helping Polyflor respond to their clients' needs, and came up with proactive ideas to help the company remain responsive.

2. Social media
Our aim was to be helpful with 'how to' content and show empathy to the Polyflor audience. We achieved this by posting more frequently, as well as adapting the content to reflect a more human-interest angle around Polyflor activities. Additionally, the brand also shared more emergency delivery stories - which resonated with Polyflor's clients.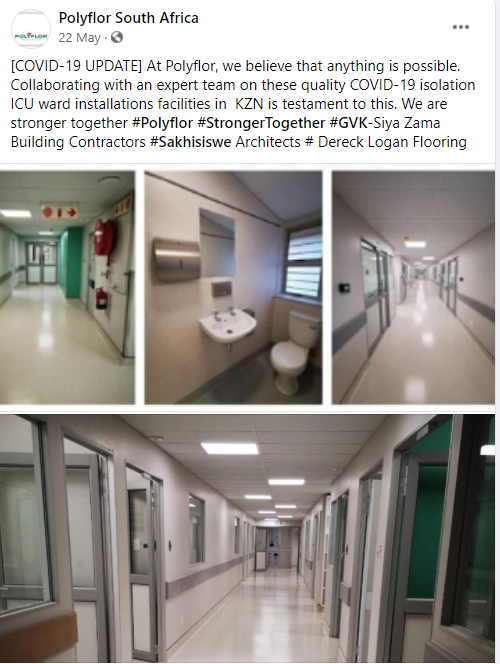 3. Relationship building

By tagging and mentioning specific partners on social media and in blog content, such as contractors and installers who used the Polyflor product, the company was able to 'live' their collaborative brand value and build relationships with key people and industry players, championing contractors and clients.

4. Website pop-up strategy
These pop-ups offered people an update on what Polyflor were able to do during lockdown – and what they couldn't do – and gave people an immediate answer. This let people know that Polyflor was still available, despite their physical office being closed. These pop-ups were helpful, supportive and provided practical information, like how to get stock if needed, for those in emergency services. The pop-up strategy was not necessarily meant to drive sales, but rather offer help and advice. The entire strategy was around being sensitive to the situation. However, because the brand showed they were available, even during a crisis, they were top of mind when people wanted to buy and lead to increased sales.

5. Emails
Following on with the 'always be helping' strategy, Polyflor also used email to keep offering advice, sharing human stories and connecting with their contacts. The focus was changed to providing education rather than just information. This was achieved by sending out regular client updates and sharing relevant information on products.

6. Email blasts
We helped Polyflor create an email blast that they could share with their audience, showcasing a feel-good story around what was going on, at a time when people needed encouragement. This centred around Polyflor's installation of COVID-19 units in Kwa-Zulu Natal. The email highlighted all the key players and highlighted the fact that Polyflor is not only a collaborative business, but really cares about their clients.
The results



Over a four-month period, from 1 March 2020 to 30 June 2020, the increased interest in Polyflor content led to 23.77% more sales enquiries. Despite the challenges the business faced as well as only being able to deliver essential services, there was a marked increase in sessions, contacts, blog performance and enquiries.



Website statistics 1st March - 30th June 2020


Key results include:
A total of 16 532 website sessions, which is a 43% increase compared to the previous period
143 new contacts
12 new customers
753% increase in social media interactions
24% increase in followers on social media
Blogging performance





Blog performance 1 March 2020 to 30 June 2020
By posting content that was aimed at helping customers upskill while at home, the Polyflor blog had a 73% increase in views compared to the previous period. "How to" and educational content performed extremely well.
Polyflor used healthcare content as a springboard to extend their learnings and thinking beyond healthcare to help all industries. This attitude and approach to content made their blogs accessible to a broader range of people and led to a high read rate.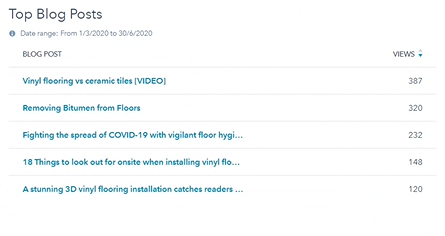 Top performing blog posts 1 March 2020 to 30 June 2020

Conclusion
As a brand, Polyflor values being helpful, caring for people, offering advice, and being part of a greater team. They truly 'lived' these qualities during the global pandemic and their deep-felt beliefs, paired with a strategic and responsive marketing presence, helped them to show empathy – in a way their audience loved.
What client had to say
"Spitfire have played an integral role in the success of our HubSpot adoption and integration into our business. They have worked hard to understand our business and in essence, I consider them a vital extension to our business. I value their input and guidance and trust them implicitly. They're a great bunch of humans and a pleasure to work with." - Wendy Mitrovich, Brand Manager of Polyflor South Africa
Start taking your brand to a new level. Contact us today.