Social media is changing, but what are you doing to keep up with the latest trends and platforms? Here's our advice.
Estimated reading time: 6 minutes, 19 seconds.
Social media platforms and their analytics are changing constantly, but it's important for us marketers to keep up to date with the latest trends to perfect our social media strategies.
According to Brand Candy, a digital marketing company, "with the fast-paced, ever-changing marketing world, it is of utter importance that marketers keep up to date and stay ahead of the digital marketing curve. This curve shows which trends and patterns in the world of digital marketing – trends such as an increase in the use of mobile video, chatbots and short-lived content. Marketers need to take advantage of these changes. It is vital to make sure that your brand is up to date and that you are constantly finding new ways to promote your brand and remain present on your social media platforms."
If you're thinking of sticking to your social media strategy from three years ago, we think it's time for a change! The social media landscape has gone through some dramatic seismic shifts in the past twelve months. We'll dig into five charts showing why your social media efforts might not be giving you the results you so desperately need.


1. Social referral traffic has drastically declined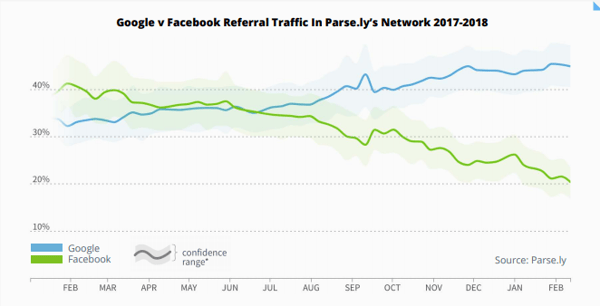 Image from BuzzSumo Content Trends 2018 Report
Previously, Facebook has been a huge driver of social referral traffic, but the above image shows exactly the opposite from 2015 onwards. In the past, Facebook has been a driver of traffic to news websites, but since they updated their algorithms in early 2018 to increase the visibility of personal profiles and stories on the news feed, this has had a negative effect on Facebook's overall role towards website traffic.


2. Dark social is alive and well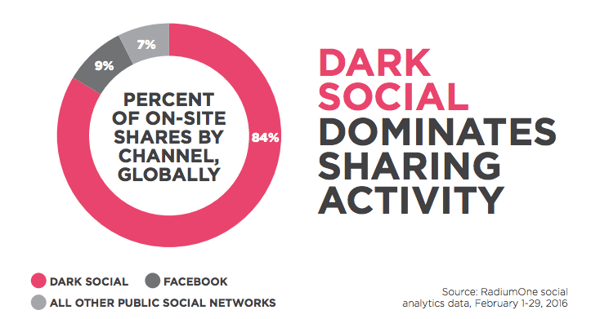 Image from 99Signals, a marketing and SEO blog.
The term, "dark social" was coined by Alexis Madrigal, the former deputy editor of The Atlantic in 2012, and occurs when people share content through private platforms such as instant messaging services like WhatsApp and Facebook Messenger. The nature of private sharing makes these shares very hard to track and measure. However, dark social directly affects the amount of shares and level of engagement seen across social media platforms, so it's very important to include it in your social media strategy.
If you're not using dark social in your social media strategy, think about including it for some of your clients that it will make sense to. According to the BuzzSumo Content Trends 2018 Report, "social messaging has surpassed social media usage with more people using the top four social messaging apps (WhatsApp, Messenger, WeChat, and Viber) than the top four social media apps (Facebook, Instagram, Twitter, and LinkedIn). In 2016 Mark Schaefer argued that there was a shift taking place from social media to private media."
Dark social is everywhere and should not be avoided as it has a huge impact on traffic and gives detailed data of consumers' real interests. Dark social allows you to create high quality content and encourage conversations by using interactive content. Focus on people's personal interests by demonstrating that you understand your audience.

Read blog post: The traffic you don't understand: Dark Social 101


3. LinkedIn shares are rising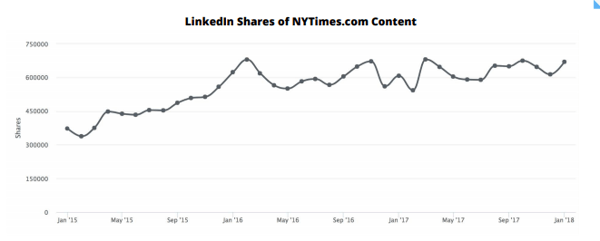 Image from BuzzSumo Content Trends 2018 Report
In the past, a lot of businesses have been using Facebook to share their content. However, in the graph above, it's clear that LinkedIn is representing a far better opportunity for content sharing for businesses. Hootsuite states, "according to insights provided to Hootsuite from LinkedIn, completed Company Pages generally receive twice as many visitors than those with incomplete pages. And organisations that post at least monthly generally gain followers six times faster than those that don't."
So, if you already have a company page, it's now important to pay close attention to the way it looks and who you're connected to in a personal capacity in order to encourage thought leadership within your business. Aim to optimise your LinkedIn company page to network with like-minded experts, drive business results and increase brand awareness and engagement.

4. YouTube is important for marketers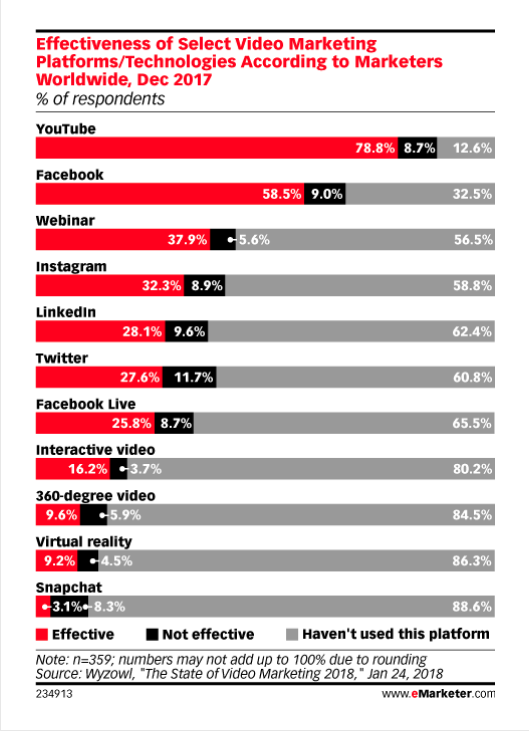 Image from Hootsuite
According to Bluleadz, an inbound marketing agency in Tampa, Florida, "YouTube is an international sensation, reaching countries around the globe. It is accessible anywhere, on every device. And this shift toward mobile use is boosting the platform's popularity even more." You've heard it all before - sharing videos on social media platforms is extremely important to increase organic reach and social engagement. From the above graph, it's clear that video, in particular YouTube, is the dominant form of content across social media and is a platform every marketer should embrace. YouTube is a very accessible platform which provides insights to your audience when and where they want it, so think carefully about what content you'll be distributing, who will see it and leverage it on other social media platforms too.

5. Social media gains attractiveness with marketers and advertisers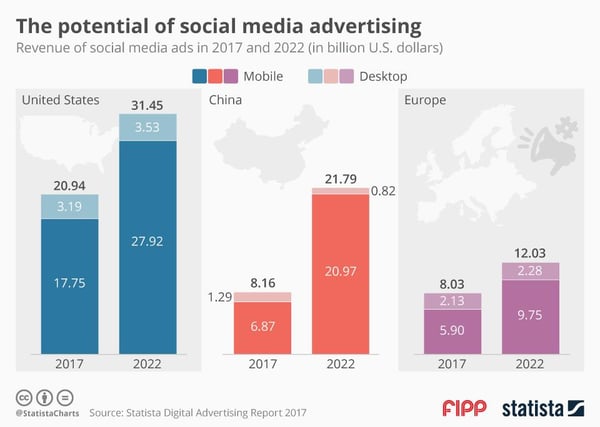 Image from Fipp, a network for global media.
If you're already posting on social media platforms, you'll need to augment it by putting a paid social strategy in place.
StrikeSocial, a social media solution says: "Simply put, the first step to making a sale is awareness, so you want to advertise in the places where everyone's eyes are. Products exist to alleviate a person's pain point and to improve their quality of life. Advertising allows you to remind consumers of their unmet needs; the first step, though, is finding where they are and that place is social media."
With social media platforms changing their algorithms, it's important to keep in mind that organic posting just won't do it anymore as there's a constant fight for attention between publishers, marketers, and individuals.

Read blog post: Paid social media: Which platform should you be using?
Social media should always be included in your content marketing strategy as it drives engagement and, brand building and awareness. However, it is very important to share quality content with your audience as people want to share content that's relevant and authoritative. In the graphs used above, it's clear that it has become a necessity to track your social media performance and to constantly think about what you're sharing and why and how you're doing it.
One thing is for sure: the social media world is changing, almost on a daily basis, and it's up to advertisers and marketers to stand out from the crowd. As Richard Branson, an English business magnate says, "if you want to stand out from the crowd, give people a reason not to forget you."
Follow our LinkedIn page for exclusive and unique articles from our company's thought leaders or join our community of on target marketers by subscribing to our blog.