Inbound marketing, which uses pull marketing tactics to engage consumers, and PR - traditionally an outbound approach to marketing - seem poles apart on their strategies and techniques. Here's why you need to take an inbound approach to your PR.
Public relations, or PR, is an essential component of any marketing strategy: it aims to share interesting and relevant stories (often with media houses) to lead consumers to buy products. As PR pro Iliyana Stareva explains, "Going back to a few decades ago, PR was mainly concerned with media relations, events, reputation and crisis management, and investor relations. In fact, for a very long time public relations and media relations were considered synonymous (some still think so)."
However, traditional marketing tactics like PR have been disrupted by the introduction of both digital and inbound marketing. Inbound marketing, in short, is a marketing strategy that radically adapted to the growth of digital marketing: pulling people in with relevant, interesting and helpful information that naturally leads people down the path to purchase.
---
You might also like: What is inbound marketing and why do you need it?
---
Though in many ways PR has an outbound approach - sending press releases, for example - it also has a natural slant towards inbound marketing that creates a great synergy between the two approaches. "PR has always been a way to influence the public without paid advertising. The goal is to earn the attention of the press and public with stories that the audience will find useful or entertaining," explains marketing measurement specialist Trendkite in their blog (emphasis my own). They continue: "Brand messages are interwoven with other information and presented by trusted third parties. This is not at all unlike the inbound marketing practice of content distribution and curation. You can argue that the distinction between PR and inbound marketing is the difference between earned and owned media, but the goal is exactly the same – draw the audience to your brand without interrupting something else they are trying to do."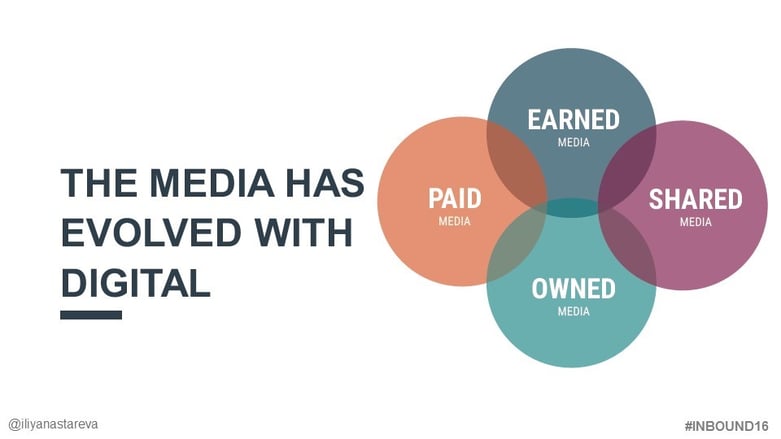 Iliyana Stareva made this implicit connection explicit in her revolutionary presentation at Inbound 2016. Inbound is an annual event hosted by Hubspot - leaders in inbound marketing. The conference hosts international experts presenting on trends, marketing automation, inbound marketing, strategy and more on an increasingly global scale. After many years in PR and two years at Hubspot, Iliyana came up with her approach to inbound PR strategy that can be applied across industries.


As Iliyana puts it in a recent interview we had with her, "PR are natural storytellers, but they can't prove ROI on how their efforts affect the bottom line." Inbound PR is a way for them to solve their measurability pain points by tracking their efforts.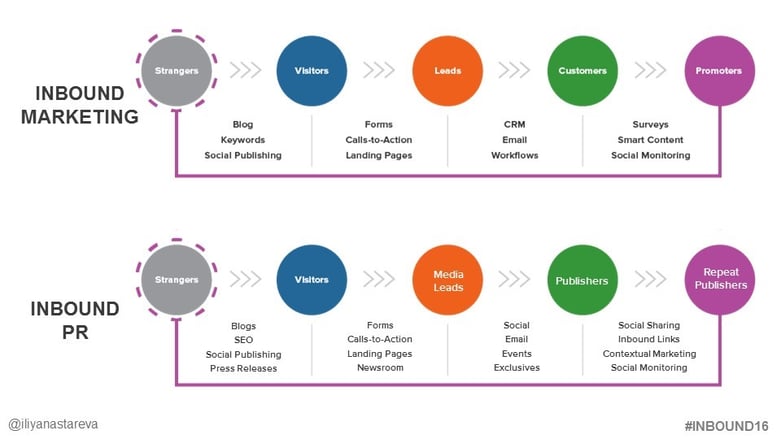 We caught up with Iliyana when she presented on this exact topic at the Johannesburg HUG. Here is her practical advice on how to 'inboundify' your PR strategies:


1. MAKE A MEDIA BUYER PERSONA
In inbound marketing, buyer personas are essential to creating personalised emailers and content that aims to nurture 'ideal customers' down the path to purchase. In the PR context, your consumers are the influencers that could publish your content and write about your product. Iliyana says, "What we really need to know is who are the journalists and influencers that might have an interest in us based on the stories that they write?" Aside from what they write about, it's also vital to look at HOW these influencers consume content. If they're getting thousands of emails, reach out to them in a platform that is both unique, and a place where they regularly spend time - like Instagram or Twitter.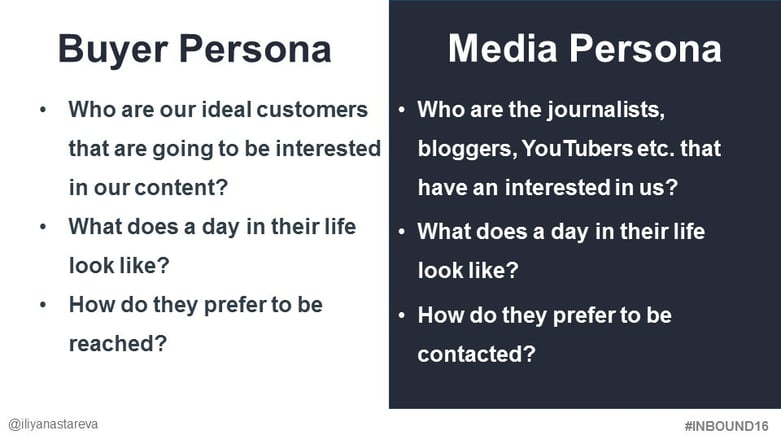 2. NO MORE MASS EMAILS
This is another way to take an inbound approach to PR. The inbound philosophy goes completely against the concept of 'spray and pray' - it's all about specific targeting of the right people at the right time. The days of sending the same email to 1000 people should be in the past: it simply doesn't work. Explains Iliyana, "Shift Communications – a PR agency I'm a big fan of – did research recently using Google Analytics data and found that there are 1092 press releases being sent every day. That adds up to about 240,000 press releases in 2016. But barely anyone clicks on them or reads them. Because they are not targeted." Rather form lists of like-minded media personas that reach the same criteria.


3. MAKE A NEWSROOM
Turn your brand into an information hub for journalists and influencers by creating an online newsroom the press can dip into and out of to access useful information: your content. Convince and Convert explains, "Because everyone is trying to get better results with less time, it is important to get full use out of every resource. Every time you write a press release or byline article, newsjack a story by adding a fresh take that fits your client, or create a blog post." Instead of just loading it with press releases, take the content you've written and turn it into a variety of different formats that can be used in different ways. "Get the most out of every piece of content," says TrendKite, "Content that your marketing team develops for inbound can be leveraged for press pitches and influencer outreach. Likewise, earned media mentions can be repurposed as infographics, blog posts, ebooks or other inbound assets." It's also key to make sure your content is written for SEO as most writers start researching their articles with a Google search.

4. USE LEAD NURTURING
Once you've got your personas locked down, and you've let them know where they can access your content, it's important to nurture your media personas into evangelists who come to you first for information. Iliyana recommends approaching their journey as you would a customer journey. She says, "By having figured out their journey and creating content based on it, you can design automated email drip campaigns, or workflows as we call them at HubSpot, and help them move to decision by showing respect, care and relevancy. With some strategy behind this, this can do wonders for you. They'll remember you."


5. MEASUREMENT
The most important facet of 'inboundifying' your PR is measurement. This is the magic that gives you a lot of punch when it comes to speaking to management, and when it comes to tracking and strategising your ongoing PR campaigns. "Measure the impact of PR on website metrics, lead conversions, and sales. This is essential to uncovering the best PR strategy for your brand, and for justifying the investment in PR," says TrendKite. Use tools like Google Analytics to track what does well in your newsroom, and use a mailer tool to see the open and click through rates of your mails. This way you can see what types of content, which subject matters and which formats do well - and with which influencers. With these insights you can make sure your content and strategies pack punch where they need to.
Overall, adding an inbound lens to your PR content and strategies will make them pack more punch and give you added ammunition when it comes to selling the importance of PR to upper management.
For more tips about marketing, you can subscribe to
. Our team of inbound experts regularly update our blog with insider advice, tips and trends from the industry.