The recent Covid-19 outbreak is going to change many things in our world, but one thing is for sure… people will be online looking for information and marketing is still vital.
The recent Covid-19 outbreak is going to change many things in our world, but one thing is for sure… people will be online looking for information and marketing is still vital.
As the world finds itself locked away, technology has become a saving grace and something that most everyone is relying on right now to keep businesses going and themselves sane. But one thing I fear many people haven't stopped to think about is how they can maintain their marketing during a crashing economy.
Marketing is so vital for any company, being top-of-mind for your buyer personas ensures that they'll be thinking about you as they go through their buyer's journey. And maintaining a delight strategy for your customers is even more important right now. Remember, when we come out the other end of all of this, your customers are going to ask, "what did [you/your brand] do for me?"
So, what does marketing in the time of Covid-19 look like and what should you know? Let's take a look.
The marketing mistake businesses will make (or already have made) during Covid-19
Cutting marketing spend
Craig Bloem from Inc. says it well in this article; "It's almost impossible to raise awareness, generate leads, land customers, and build a brand without spending money on marketing." With the entire world being thrown into the deep end and a recession fast approaching, budgets are being cut and we know that one of the first thing businesses are going to cut is the marketing budget. We've seen this before, we've also seen this have devastating effects on businesses in the long run. After all, your business can't succeed if people forget about you.
Trying to do digital marketing alone ... and spamming people
This isn't just any recession… businesses are now turning to the online space to try and adapt their services and keep running. For those companies who understand the importance of keeping a marketing presence, turning to digital and email marketing to try keep up, could lead to businesses making the mistake of spamming people.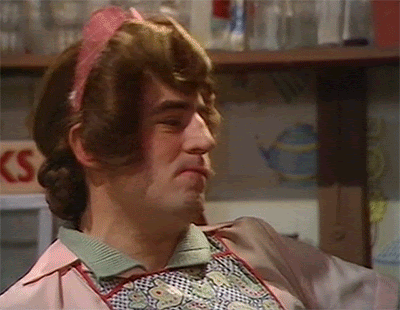 Don't take this personally, if you don't understand the digital marketing space (which most businesses still flounder in, there is just so much) you're likely to make a few mistakes. But the result will be more frustration from the individual's perspective. Building an effective email and automation strategy is key to ensuring your email marketing hits the mark. An effective inbound marketing strategy can do even more.
Inbound marketing is the next level of digital marketing and when done right can grow your business, even during a crisis. Download our guide, What is inbound marketing to find out more.
Not reviewing your current content
For those who were already doing digital marketing, when a global event occurs, like a pandemic, as a brand you want to offer your leads and customers value in a time when they may be panicking. Depending on your specific industry and product or service you could decide to write more blogs related to Covid-19 topics or send out key information emails to clients, but this isn't the only thing you could do. You should also review the messaging you have running. For example, many marketing teams create social media plans in advance and schedule beforehand, did you check to see if the messages were relevant? And if you're already using an automation strategy, have you reviewed your current emails to make sure they're not out of place. Sending an email to a lead encouraging them to book a site visit makes your brand look bad. It's essential that you're not tone deaf at this time.
Forgetting to personalise your marketing message
This is a mistake many companies make, even before Covid-19 changed things. In our blog 12 reasons why your marketing campaign flopped, we talk about the mistake of making your marketing message too automated. This affirms the danger of using automation without a strategy, meaning you'll spam your audience. One step above that is automating emails that could be more personalised or not personalising your emails enough. With tools like HubSpot, you can automate an email and still make it personal enough to make people feel like you are speaking just to them. Take a look at this example: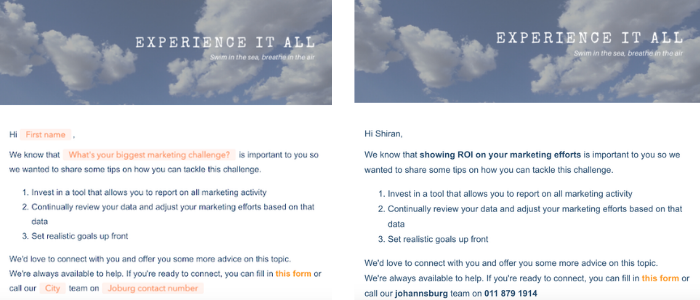 Not taking data compliance seriously enough
According to Reciprocity Labs, "Data compliance is the practice of ensuring that sensitive data is organised and managed in such a way as to enable organisations to meet enterprise business rules along with legal and governmental regulations." In other words, it's about ensuring that those who collect people's data online do so responsibly and with permission.
Data compliance laws vary from country to county,, you've probably heard of GDPR (the EU standard) and POPI (the South African standard), which are the two main legislations which have effectively changed many things in the digital space over the last two years. Up until now, most South African companies have skated by because 1) POPI has yet to be officially signed into law, and 2) GDPR is an EU standard which companies trading locally don't have to think about.
The reason many companies in South Africa haven't been worrying about GDPR is because they trade solely in SA. But since the lockdown those companies who could continue to operate remotely did, taking many who were years away from embracing a remote working policy into the digital space. But being new to this space, many companies may not realise that just being online and collecting lead data, whether on your website or on social media, means you have to be compliant.
Many may think that making these mistakes now won't have that much of an impact on their metrics, but in reality, some of our clients have seen an increase in their marketing metrics during the lockdown by following some best practices. Let's take a look at some of the data.
Marketing metrics during Covid-19
As Covid-19 reached our shores and the lockdown came into effect, we looked at the messaging we were sending out across clients and took the immediate step to adjust messaging to be relevant to current events and ensured the content people received was sensitive and added value at this time. As a result, we have seen positive results on some of our clients, with an increase in website sessions and contacts month on month, especially those who are essential services.

According to the HubSpot COVID-19 Marketing and Sales Benchmark Data, the number of marketing emails sent increased significantly from 9 March. This data also shows that by 27 April the email open rate increased by 36%.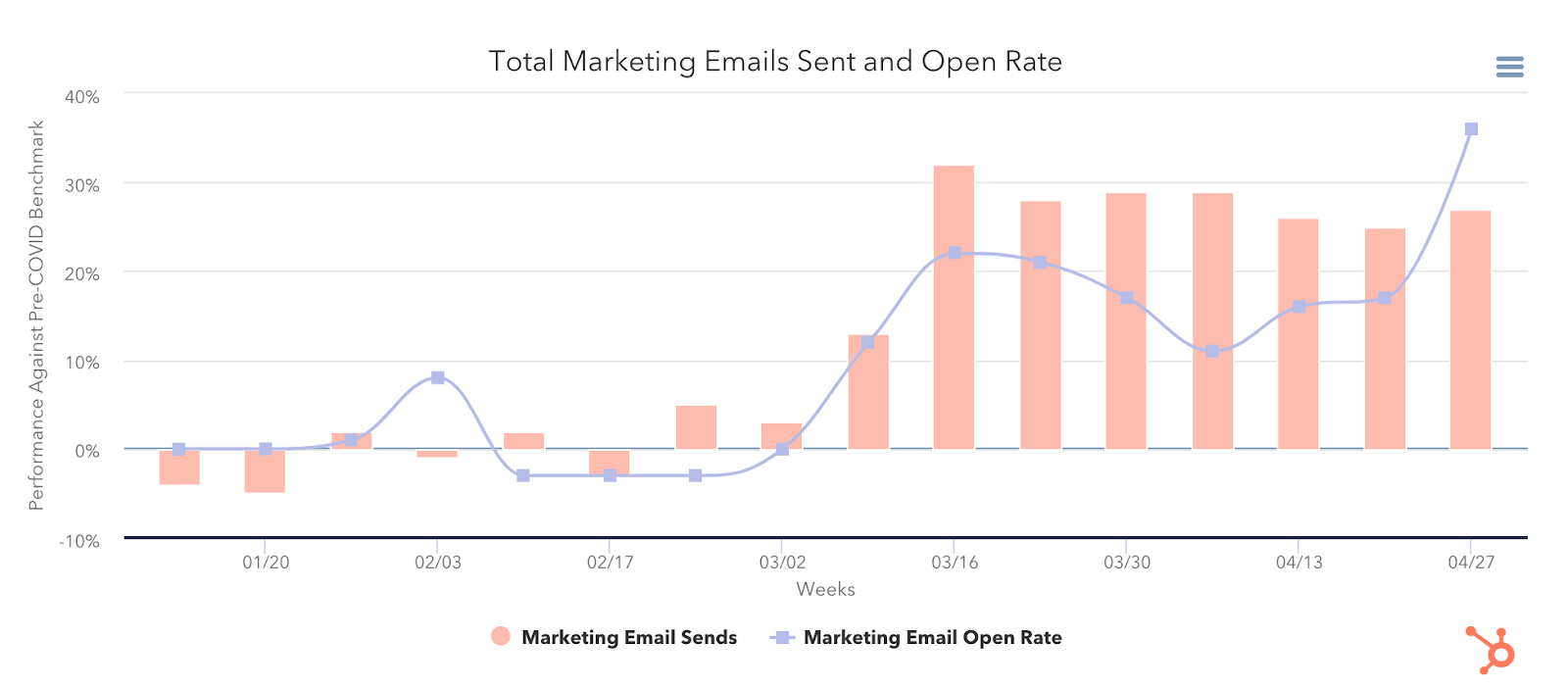 Source: COVID-19 Marketing and Sales Benchmark Data
Some companies may feel that now is the time to amp up their sales efforts and cut on marketing, but like we said before this could be a mistake. The report showed that the responses to sales emails decreased by 29%.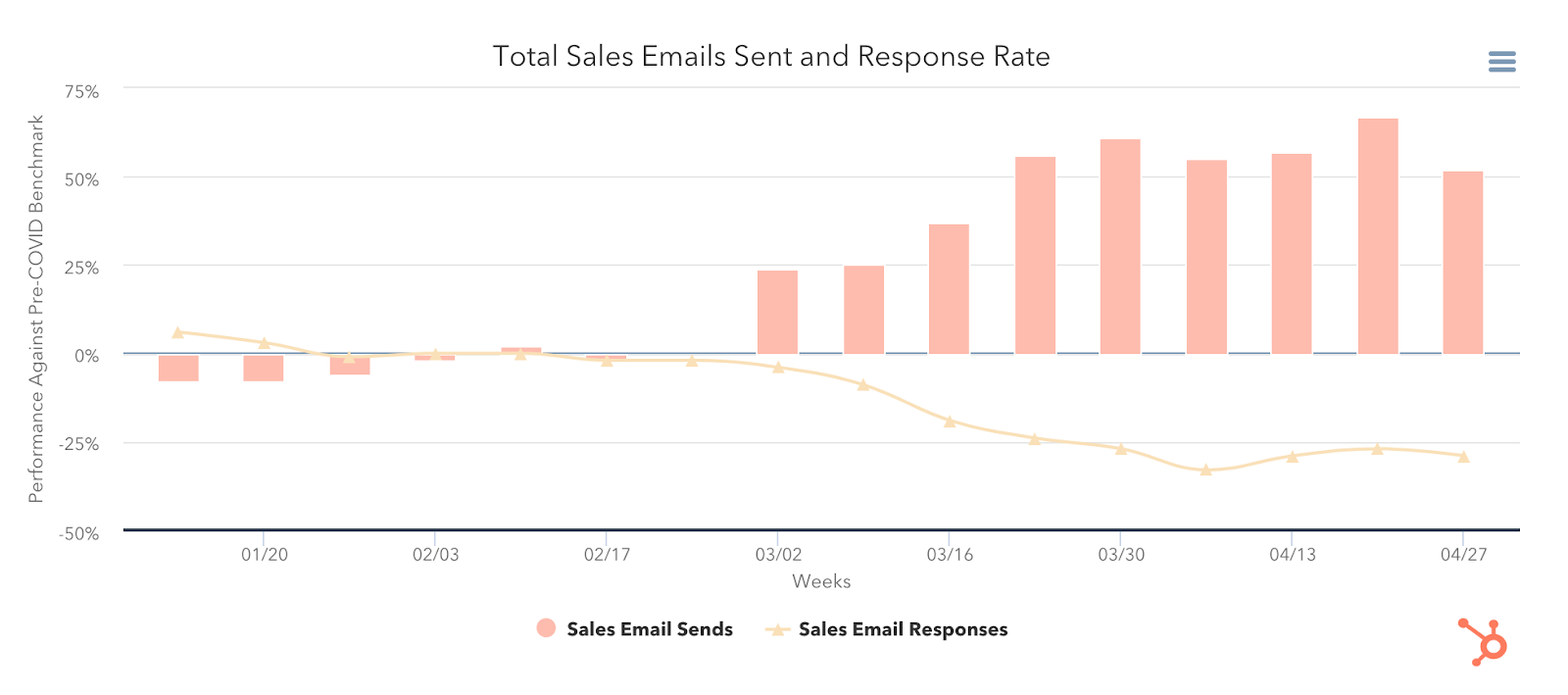 Source: COVID-19 Marketing and Sales Benchmark Data
The report also shows that website traffic across over 70 000 companies increased from the beginning of March through to the last weeks of April.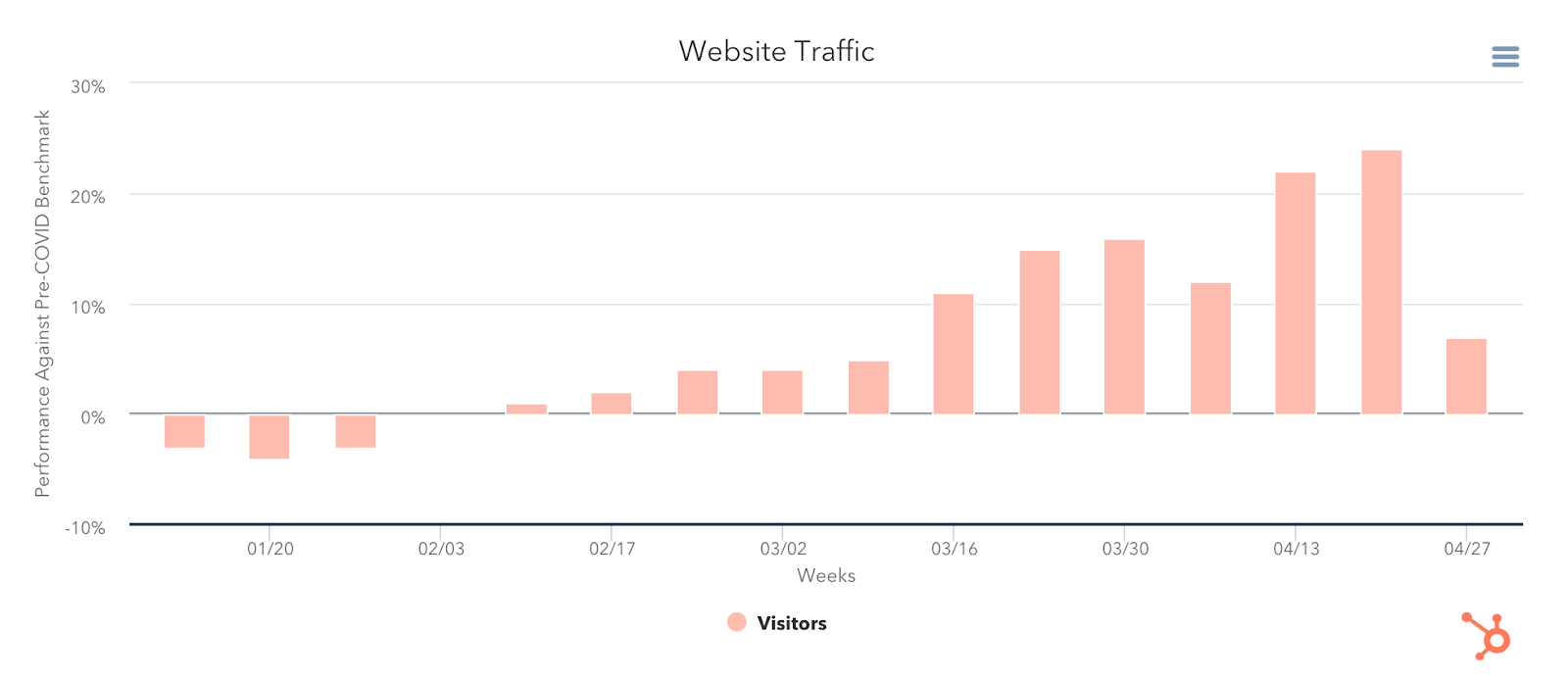 Source: COVID-19 Marketing and Sales Benchmark Data
How is marketing going to change after lockdown?
This is a question a lot of us are asking, there's no doubt that the world is going to see significant changes as a result of Covid-19. And the truth is right now we don't really know what things will look like on the other side of the lockdown (mainly because we don't know when we'll get to the other side). But I do think that the new marketing and sales tactics we're using now will take hold and change the way we market and who we can market to.
The key things we at Spitfire Inbound have been talking about a lot lately and seeing adding value to clients and ourselves is video marketing, webinars, and virtual events. People are desperate for a personal touch right now which is why those tactics are doing so well, despite Zoom fatigue. When the lockdown is over, these tactics won't go away. In fact, they will open doors for businesses to expand their service/product offering beyond their borders as we are now able to connect to anyone at anytime.
How to use video, webinars, and virtual events to market during lockdown
Virtual events and webinars have performed really well during the lockdown and if managed correctly can offer your audience an opportunity to get involved and gives you another chance to market to them. I've attended several webinars and virtual events since lockdown started and there are some things I've personally found to be ineffective:
Not allowing attendees to see who is part of the webinar - this leaves you feeling awkward as you don't know if anyone else in part of the webinar. It feels like you joined an event but you're the only one who showed up and now three people are talking just to you.


Only letting attendees interact and ask questions in the chat - depending on how many people are in the session your question may be missed by the speaker as 10 other people add a comment at the same time. You also don't really know who the speaker is responding to. I understand trying to control the noise, but meeting people half way allows them to feel engaged.
Using video in your marketing process is extremely effective right now. People want to feel connected and are looking for visual ways to connect online. Read our blog on How to use video in HubSpot Marketing Pro for some more insights into video in marketing.
For me, the bottom line is that marketing in the time of Covid-19 requires a deep understanding of the digital marketing landscape, effective tools to help you be productive, and a strategy that will keep you current and top-of-mind. It will also lead to significant change in how we market in the coming years.
Subscribe to our exclusive monthly newsletter to stay in the know on how marketing is changing and what you can do to keep up.