To have an online presence, you need to have a website. A website comes domains, subdomains, hosting.
To have an online presence, you need to have a website. But with a website comes domains, subdomains, hosting and more. We're here to help guide you through the lingo and how things work.
Taking a business online, or building an online presence is about more than just getting a website. And we're here to help you deep-dive into what actually goes into 'just going online'. Let's start off with the basics.
Our MD, Darren Leishman always says, "Your website is like your shop front."
Think of a typical day of window shopping in a mall. Shopfronts are there to attract attention. Brands like Louis Vuitton do it quite well. If you've ever walked past a Louis Vuitton store, chances are, the display grabbed your attention and you may have stopped to have a look.
Design teams work hard to create an appealing shop front. And the more attractive it is, the bigger the chance of your going in and browsing further and then, maybe even buying something.
This is exactly what you want people to do once they land on your website - stay, browse and convert.
How you get visitors and what you want them to do on your site forms part of your strategy and goals for your website. Top tip: this is a very important starting point when you do decide to go online.
When you have your website strategy in place, you need to start shopping around for domains, hosts and maybe even a content management system or CMS. And here is where the proverbial waters may get a bit murky.
Securing an address for your website
While your business may have a physical address, you need to choose an online address, the URL (or Uniform Resource Locator) or just the website address. Below is a breakdown of what your typical URL may look like, and we'll take you through what everything means: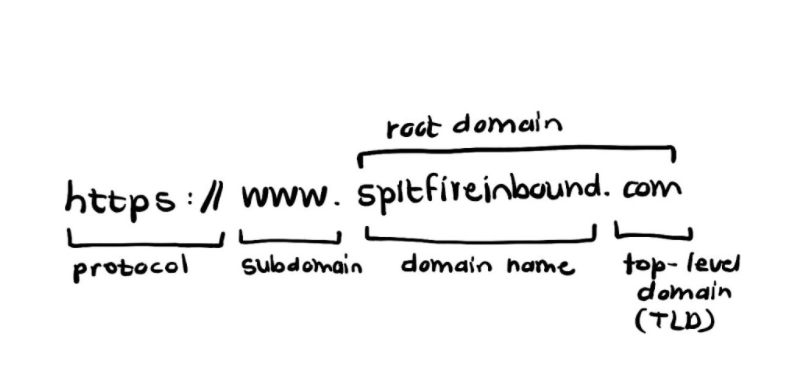 First up is the Hypertext Transfer Protocol (or just the protocol). You need the protocol in place for secure data transmission. Wikipedia sums it up quite well:
"Hypertext Transfer Protocol Secure (HTTPS) is used for secure communication over a computer network and is widely used on the Internet. In HTTPS, the communication protocol is encrypted using Transport Layer Security (TLS) or, formerly, Secure Sockets Layer (SSL). The protocol is therefore also referred to as HTTP over TLS, or HTTP over SSL."

This brings us to security. You might have heard about SSL certificates or secure browsing, and today, more than ever, it is important for you to have a secure site especially if you work with user data and payments. Most website hosting companies offer this as a standard, but if they don't, it is well worth the money to invest in an extra layer of security.
What is in a (domain) name, you may ask?
Without channelling our inner Shakespeare, choosing a domain name for your website is most important. It is, after all, what your visitors will remember you by.
Most hosting companies provide a service where you can check if your domain name is available and purchase the domain with your hosting package in one go. With all the websites around the world, you may need to have a few domain name options, because you may not get your first choice.
What about the other domains we've shown?
There are many different types of domains - root domains, subdomains, top-level domains, and more. These all work together to create your online address. We'll go through each of these very briefly:
A subdomain is a name or word that lives in front of your domain name, for example, blog.spitfireinbound.com - in this example, blog is the subdomain. You can append many subdomains to your main domain, depending on what the purpose and strategy for your website is.
A top-level domain is the .com or .co.za or .net at the end of your website address. When registering your domain, you can choose a generic top-level domain, or you can even register your own.
A root domain is the domain name plus the top-level domain you register. In our example, it would be the spitfireinbound.com section of the complete website address or URL.
You've got the name, but where does it live?
We know this is a lot of information to digest, but we are still getting to hosting your website. There are many service providers around the world who can assist you with hosting services.
The founders of 5pixels, Ryan Wallis and Brandon Holz have listed some key factors you may want to consider when shopping around for a hosting provider:
First, keep your budget in mind for hosting services. If you're building a website that will attract large numbers of visitors, you need to cater for that in your budget to prevent downtime or caps from being reached. Also keep domain renewal fees in your budget, as well as possible additional fees for security.
Does the hosting provider also offer domain name registration as a bundled service? It adds to ease of use for domain renewals (yes, you have to renew your domain annually) and managing your domain and hosting from one secure portal.
Consider the hosting provider's uptime claims, and read some reviews from existing clients before making your decision. Also, look into how you can track and monitor your website's uptime easily.
Dedicated versus Shared versus Cloud-based Hosting
While shared hosting is the most cost-effective option available, you need to consider whether you want to share your online space with many others. Shared hosting may have an impact on your website's performance, and if you're expecting high volumes of traffic or you are looking for hosting that can scale and grow with your business, we would recommend dedicated or cloud-based hosting.
The Payment Card Industry Data Security Standard (PCI DSS) is an information security standard for any organisation that handles branded credit cards from major card schemes like MasterCard and VISA. If you are planning to use secure data or take payments, you need to ensure that your hosting provider is PCI compliant.
Many hosting providers may include this as part of their service offering, but with some, you may need to purchase this as an add-on. Before signing up, check and see whether this is included in your service package.
Will your hosting provider be available to support you after purchase? Is there 24/7 support via phone, live chat, email or similar? Let this also help you make your hosting decision.
Taking your business online definitely takes consideration and planning. But this doesn't mean that you cannot do it effectively with the right team by your side. If you are looking to take your business online, get in touch with us today.