Having a great design can help you turn your website into a lead generation machine. Use these tips to help turn your website into a lead machine.
Having a website that is built to increase website lead generation can make a real difference to what your website does for you.. Your website operates as your digital storefront and, a great website design can act as your best salesperson. That's why it's imperative to ensure that your website is kept up to date, is easy for first-time visitors to navigate, provides a great user experience and is designed with lead generation in mind...
Websites promote you 24/7: no employee will do that. – Paul Cookson, Author
Kissmetrics writes "all too often companies start with a 'business card' website and later 'Frankenstein' together functionality based off impulsive decision making. Instead, take a step back before the first company site is launched and determine the goals of the website. This can save an enormous amount of time, money, energy and resources."
If you're looking to generate web leads, increase your return on investment (ROI), close more deals and ultimately grow your business, then your website should achieve the following 14 goals.
1. A great user experience:
The quickest way to lose a visitor is to confuse them. Visitors to your website should be able to instantly understand where they'll be able to find what they're looking for. A great user experience is the result of synergy between aesthetics and functionality and is the key to the best website designs. This includes having a clear and easy to use navigation system to guide your visitors to the information they're looking for. You can use dropdown menus to group pages and content in a logical way which creates a smooth user experience.
HubSpot writes "while the look and feel of your website is important, most visitors aren't coming to your site to evaluate how slick the design is. Instead, they're coming to your site to complete some action, or to find some specific piece of information. Adding unnecessary design elements (i.e., elements that serve no functional purpose) to your website will only make it harder for visitors to accomplish what they're trying to accomplish. Having intuitive navigation on your site is crucial for ensuring visitors can find what they're looking for. Ideally, a visitor should be able to arrive on your site and not have to think extensively about where they should click next -- moving from point A to point B should be as pain-free as possible.


2. Designed for your unique buyer persona:
Your website must be designed with your unique buyer persona in mind, as this will help you to tailor content to their specific needs, improve functionality and help increase your lead generation. When it comes to something like your navigation, how would your buyer move around your website? How do you think your buyer persona would group your products and services? Your site needs to be designed in a way that would make sense to your ideal buyers to help them easily make their purchase decision.


3. Responsive:
A great website is optimised to display correctly on screens of all sizes. In South Africa, a large portion of your audience will be viewing your website from their mobile device or tablet. You don't want to lose these potential customers as a result of a frustrating experience on your website due to having an unresponsive design.
Huffington Post writes "according to Google's Think Insights on Mobile, whenever someone arrives on your mobile website and is frustrated, or doesn't see the content that they are searching for immediately, there's a 61 percent chance they will leave and head to another website. However, whenever a user has had a positive experience with your mobile website, that individual will be 67 percent more likely to buy a product or use a service."


4. Purpose built and optimised for conversion:
Your website must explain exactly who you are and what you do. Your website must also include your contact details (preferably on a contact us page and in the footer so it's visible on every page) and it should include any relevant information that could help users understand your product or service.
The bottom line is that you want to make it as easy as possible for users to contact you once they're certain your product addresses their needs.

Forbes magazine writes "what is the purpose of your company website? If you can't answer that question clearly, there's a good chance you're squandering your best online asset. And even if you can answer the question, if you're off the mark you'll wind up with the same result -- an underperforming or even counterproductive site. Don't let that happen to you!"


5. Helpful, relevant content:
Consistently publishing excellent, quality content on your website will help boost your organic SEO ranking but more importantly, it'll attract the right visitors to your site. Having a blog on your website will also create an opportunity for visitors to engage with you, allowing you the chance to start building a meaningful relationship..

Digital marketing agency, Square 2 Marketing, writes "blogs also give people the opportunity to share their own opinions and read the opinions of other people like them. This dialogue goes a long way in connecting visitors to your company. Once they get involved, they usually remain fans because they have a vested interest in following the conversation and continuing to contribute. The more invested visitors are in your business, the better chance they buy from you vs. your competitors."


6. Optimised for search:
The best website in the world is no good if it can't be found. You need to make sure your search engine optimisation (SEO) is excellent so that you can rank well in organic search results. Ideally you should be on the first page of a Google search for your product or service. Improving your search rankings will make your lead generation efforts much easier.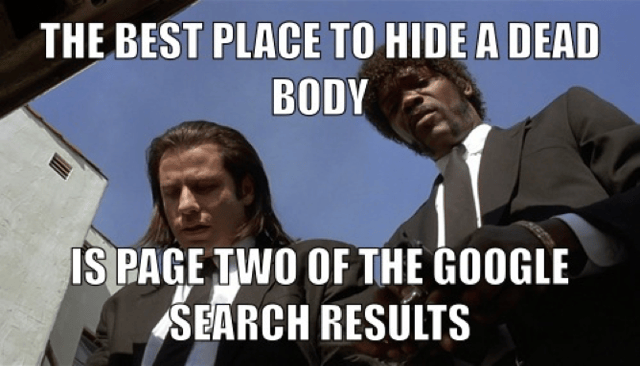 Image source: Huffington Post


7. Clear call to action (CTA):
Give your users their next step. People don't often act if they're not entirely sure what it is you want them to do. A clear CTA tells your user what you would like them to do next and shows them that you're trying to help. Got a great eBook you'd like them to download? Add a CTA for the eBook at the bottom of any other relevant content on your blog. Every page of your website must have a clear indication of the next step on it. A call to action provides this clear instruction..

Marketo, marketing automation software provider, writes "your website is often your first line of communication with a lead, make sure that your website contains numerous targeted CTAs, speaking to leads in every stage of the sales funnel."


8. Security:
Your website should have an SSL certificate to reassure users that their personal information is safe in your hands. Website security will improve your credibility (with your customers and with search engines) and will also avoid any problems caused by hackers.


9. Fast loading speed:
Nobody has time to sit and watch a page load. Make sure your images are optimised for web, you cut down on external script, optimise JavaScript and CSS, use plug-ins as little as possible and take advantage of caching. A slow website will hurt your SEO and won't provide a good user experience. Kissmetrics writes "nearly half of web users expect a site to load in 2 seconds or less, and they tend to abandon a site that isn't loaded within 3 seconds."


10. Links to your Social Media pages:
Having links to your social media pages helps users connect with you, even if they don't want to complete a form or contact you just yet.


11. Analytics and tracking software:
Without proper analytics tools and tracking software you won't be able to know what's working (or not). Tools like HotJar (heat mapping tool), Google Analytics (freemium web analytics tool) and HubSpot (Marketing Automation software) all help you to understand what your visitors are doing on your site, allowing you to strengthen any weak areas.


12. Great aesthetics:
Whilst to a certain degree functionality trumps aesthetics (think Google), that doesn't mean you show ignore the look and feel of your website.

Your website should be easy to use, but it should also be visually appealing. According to HubSpot, the way to do this is through consistency. "Consistency means making everything match. Heading sizes, font choices, coloring, button styles, spacing, design elements, illustration styles, photo choices, etc. Everything should be themed to make your design coherent between pages and on the same page." Your pages need to look like they belong to the same website, not a hodge podge of drastically conflicting design elements from one page to another.

This being said, you should treat your website like you would your house. Every room in your house looks different, but a good interior decorator is able to tie each room together with small elements which clearly show that all these rooms belong within the same home. Your style guide should do the same, allowing you to use varied formats throughout your website, whilst still ensuring consistency. Remember, your website is an extension of your business and should reflect your company's look and feel.


13. Sitemap:
Search Engine Land writes "XML sitemaps serve as a way to communicate directly with the search engines, alerting them to new or changed content very quickly and helping to ensure that the content is indexed faster."

A sitemap is an SEO must have. This helps ensure that Google is aware your site is the original source of a piece of content, as many other publishers syndicate or curate content on various other websites. Google's algorithm tries to remove duplicate content from search results - so if you're not the site originator, you run the risk of exclusion.


14. Reviews / testimonials:
Customer reviews or testimonials are a great way to build your brand's credibility in the eyes of potential buyers. Prospects often look at what your customers think of your work or who you work with before deciding to contact you.


If you follow these simple tips when building your website, you're bound to start generating great quality leads. Remember, you should constantly be analysing your website's performance and adjusting your design to improve the user experience and optimise for lead generation.



Speed up Your Website – Infographic was created by FirstSiteGuide using info from their in-depth guide on how to speed up your website.
Want to turn your website into your best salesperson? Get your website reviewed and we'll send you some helpful insights on the performance of your website and some tips on improvements you can make to ensure your website is getting you leads.