The South African audience is a unique one, but some global trends apply to our audience too. Here are a few key lessons to learn from international marketers.
The South African audience is a unique one, but some global trends apply to our audience too. Here are a few key lessons to learn from international marketers.
'South Africa is behind digitally': this is a phrase you'll often hear during marketing meetings and one that drives digital policy. However, recent stats prove that 52% of South Africans have internet access and this number has almost doubled since 2010, and is growing year on year. These users, for the most part, show the same usage trends as their international counterparts: a huge focus on mobile, a passion for social media and a love for video. It's with this in mind that we have another look at some of our key takeaways from Inbound16, Hubspot's annual inbound marketing conference, that we think will work for the South African audience.
1. 90% of information transmitted to the brain is visual - so make your message a visual experience, but remember that words matter too, according to Christopher Penn, in his talk on the Data Driven Customer Journey.
2. Use social media to retarget specific people for adverts, as recommended in Multi-channel lead nurturing from Sahil Jain - and since over 13 million South Africans are on Facebook, you can bet that strategy will work here too.
3. Don't just sell to your customers and forget them, says Michael Rejmaniak in his Lead Scoring talk - nurture them too.
4. Tesla, started by South African Elon Musk, built their brand on selling without selling: they are all about experiences.
5. People buy into people, and as a leader they buy into you! It's key to set up a next step plan, and tell your staff that failure is OK. 90% of good change is from making a mistake - Karima Mariama-Arthur, Emotional Intelligence.
6. Automation needs to be used optimally, and requires a good strategy and project plan, according to the Origins of Marketing Intelligence talk. This is good news! According to a South African survey done by newsletter system Everlytic, 65% of South Africans use email to share information.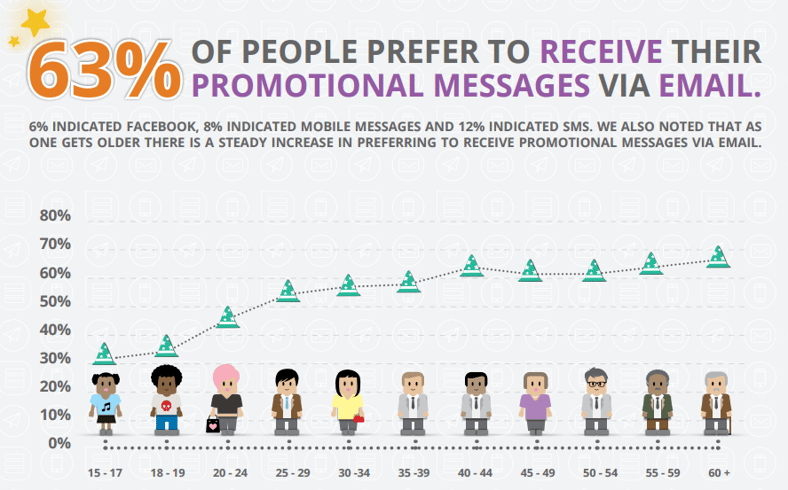 Image from Everlytic
7. People consume content very similarly the world over. According to The Science of Decision Making talk, it's essential to make the complex beautiful; don't dumb it down for your audience. Clarify for yourself what you want them to remember from the data.
8. Get your Millennial workforce invested in your company - and remember that invested Millennials show a desire to learn, so create a learning and growing environment, recommends the Millennial Workforce talk. In South Africa this is especially relevant as a global Millennial survey done by Deloitte (featuring over 350 South Africans) indicates, "while South African Millennials think that it is important for companies to encourage and reward innovation and creativity, most of them don't think that their company does this."
9. When hiring designers, look for humility as this shows a lack of ego and a willingness to listen and learn - design is not about the designer, it's about the user says the Design is Not Art talk.
The South African marketing community is full of strategic thinkers, vibrant do-ers, and creative ideas. Your business can influence the world market, and create trends for the global community to follow. So what will you do?