Here are some HubSpot frequently asked questions about HubSpot onboarding that have been answered by our expertise
As HubSpot onboarding specialists, we spend a lot of time answering questions from clients around how to use the tool and what best practices to follow. Here are the top questions we get asked and the answers we give.
As a HubSpot Diamond Partner, we've been using the software and onboarding clients to HubSpot for years. It's something we're very passionate about, along with our drive to help clients grow. This means we speak to a ton of clients over all the different fields and several industries. While every business is different, there are those key questions every HubSpot user asks. That's why we decided to dive into our most frequently asked questions and how we recommend you use the tool.
But first…
Why is Onboarding so key?
Onboarding is critical for getting your CRM set up correctly and guiding you on using your Hubspot portal optimally and efficiently while ensuring adoption. Any business looking to implement any new system will have spent time and money on getting that system up and running. Onboarding ensures that the tool has longevity within the business by ensuring that team members not only use the tool, but understand how to ensure the tool is used to ensure they meet their business goals.
"The more time you spend on the tool, the easier it is to use." - Marlene Oosthuizen
The ultimate goal of HubSpot Onboarding is to provide you with all the necessary assets you need to get your business on the right track without wasting too much time.
Frequently asked onboarding questions and answers
We get many common questions so we've split them out based on the key hubs and their tools.
General questions
Question 1: What is an object and properties and how do I use them?
In a nutshell, an object, as defined by HubSpot, is "a representation of the different types of relationships and processes your business has." Learn more about HubSpot Objects here.
Properties are the bread and butter of your system. Properties allow you to collect key information about your objects (e.g. contacts, deals, companies) which can be used to segment your database, track activity, and report on almost anything.
Question 2: I keep getting random notifications from HubSpot, how do I stop these?
HubSpot notifications are set up at the user level. This means that there is no central place to set up who gets what notification. Luckily, each user is able to easily adjust their notifications. The challenge we run into is that the default for notifications is for each user to get all notifications relevant to their permission settings. So, if you're a super user, take the time to review the notifications so you don't get one every time something happens in the portal.
You can do this by going to Settings > Notifications.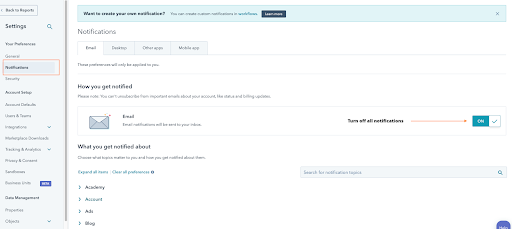 Question 3: Why do I need to install the Hubspot tracking code on my website?
Regardless of which hub you have, the HubSpot tracking code is key to setting up your portal for success.
Marketing - the tracking code is needed to track any activity on your non-HubSpot website pages. It's also needed to implement the GDPR cookie tracker, pop-up forms, the chatbot, and event tracking (if you have Enterprise).
Sales and service - while the tracking of website activity long-term isn't available in these hubs alone the code is still vital for

a number of reasons

:

If you do decide to purchase a marketing hub you have the historic data.
You do still get this user website behaviour tracking on a short-term level.
It is still needed to implement the GDPR cookie tracker, pop-up forms, and the chatbot or live chat.
Question 4 : What are some key workflows I should implement?
Workflows are Hub dependent and the more intricate workflows can only be built in the Pro and Enterprise Workflow tool.
Some key sales workflows are:
Deal creation workflows based on form submissions
Notification of stagnant workflows to relevant parties which include task updates to responsible agents
Regression workflows
Round-robin or sales rotation workflows based on members allocated to a team
Marketing workflows:
Email Nurturing Workflows - send useful emails following expressed interest by your lead
Set Marketing status workflows - from marketing to non-marketing if someone has unsubscribed
Automated blog updates to those who have subscribed
Here are some more useful workflows:
Create contacts as marketing contacts from form opt in:
Move contacts to

non-marketing contacts from opt out

Lifecycle stage - MQL
Lifecycle stage - SQL (with internal alerts)
Re-engagement workflow for any contacts that have not engaged in > 3 months to encourage people to re-confirm their subscription or add dead contacts list to be exported from HubSpot
Set Lifecycle stage to other - staff, competitors, suppliers


Sales hub questions
Question 1: What is the 'Update Stage Properties" element on deal setup and how should I use it?
This is a feature that allows you to ensure the key data you need around deals is added to the portal.
Any CRM is only as good as the data added to it and we know salespeople are not always great at doing admin. This tool allows you to set which key properties need to be updated at each stage of the pipeline, and you can make these mandatory so the deal can't be moved unless the information is filled in.
It's an important feature for sales teams, especially those big teams or ones with more complicated sales processes. Remember, without accurate data, your reporting will be incorrect.
Question 2: How do I set which properties people need to add when creating a deal?
Users with Account permissions can set up which fields appear when users manually create contacts, companies, deals, tickets, and custom objects in HubSpot. Here is how you can set the properties your team can view.
Question 3: Can I edit my financial year to reflect our financial year in Hubspot?
Yes! Go to Settings > Account Defaults > General to set your fiscal year.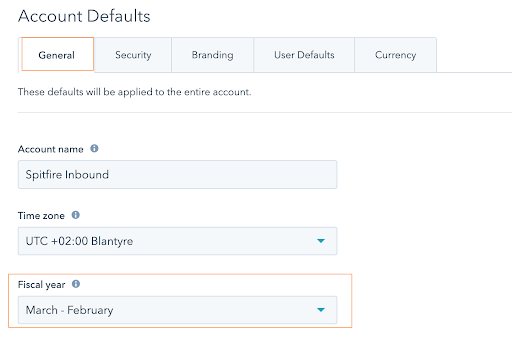 When it comes to reporting, the fiscal year is only available on the Custom Report Builder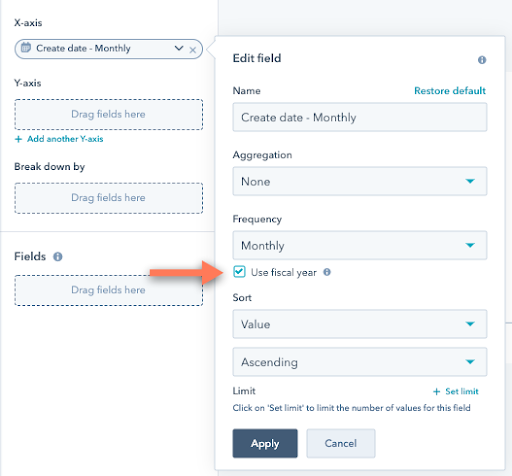 Or when you filter contacts through the 'more filters' feature.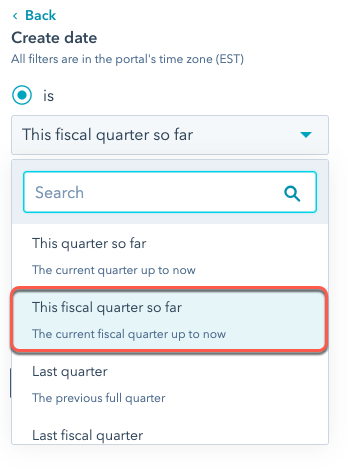 Question 4: What is the difference between a sequence and a workflow?
The Sequence tool allows you to automate one to one sales or service communication. It's designed to help sales and service teams automate key follow-ups while still remaining personal.
A workflow, on the other hand, is the tool that allows you to automate internal processes and external marketing communications. Sales teams would mostly use it to automate reminders and tasks, move deal stages, or any other internal process.
Question 5: How do the weighted amounts and forecasting affect my reports?
Once you have mapped out your deal stages with weighted percentages, remember that the percentage relates to the closing probability. As your deals move along the pipeline, there is another element that needs to be accounted for in the financial reporting. Here is where the forecasting comes in. The forecasting tool allows managers to keep track of progression towards goals. In order to use this tool, you must be a 'Super Admin'. The forecast tool allows for categories to be mapped, which feeds into the weighted stages and therefore, reports on amounts through forecasted and weighted amounts. To set up your forecast tools, have a look at this.
Marketing hub questions:
Question 1: What is a marketing vs non-marketing contact?
Your HubSpot portal has a limit on how many people you can send marketing communications to, these are called Marketing Contacts.
The marketing pro portal comes with 2000 marketing contacts and you can add additional contacts in increments of 5000. In a nutshell, if you want to send marketing emails to a contact or add them to a social media audience, they need to be a marketing contact. Any contact being communicated to on a one-to-one basis would then be a non-marketing contact. Learn more about marketing contacts here.
Question 2: How do I remove the unsubscribe button from my marketing emails?
The easy answer is you can't. HubSpot is built around the inbound philosophy which is all about serving people content they want and expect to see. The system is set up so that you cannot send an email if it doesn't include an unsubscribe option. Having said that, what you can do is choose to only have the "manage preferences" button in the email footer rather than a clear unsubscribe option.
Question 3: Can I serve content in different languages on landing pages?
You can showcase various versions of content based on language preferences as well as different devices by using Smart Content. You can also enable multiple languages.
Question 4: What's the difference between a hard bounce, soft bounce, and an unsubscribe?
Hard bounce usually indicates a permanent error, but can also be caused by a strict email security filter. To protect your email sender's reputation, HubSpot excludes these contacts from future emails. Soft bounce indicates a temporary problem with the recipient's server, or another temporary technical problem. Learn more about the email bounce types here.
An unsubscribe is when someone has chosen to stop getting your emails. The hard and soft bounce means that the person was not able to receive the email, while an unsubscribe means they received the email but then chose to stop getting them. If a contact soft bounces more than 3 times, we usually recommend treating them like a hard bounce and deleting them unless their contact info is needed historically for sales.
Question 5: Are subdomains bad for SEO?
This is a question we get asked a lot. Since landing pages and blogs living on the HubSpot platform are on subdomains, many clients get nervous about moving over.
According to Mojalefa Mothudi, Spitfire Paid Media Specialist, subdomains are not bad for SEO. "Google's algorithms are quite good at seeing the main domain crawling subdomains".
Additionally, the HubSpot experts have researched SEO and ensured that both the functionality within the platform and the SEO tool help you maintain and build your SEO strategy.
Dos and Don'ts Regarding Onboarding
According to our onboarding experts, these are the definite dos and don'ts with regard to onboarding.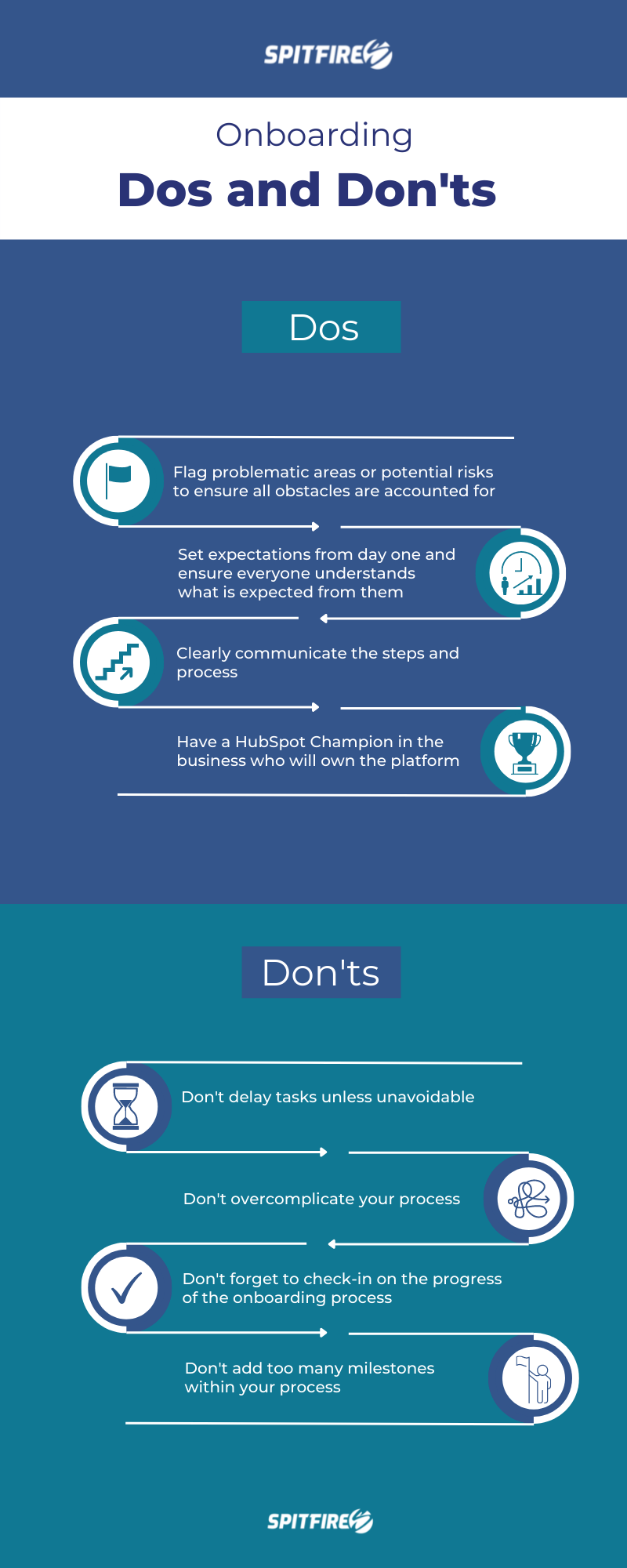 So there you have it – the top questions we get asked and the answers we give to help our clients grow with HubSpot. If you're using HubSpot and have any questions of your own, reach out to our team to discuss onboarding or consulting.
If you're wondering about all the different terms used by HubSpot, download our HubSpot Terminology Guide for all the answers.